Gravel bikes are everywhere and they come in all sorts of flavors, shapes and sizes. In the height of the pandemic, Gerard Vroomen and the team at 3T launched the Exploro RaceMax. It's aero. It's versatile. And, it can fit huge tires (more on that later). I must say that since the RaceMax has been in the stable, my other bikes have been neglected. A wheel or tire swap has been all that I've needed to morph the RaceMax into whatever I wanted it to be.
3T Exploro RaceMax Features:
Truly aerodynamic performance at normal athlete speeds
Built for 1x or 2x configuration
Upright geometry, but with road-inspired handling
Massive tire clearance (I have run 650b x 2.25″)
Direct 160mm rotor mounts (no adapters needed)
12mm thru axles front/rear
Aero carbon seatpost using Ritchey's Rail Clamp design
Weight: 18.7 lbs (56cm, SRAM Force AXS and Zipp 30 Course)
MSRP: $3199 (frame), $4199-$6599 (completes)
Racy or fun? RaceMax can be both.
It just so happened that the SRAM Force AXS Wide-range groupset launched just prior to the debut of the 3T Exploro RaceMax. So, a few calls and a UPS mis-shipment later (someone in Chicago got a free frameset) and the complete build was in my hands for extended testing. As luck would have it, timing was perfect to take my mind off COVID and to try the RaceMax in all the possible flavors that are available from 3T.
With that, my initial build was with alloy wheels and the new SRAM Force AXS Wide-range kit. It was a good mixture of the latest tech and affordability. As mentioned, it tipped the scales at just under 19 lbs., which feels heavy for a road bike, but provides quite the stable platform in a gravel race bike.
3T has gone away from standard tire clearance numbers on the RaceMax and is instead referring you to their extensive RAM (Radius as Measured) and WAM (Width as Measured) charts to determine tire compatibility. As I found out, the RAM number may just be the trickiest one to determine. I outfitted the Zipp 30 Course wheels with their Tangente Course G40 tires and seat tube clearance was tiiiiiight. So tight that I was glad I put protective tape onto the curved section of the the aero seat tube. For dry conditions, this combination of a 21mm internal rim and the G40's worked, but I did get an occasional rock scraping that seat tube (I was grateful for the protective tape I installed).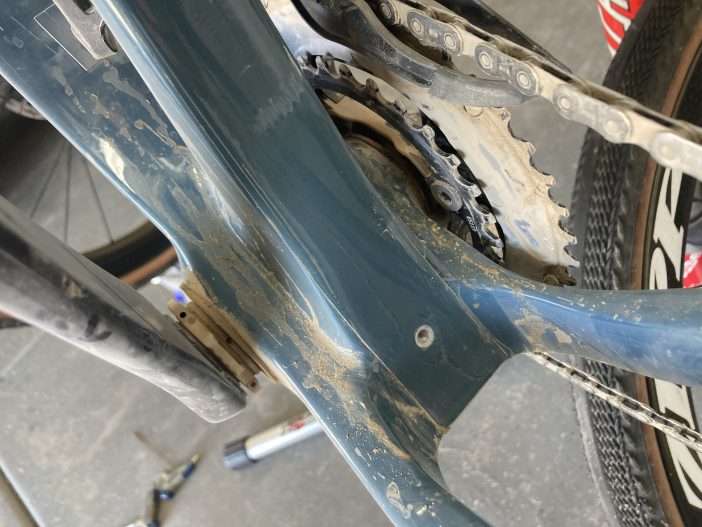 Subsequent 700c testing was done with the Roval Terra CLX (25mm internal) and WTB Venture TCS Light 40c tires. With that combo, the width increased, but the height of the tire decreased, thus easing the clearance substantially.
To round things out, I then went 1x and maxed out the tire clearance with a set of DT Swiss GRC 1400 650b wheels and Schwalbe G-one Allround 2.25 tires. Yup… I was able to fit what could be considered XC race tires on the RaceMax. Since 3T sells the RaceMax in all of the above flavors, consider this the ultimate source of just how the bike will perform for your chosen kit. And, whatever flavor you choose, this bike will be a blast.
Speaking of flavors, here are all the variety of wheels, tires and groupsets I've used with the RaceMax.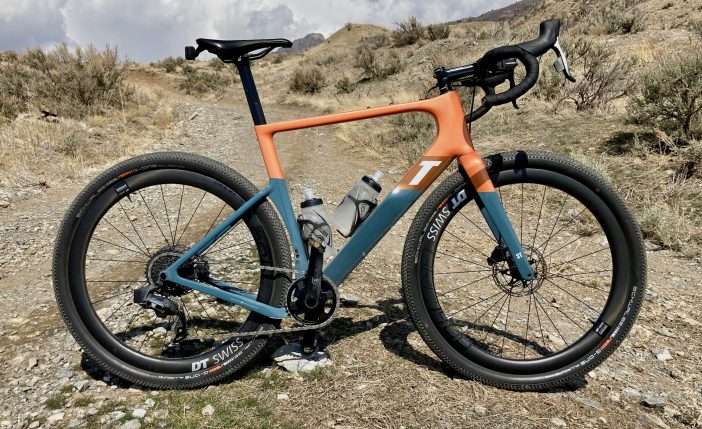 Tire clearance (WAM and RAM??)
With the Exploro RaceMax, 3T has introduced the concepts of WAM (Width as Measured) and RAM (Radius as Measured). While this makes things more complex than just the stated tire width, it makes sense and kind of puts some standardization to the variations of tire and inner rim widths and how that affects the real-world volume of a tire. In my experience, the Zipp Tangente Course G40 tires are 40mm, but the RAM is what caused issues. On the other hand, the WTB Venture TCS Light 40c tires had plenty of RAM and WAM clearance. But, that said, the Zipp tires were on a 21mm internal width rim (Zipp 30 Course) and the WTB's were on a 25mm internal with rim (Roval Terra CLX) — all variables to consider when outfitting your RaceMax.
3T has spent some time explaining their use of WAM and RAM in this blog post. But, again, the RaceMax does have massive tire clearance. However, you can still run into issues with your chosen tire/rim combination. I still can't believe that I can fit 2.25″ 650b tires onto a gravel bike with ease. It's mind boggling and the resulting experience is an absolute blast to ride.
So… in short… the RaceMax has massive tire clearance, but again, not all tire/rim combinations will be compatible. Stick with the tires listed in the chart provided by 3T if you possibly can. And, in my testing, these combinations work great:
Roval Terra CLX (25mm inner) with WTB Venture TCS Light 40c
DT Swiss GRC 1400 650b (24mm inner) with Schwalbe G-One All-round 2.25
Overall I feel like the best wheels for the RaceMax are going to be in the 25mm internal width range. With that, you will maximize WAM and reduce RAM slightly to more comfortably clear the seat tube cutout.
How about the road?
The RaceMax is a gravel bike, but Gerard Vroomen doesn't shy away from the fact that his gravel bikes are still nimble and fun on the road. That's not just lip service. In my experience, the Open UPPER, 3T Exploro and 3T Exploro RaceMax all feel and perform like great road bikes.
For winter training, I set up the RaceMax with Goodyear F1 and Vector 4Seasons 30c tires with the Bontrager Aeolus Pro 37 wheels and proceeded to ride my usual paved routes. I hit just about everything I would on a regular road bike during my test period with the exception of the Alpine Loop, because it's still covered in snow. Rolling roads and fast descents are child's play for the RaceMax, but long climbs aren't its forte. Don't get me wrong, it climbs well and allows you to put the power to the wheels, but it's not a svelte climber and the ride feels damp. A great climbing bike will weigh less and have a little more lively ride feel.
So, as a pure road bike, you won't give up much on your local group rides or century rides when you decide to swap your knobbies for a set of slicks.  But, if I'm being honest, you're not going to want to stay on the pavement for long because this bike has a thing for gravel.
What about 1x or 2x?
As with all gravel bikes, you always have to ask yourself what types of riding you're actually going to do and that will dictate whether you can go 1x or 2x. Perhaps the ultimate 1x setup would be the new Campaganolo Eakar 13-speed groupset, but wide-range SRAM Force is no slouch. A full 10-36t 12-speed cassette with a 38T chainring has provided excellent range with almost 1:1 ratios. If you need 1:1, a 36T would be a great choice. For almost everything, I have found it to be excellent. Yes, if you have really steep climbs, you may wish for 1:1 or lower, but those short stints are easily tackled by standing and pushing through. Again, the beauty of going 1x on the RaceMax is the huge tire clearance.
Going 2x limits your tire clearance and it makes the most sense as a 700c gravel racer. Get a nice set of fast gravel wheels and capable tires and the RaceMax will give you all the gearing for road, gravel or singletrack adventures.
Whether you decide to go 1x or 2x entirely depends on your intended purposes. You need to ask yourself what types of terrain you will regularly ride and choose accordingly. And, if you go with Force eTap AXS, it's pretty easy to swap one crank arm and drop the front derailleur. Swapping back-and-forth is about a 20 minute effort with the right tools.
It's still a race bike
There's no shying away from the fact that the RaceMax is a race bike. When pushed hard, this bike has delivered PR's and other top times all over the place. You can stand on it and the chassis delivers power right where you need it. You'll immediately notice how smooth it rides. This flies in the face of what you'll typically experience from an aero bike — particularly one with an aero seatpost. It's crazy just how smooth it feels.
As I was getting settled into the RaceMax, I couldn't help but love just how smooth it rides over rough terrain. Again, we're talking 35-38 psi. with 700c and 26-28 psi with 650b tires, but the entire chassis is so smooth. It kind of feels like riding a nice luxury car that isolates the rider from imperfections. With that, I can plow through just about everything and it just powers through. I love that the stack/reach isn't aggressive, so I don't have to contort my body to enjoy the aero benefits. I set it up comfortably with just a single 10mm spacer, but could honestly slam it and still be within my fit range.
Again, the aero benefits here are substantial. That massive downtube shields bottles and delivers a leading edge for the rest of the frame to follow. Cables are tucked into the top tube's entry point and allow for easy servicing (but do look a little unsightly — particularly if you ride a mechanical groupset).
On dirt, gravel and road, the handling remains responsive, so you do have to stay on top of it. This is no slouch and can dive in/out of corners when pushed (like the best road bikes on the market). So, you will want to use all your proper handling skills and the bike will reward you. On rough downhills, you can't quite let this one loose like you can the BMC URS 01, so keep that in mind. You'll need to be an active handler, so don't expect this to ride like a recliner on wheels.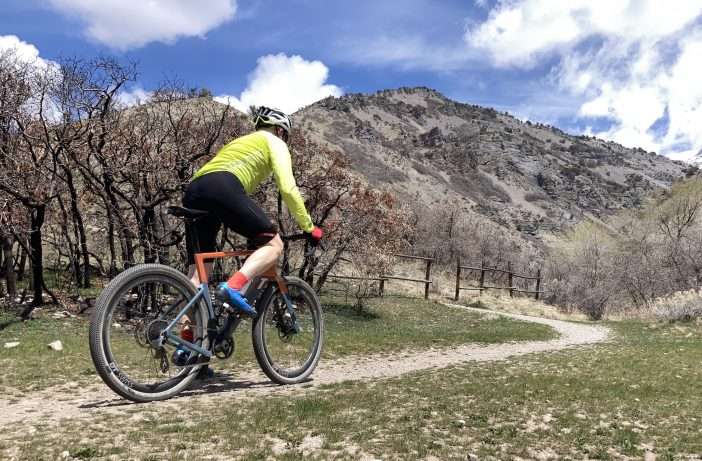 Having fun in monster (max) mode
To unleash the full power of the RaceMax, I'm gonna say that you absolutely must ride it with 2.25″ tires. I loved the bike in 700c mode, but these fat boys opened my eyes wide and made me want to tackle even the most challenging terrain. At super low pressures, I'm still able to efficiently ride the road (albeit a little slower) and I can flat out fly through gravel roads without worry. Handling remains surprisingly-nimble and responsive and I'm just having a blast (going max mode almost feels like it has quicker handling).
Tire pressures can be 26-28 psi. or lower and traction is surreal. That big of a tire does get caught in crosswinds but it rolls over anything with the utmost smoothness. My aging lower back gives this mode two enthusiastic thumbs up. I can still capably climb anything and it remains straight — even on the steepest of climbs. Honestly, this setup has been the most fun and makes the RaceMax so versatile.
In all honesty, it's impossible to overstate just how much fun the RaceMax is with 2.25″ tires. Every time I head out for a ride, it's truly player's choice as to where I end up riding. Mixing up some technical singletrack, rough gravel and paved approaches are all on the menu. Hitting drops and jumps or manualing over obstacles is just plain joyous on the RaceMax.
The Good
So smooth and fast for gravel racing
Huge tire clearance
Stack and reach for regular riders
Aerodynamics that deliver results
New Ritchey seatpost clamp is better than what's on the Exploro
Threaded bottom bracket
External cockpit routing allows easy customization
Love the 160mm native mounts
Road-like handling (don't expect to let this one run)
Looks absolutely amazing, in my opinion
The Bad
Watch that rear tire clearance at the seat tube
Not sold on the cable routing behind the stem (especially with mechanical groups)
Likely not going to smash any KOM's with extended climbs
A bit more pedal strikes in 650b mode
Racy handling may not suit casual gravel riders
The Bottom Line: 3T Exploro RaceMax 1x and 2x
The RaceMax definitely lives up to its name. It is one part race and one part maximum fun. With nimble handling and massive tire clearance, there isn't anything that the RaceMax can't do. I have pushed it hard on singletrack and eked out every watt on rolling gravel stretches. And, I've rounded things out with plenty of road miles. Overall, it is a smooth and responsive companion for anything you can throw its way — all wrapped in an aero optimized design. For fast-paced gravel riding and racing, this one is hard to beat.
Buy Now: Visit 3T Bike
In Summary
There's just no way around it... the RaceMax is an absolute blast to ride. Whether you choose to ride it on mixed surface rides, dedicated gravel or mix in some singletrack, you'll be rewarded with a nimble and responsive-handling bike that will bring a smile to your face every time. And, if you want to ride gravel as fast as humanly possible, this is your bike. Stick with 3T's tire recommendations and be flexible if you have your sights on other tire options. And, as far as going 1x or 2x, that's entirely up to you. But, if you want to have max fun, I'd go 1x and get the biggest tires you can fit.