When I first heard about road tubeless wheels, I was skeptical. I mean, tubeless for MTB had been around for years, but for some reason road tubeless seemed unnecessary. Now, after nearly a full season on the Bontrager Race X Lite TLR wheels, call me a believer.
Bontrager Race X Lite TLR Tubeless Wheelset Features:
Reinforced Spoke Nodes – Rim design features localized material reinforcement at the spoke node
Stacked Lacing – Provides a better spoke bracing angle for a stiffer wheel
TLR rims allow for quick transition from traditional tubed tires to tubeless systems
OSB – Reduces wheel dish, improving stiffness and stability
Construction: 6061 alloy rim (23mm outer, 17.5mm inner width), DT star ratchet drive system, 18 front/24 rear DT nail head 14/17G bladed spokes with Alpina alloy locking nipples
Compatibility: Shimano 10/11spd, SRAM 10, Campagnolo (freehub sold separately)
Includes: Bontrager TLR rim strip, TLR valve stem, Bontrager internal cam quick release
No rider weight restrictions
Weight: 1440 grams (stated)
MSRP: $999 complete (wheelset only – $219 for tire kit)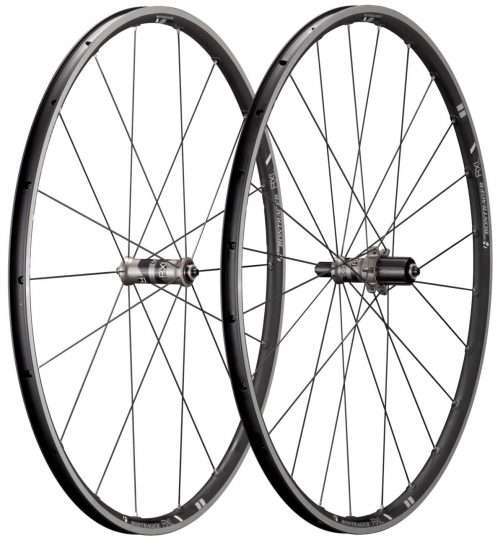 Tubeless is the way
It's kind of funny how long it took for tubeless road wheels to make the scene. Now, after only a couple of years on the market, riders are warming up to the idea of tubeless road tires. So much so that Easton has announced a wide selection of tubeless-ready rims for 2014. That's great news for Bontrager and other tubeless-compatible wheelset manufacturers because tire selection will improve and prices may drop as well.
The Bontrager Race X Lite TLR wheels are a standard clincher wheelset with the bed of the rims made to accept the TLR rim strips for a sealed system. The rim strips are actually a tight fit inside the rim and require some care to install. Don't get too anxious to set the rim strips in place or you'll get the valve hole placement off — even though you started it correctly. To avoid any valve hole creep, I'd suggest placing that section in first and then seating the valve. This will ensure that the rim strips stay where they should. Believe me, adjusting the rim strips — even a mere 1/4″ — is difficult after they are in place.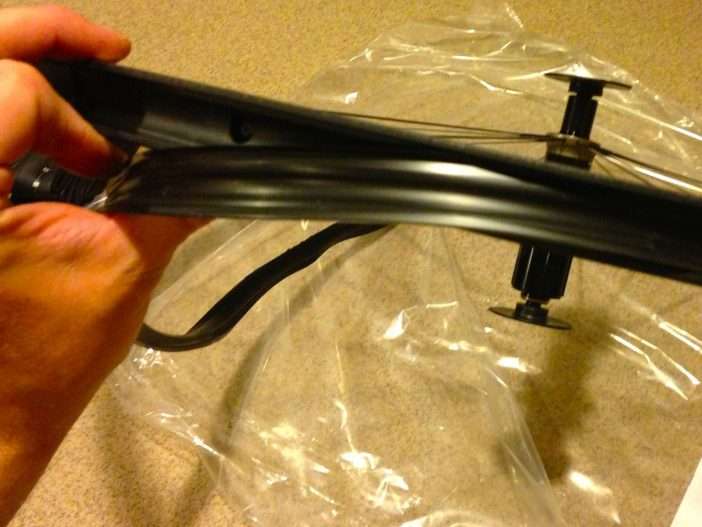 Once in place, it was time to install the tires. At this point, I'll rarely grab the tire levers to install tires. All the MTB and road tires I've used recently can be mounted or dismounted without the use of tire levers. With these hoops, I received the full TLR Conversion Kit, complete with sealant and a set of Bontrager R3 23C tubeless-ready tires (265g.). These aramid-bead tires were a beast to get installed. I grabbed my levers and proceeded to muscle them onto the rims. After elbow grease and some luck, I got them seated and ready for sealant. While wrestling with these tires, I thought to myself, "if I need to fix a flat on the road, I'm gonna have a long walk home."
Note from Bontrager team regarding tire installation

The difficulty with installation is noted, and our experience tells us that riders can really use a reinforcement of one crucial step — make sure the mounted portion of the tire bead is sitting in the rim strip's well before mounting the final portion of tire. This 2mm drop in depth allows that really tight fit to not be so tight. 
Successfully setting up MTB tubeless tires has been a hit-and-miss for me and it appears that trend is continuing with these tires. I've been 50% successful with these wheels and tires as the front wheel continues to lose pressure while the back tire has been solid. Adding more than the prescribed sealant amount has improved things, but not made it disappear. It's no big deal since it takes at least 24-36 hours to lose pressure, but it always does did (after the review posted, the air pressure has been much improved).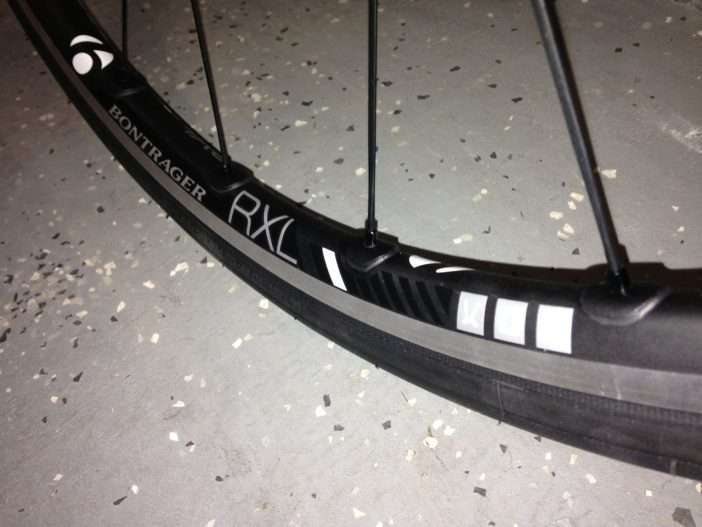 Before every ride, I'd simply hook up the pump and put 110 psi. into them and head off — not much different than clinchers, but I did have to add about 60psi. into the front tire each time and maybe 20 psi into the rear. That was typically after 2-3 days on the rack. With that, it's time to move onto ride quality.
Since tubeless tires are relatively new, few riders have had the opportunity to take them out on the road. I'd heard plenty of praise on the ride quality, but until my tires hit the pavement on my local routes I was skeptical. It didn't take long as I left the neighborhood and slipped out for a 25 mile ride that included 1500 ft of climbing. What immediately amazed me was just how similar the ride quality was to the $2700 Syncros RL1.0 carbon clinchers I had been testing. In fact, I'd venture to say that the overall feel may exceed that of the carbons in some ways. All that for 1/3 the price left me impressed.
Where these wheels shine is on rough pavement. Normally, alloy wheels suffer from a harsh and unforgiving ride, but the TLR system turns these 6061 aluminum hoops into near-tubular ride quality in both smoothness and cornering. Part of that does come with a wider rim at 23mm outer, but the TLR system is the star of the show here.
Laced up with Bontrager RXL hubs utilizing DT Swiss Star Drive and DT Swiss bladed spokes, the RXL's spin up rapidly. Engagement has been consistent and quick with no perceptible wind-up or lag between pedal strokes and wheel movement. Step on it and you get acceleration or uphill momentum.
Speaking of uphill, at 1440 grams, these wheels are respectable climbers. I've been knocking off PR's quite regularly with these hoops. The only downside has been the flex in the rear wheel during standing climbs. I have to expand the rear brake slightly to avoid rubbing.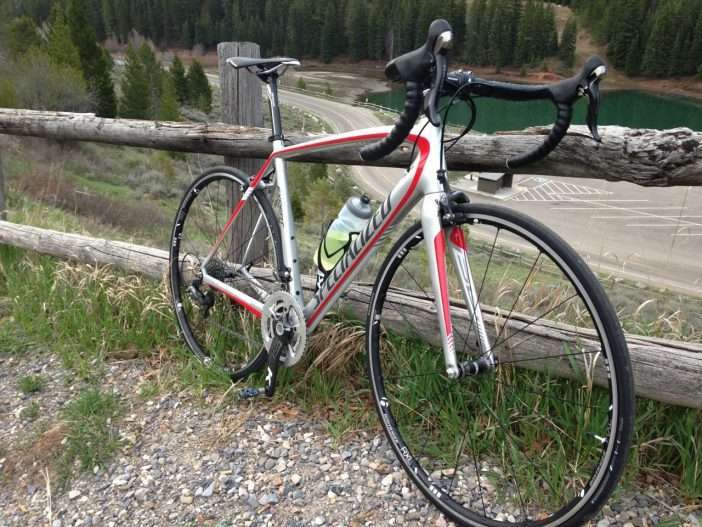 At speed, the RXL's slice through the wind and roll with a high level of efficiency. Handling was always precise and road grip very controlled. I have loved snaking through winding mountain roads and have found these wheels to be up to the task every time. They continue to roll as smooth as day one and remain perfectly true.
When it comes to stopping, the brake tracks are exceptional. I'm running standard Shimano brake pads with Ultegra brakes and have found these to stop quickly and smoothly every time.
Note: All testing was performed using a 2013 Specialized Tarmac SL4 Expert. I'm 5'11" and 170 lbs. 
The Good:
Road feel that rivals tubulars

Light weight like carbon wheels
Bladed spokes improve aerodynamics
Track well and offer lateral stiffness at speed
Great to have tubeless and clincher compatibility
10 and 11-speed ready out of the box
Bontrager TLR tires are lowest-priced tubeless tires and offer top-notch performance
Not a one-trick pony… can add tubes and rim strips as traditional clinchers or use any road tubeless tires you choose
The Bad:
Installing or removing tires requries tire levers and plenty of muscle

Never held air longer than 2-3 days (After the review posted, I've re-sealed the tires and they are much improved. They lose 20 psi after a week — on par with clinchers)
Fixing a flat may require a support vehicle
Rear wheel flexed during standing climbs
The Bottom Line
As my first foray into road tubeless, I'd say these wheels have opened my eyes to the possibilities. Considering the ride quality of the RXL TLR's rivals carbon clinchers at 1/3 the price, I'd have to be crazy not to recommend these wheels. A few minor quibbles, but overall I'd say these are some of the most versatile alloy tubeless-ready clinchers on the market.
Buy Now: Visit Bontrager.com