One look outside and most riders will call it a season. In my book, having the right gear means less indoor training and that glimmer of hope that I'll actually get to ride outside during the winter. As I've picked my days around storms, one thing has been constant — the Bontrager RXL InForm Bib Tights.
Bontrager RXL Softshell InForm Bib Tights Features:
Profila Softshell front and rear panels provide windproof and water-resistant protection from cold and windy weather
Profila Thermal fabric retains body heat and wicks moisture to keep you warm and dry
3D shaped, Italian-made inForm RXL chamois features a 4-way stretch top sheet, multi-density construction, and extremely breathable Aircell foam padding
Micro mesh Profila Dry bib straps with zippered front for convenience
Plush elastic leg gripper, scalloped ankle for extra coverage, and semi-locking zippers for easy on/off
Reflective elements enhance visibility
MSRP: $159.99
Brave the Winter in the RXL Softshell Bib Tights
The transition from bib knickers to tights is sometimes hard to bear. It signals the end of warm afternoons and the official start of "dodge the weather". In Utah, that means waiting a few days after a storm before hitting the snow-covered shoulders and riding in the afternoon to enjoy the warmest weather. If it's 35 degrees and sunny, I'm game for a ride and the RXL Softshell bib tights have been there.
When looking over these bib tights, there's no looking past the Profila Softshell material in the front and critical back panels. This material is thick and less stretchy than typical winter-weight thermal bib tights. As such, I found the off-bike fit to seem a little generous. At 5'11" and 170 lbs, I'm a solid size large in "race fit" jerseys and bibs, so that's what I've been testing. Since Profila Softshell material is less stretchy than your typical tights, I think I'm properly sized — in spite of some bagginess in places.
The length of the uppers and legs were spot-on — offering the perfect amount of coverage. I was able to wear these with and without a base layer. I preferred wearing them with the Castelli Uno Plasma Base Layer and found that to be an excellent combo. I love the zippered front as it means easy access for bathroom stops. And, the overall comfort of the uppers is excellent.
At the ankles, Bontrager has placed an angled zipper that's in just the right location (side of the leg) for easy zipping and always chaff-free. Add on top of that, a nicely-designed locking zipper pull and I'm downright impressed (a good zipper pull always wins me over). Additionally, the cuff is cut longer in the front to extend coverage and add warmth.
On the bike, the loose fit essentially disappears as I'm able to pedal, while seated and standing, without feeling like I'm fighting the material — not something all winter-weight tights can boast about. In temps down to the low-30's, the RXL Softshell's held their own with one exception: the air gaps caused by the necessary looseness would trap cold air in some spots. This particularly happened on the front area towards the crotch and on the sides of the knees. It was never a horrible chill, but oftentimes it was noticeably colder in those areas. That said, compared with the Castelli Sorpasso's, the RXL's are actually more comfortable in colder temps.
Moving along to the InForm chamois, this design is the best that Bontrager makes and worked well with a variety of saddles (Specialized S-Works Romin, Specialized Toupe and Bontrager Serano RXL). The multi-density design offers long-distance comfort and is easily one of the best chamois on the market.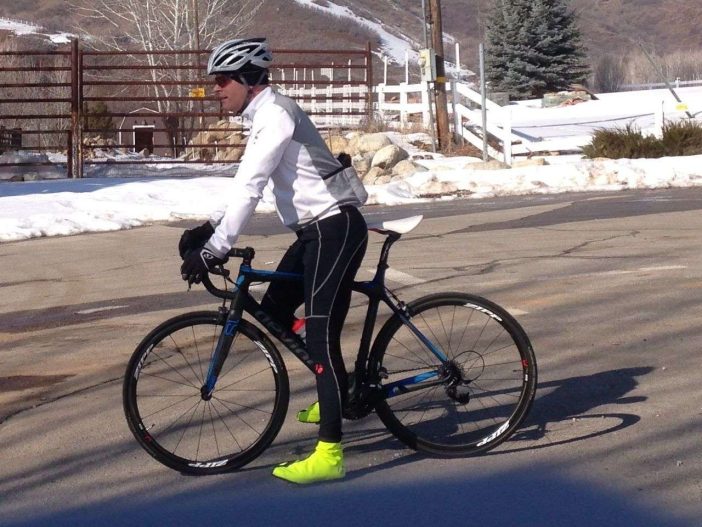 When riding hard, these still breathed well with the only place gathering moisture being the lower-back where Bontrager uses Profila Softshell instead of Profila Thermal. As such, my back got a little sweatier than with other bibs, but it did provide extra weather protection and warmth. I've tested these in temperatures from 30 to 50 degrees. They get a little toasty in temps approaching 50 degrees — that's the best weather for bib knickers anyway.
After over three straight months of solid use, I feel like I'm just breaking these in and they show no signs of wear. They wash clean and remain my top choice for heading out for a cold weather spin. Keep in mind that while the Profila Softshell material is water resistant, there is no water-resistant treatment (unlike Castelli NanoFlex), so they will get wet and soak up a little water, but it takes a consistent pounding of water to penetrate through.
The Good
Softshell material provides excellent warmth
An excellent value at $159
InForm chamois is worth writing home about
Easy on/off
On-bike fit is excellent
Wind protection and warmth is solid
Love the location, length and angle of the ankle zippers
Front zip for easy bathroom breaks
Non-constricting fit keeps legs fresh and responsive
The Bad
Off-bike fit seems generous

No DWR treatment
The Bottom Line: RXL Softshell Bib Tights
Again, riding comfort is superb and as a testament to their non-constricting fit, I've been able to knock off several Strava PR's while wearing these. It goes without saying that cold temps make muscles react slower, but wearing the RXL Softshell Bib Tights has neutralized that and kept my legs fresh and fast.
Buy Now: Available at Bontrager.com or Your Local Trek Dealer