Don't skimp on shoes. As one of the key bike/body touch points, it's worth spending a little more to get a lot more performance and comfort. Bontrager re-launched their road line with three Boa-equipped models and the Velocis hits the sweet spot of price and performance.
Note: Bontrager updated the Velocis Road Shoe for 2018, read our review of the updated model. 
Bontrager Velocis Features:
inForm Pro last – Ergonomically optimized high-performance fit
Silver Series carbon sole – Carbon/fiberglass composite sole
Boa IP1 dial for precise two-way adjustment
Stiffness index 10
Synthetic uppers with Lightning Mesh panels
Weight: 250 grams (size 44, each)
Price: $219
Go hi-vis and hi-comfort
A few years ago, a friend of mine sarcastically "thanked" me for not telling him about the beauties of carbon-soled cycling shoes earlier. Apparently, I had casually mentioned something about carbon soles and he went out and bought a pair — changing his life forever. So, let it be written that carbon-soled cycling shoes will change your life and don't blame me if you are late to the game.
This season, Bontrager has revamped their road shoe line with refined InForm fit, new designs, new colors and each one uses the heralded Boa lacing system.
The Velocis is the workhorse shoe in the lineup. It's full-featured enough to satisfy even the most demanding cyclists, but comes in at a reasonable $219. Sporting a stiff (10 stiffness index) OCLV carbon sole and zippy new uppers the Velocis are built for crushing climbs or spending long days in the saddle.
I've been testing the hi-vis black/pink color, which stands out really well in low light and mid-day. I'm glad that Bontrager has focused on rider visibility over the past couple of years and these are a great example of those efforts. And, for some, pink is the new yellow.
Bontrager's InForm fit philosophy extends to all bicycle touch points (gloves, saddles, chamois and shoes) and focuses on rider comfort and ergonomics. This system approach does a great job of covering all the bases and delivering a comfortable ride.
As far as cycling shoes go, these feature a relatively roomy toebox that's great for just the right amount of wiggle room. After breaking my right pinkie toe two months ago, I really appreciated the extra width. Further improving the toe box is the metatarsal button that spreads out the forefoot to improve blood circulation and reduce toe numbness — it does an admirable job as I've only experienced slight numbness in my right big toe on some longer rides. The shape of the footbed and the overall shoe design feels spot-on for power and comfort.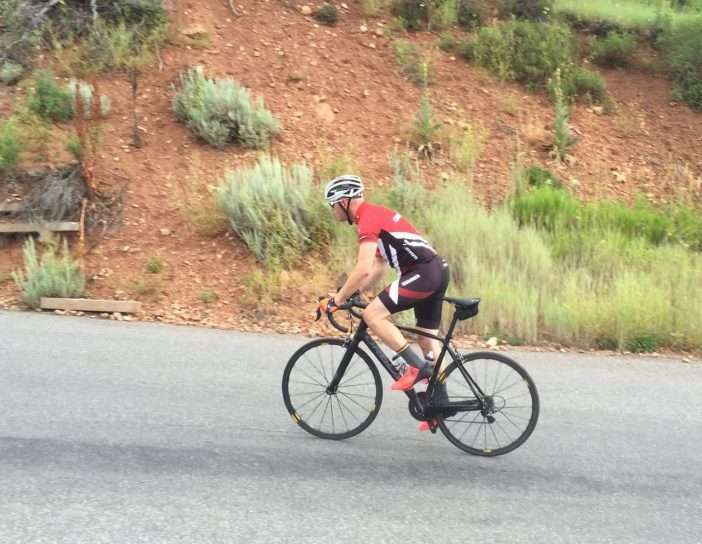 Admittedly, the Velocis could be a bit more breathable. On one 95-degree day, my feet started feeling like they were being cooked inside. Now, my feet get pretty hot, but a bit more mesh or vent ports would be nice.
The Boa IP1 closure design is the best on the market. Dialing in the fit is a cinch and it's awesome that the dials are mirrored for intuitive left/right closure rotation. It makes for easy adjustments in the saddle between pedal strokes. Many times, I find myself tweaking the fit during the course of a ride — not something you can easily do with standard buckles or Velcro.
I tested the Specter road shoes earlier this year and found them to be fantastic overall, but the Velocis are even better with stiffer soles for better power transfer. I've now got the XXX road shoes in for review and they are even stiffer and racier (stay tuned).
The Good
Bright salmon color way adds extra visibility
Boa closure
Stiff carbon sole
Competitively-priced
Unique wrap-around tongue stays put
Molded arch supports
The Bad
The Bottom Line: Bontrager Velocis Shoes
A stiff OCLV carbon outsole matched with a comfortable upper makes the all-new Velocis shoes a great choice for demanding cyclists. Add in there the awesome bright salmon color and these shoes will get you noticed on the road.
Buy Now: Bontrager.com or Your Local Trek Dealer
The Verdict
The Bontrager Velocis road shoes deliver the sweet-spot of stiffness and all-day comfort. The hi-vis pink color and BOA lacing system put these to a unique spot in the wide variety of road shoes on the market.