When temperatures rise beyond the need for winter-weight tights, but are not quite warm enough for summer-weight bib shorts, a parade of warmers typically enter the picture. While it's always good to have leggings and knee warmers, the simplicity of the Bontrager Velocis Thermal InForm Bib Shorts wins the day.
Bontrager Velocis Thermal InForm Bib Shorts Features:
Arcus inForm BioDynamic Chamois – Italian made, OverEasy constructed Aircell pad
Profila Thermal fabric traps and retains body heat
Lightweight, low-profile straps offer great support and comfort
Bib Bridge support with Profila Cool mesh back
Clean-cut compression leg gripper
Reflective elements enhance visibility for maximum safety
Inseam: XS-S 10"/25 cm, M-2XL 10.5″/27 cm
Fitted – Streamlined fit for all-around cycling performance
MSRP: $159.99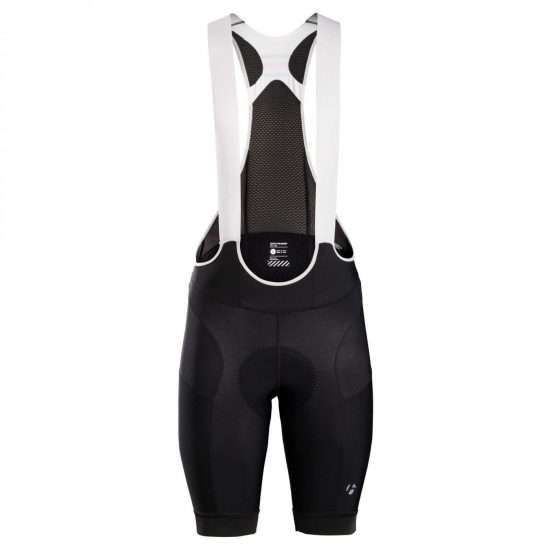 The "spring special" bib shorts
It's not quite warm enough outside for summer-weight kits, but my repertoire of winter bib tights have been put away for the season. But, I love simplicity and always opt for the right kit for the weather. That "right kit" is usually selected to minimize the use of extra stuff, like arm warmers or leg warmers. Instead, I typically grab my trusty Castelli NanoFlex Bib Knickers but now I have another great option — the Bontrager Velocis Thermal InForm Bib Shorts.
Right off the bat, the Velocis Thermal bib shorts were simply amazing with excellent fit and overall comfort. Sizing is perfect and as expected. I typically wear a size Large (5'11" and 170 lbs) and these fit quite well. The legs offer good compression and the bib straps are the model that all bib shorts should follow.
Let me rant a little here. The material used for bib straps should not be that difficult to select, but too many bibs on the market feature rough material that can chaff my nipples raw (yes, nipples). We've all been there. Every pair of Bontrager bibs I've tested over the years has been built with smooth, stretchy and wide bib straps that simply disappear when you're wearing them. Bontrager has nailed it yet again with the Velocis Thermal bib shorts. Yay, straps!
Aside from the straps, what else is noteworthy? Let's start with the Profila Thermal fabric. This brushed-back fabric is always warm next-to-skin, thus providing a cozy engine on cool rides. It's important to keep your muscles warm and these do a great job. No, the fabric is not windproof nor is it water-resistant, but that extra warmth is perfect this time of year.
Again, these offer good compression and muscle support, but I'll also give a virtual fist bump to the Bontrager team on the InForm BioDynamic Chamois. This chamois performs well beyond the $160 price point for these bib shorts. It's comfortable and form-fitting to stay where it should across a variety of saddles.
I wish the main leg panels utilized flatlock seams for even more comfort and a nice DWR finish could make these an even better choice for wet weather.
The Good
The model of bib straps all should follow
Killer chamois
Hits a great sweet spot for shoulder season and early mornings
Brushed interior delivers instant comfort
The Bad
No DWR (would have been a slam dunk)
Should have flatlock seams throughout
The Bottom Line: Bontrager Velocis Thermal
While bib knickers are always great for shoulder season riding, going with the Bontrager Velocis Thermal bib shorts are a close second and even superior when freedom-of-movement is key. I love, love, love the straps and the chamois is top-notch. All that mated to Bontrager's awesome Profila Thermal fabric and these are easy winners.
Buy Now: Visit Bontrager.com