ENVE doesn't typically get tricky with their product names. No, they usually just call things what they are. I still love the ENVE Road Handlebar and consider it one of my favorites. Taking that further, the new ENVE SES AR Road Handlebar offers a modern drop bar shape for all-road adventures.
ENVE SES AR Road Handlebar Features:
Aerodynamic tops to reduce drag
Compound flared drops keep a natural hood position
Internal and external cable routing options (Di2 compatible)
Stepped tops for clean taping
76mm reach and 127mm drop (with 23.5mm flare)
Available in 38-46cm widths
5-year warranty with lifetime crash protection
Weight: 273 grams (44cm)
MSRP: $400
An all-road bar worth waiting for
Thanks to gravel bikes, the horizon for all drop bar bikes has expanded. Modern road bikes can fit wider tires and, of course, gravel bikes (like the Open WIDE or 3T Exploro RaceMax) are swallowing XC tires. With that kind of capability, riders are coming to appreciate a little more wrist clearance and added comfort and control from their bars. But, not all flare is created equal and the ENVE SES AR Handlebar seems to have nailed just the right mix.
Looking it over, the shape is quite unique and unlike other bars. I'd say the flare is mostly like the Zipp  Service Course SL-70 XPLR. With ultra-thin tops and a flare that kicks out mid-drops, it's definitely a sight to behold. As a nod to the aerodynamics of the bar, the tops conjure up images of the venerable Lockheed U-2 spy plane. And, as an aviation junkie, I love that comparison. The tops taper towards the outer curve and then bend forward at almost 90-degrees. That right-angle transition is unlike any other bar on the market and offers the flattest perch for your palms of any bar I've tried.
Admittedly, the thin tops are initially unnerving. They feel dainty and lack enough girth to use when the going gets really rough. That said, while the tops do offer nice comfort, I don't spend much time there — except on long climbs. What's also cool is that those wing-like tops also feature grooves and internal routing so cables can sit flush with the finishing tape. Adding to that, ENVE also has a stepped transition where the bar tape ends. The resulting look and feel is nothing short of pro. These look amazing.
Rounding out the appearance and initial setup, I must cover the lack of compatibility with any standard out front bike mounts. There's just not enough room for a clamp to attach, so you'll have to pony up another $75 for the ENVE K-Edge Computer Mount if you are running the ENVE Road Stem (like I am). If you have another stem, be sure a bolt-on mount is available. With a bar this expensive, it is a little bit disappointing to have to go this route. That said, the end result is primo in every way. It works with my Wahoo ELEMNT Bolt 2 or Roam just fine. Keep in mind that you will also have to run either Garmin or Wahoo head units as well.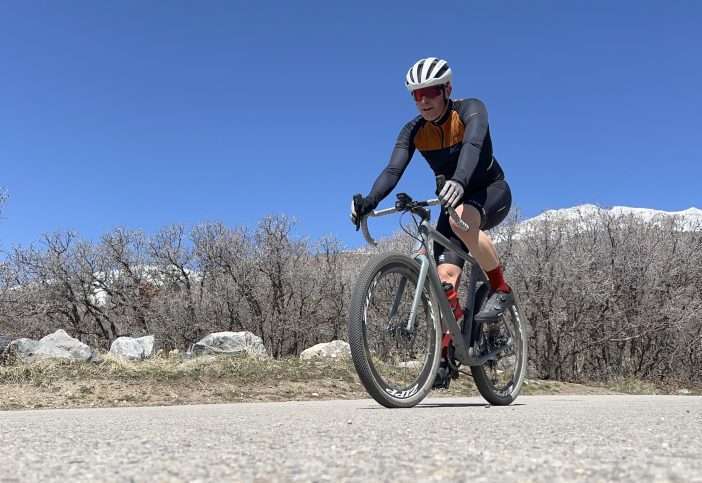 When it comes to mixed road and gravel riding, the SES AR has a ton to praise. Again, those tops offer comfort, but that 90-degree curve to the hoods is one of my favorites. With full palm support, my hands are sitting more comfortably than ever. That's the position I'm in almost 90% of the time and it just feels right. I can do everything from that position and my palms are fully-supported.
On long descents or sprinting, the drops are also a nice place to be. That little bit of flare provides wrist clearance and additional leverage as needed. It's a great feel, for the most part. My only niggle with these bars is the forced positioning of the notched drops. Admittedly, it's a good hand position, but I do prefer a naturally-curved set of drops to allow a variety of hand placements so I can move around at will.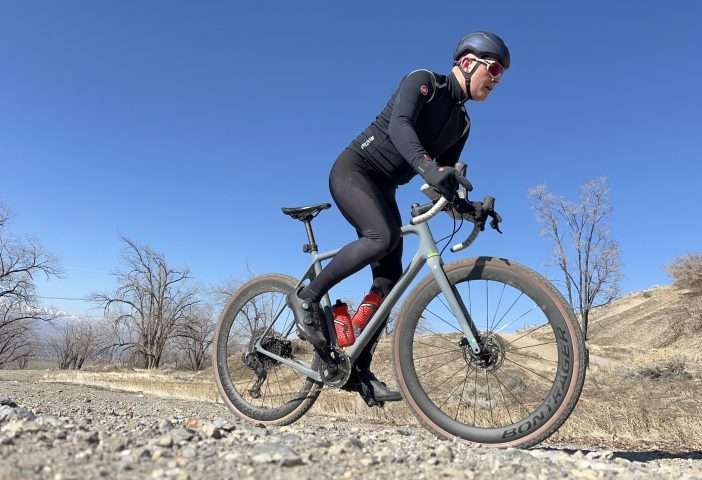 The layup and shape of the SES AR bars offer added chatter reduction. Ratcheting things up even more, the combination of the ENVE carbon stem and the AR is quite the pairing, but wowzers is it expensive. $775 for the bar, stem and out front mount is quite an investment, but worth it if you're building the ultimate gravel or all-road drop bar bike.
All testing has been aboard the Open WIDE, so naturally I've been hitting up all kinds of terrain. Road, gravel and even singletrack are all amazing with these bars. I can dance around the bars as needed and the comfortable hand position in the hoods is beyond anything I've ridden previously. If you can find these at retail, you'll be absolutely stoked at the look and ride feel on offer.
The Good
Just the right amount of chatter reduction
Remains stiff and responsive when pushed
Bar tape finishes up like a pro
Cable grooves make a seamless look
Just the right amount of flare
Excellent feel in the hoods
Rubber end caps are so clean looking
Pinpoint handling on even the roughest terrain
Tapered tops offer natural backsweep for your hands
The Bad
Thin tops did take some adjustment
Notched drops limit hand placement
Wish the drops were a little longer
You'll need a stem mount for your GPS
The Bottom Line: ENVE SES AR Handlebars
The shape of the ENVE SES AR Road Bar conjures up images of the U-2 spy plane. And, it does more than just fly higher than the rest by delivering class-leading comfort and precision for any road or gravel adventure. With just the right amount of flare and width, these bars have become like an old friend. If you're already set on going full ENVE cockpit, you won't scoff at the price because you know the level of performance on offer.
Buy Now: Visit CompetitiveCyclist.com