This year, Israel-based Funkier Bike has revamped much of their cycling lineup and I was given the opportunity to test their Certaldo Pro Jersey and Matera Elite Bib Shorts. This kit is a little different than the usual designs, but hits a good price point among all other options on the market.
Certaldo Pro Jersey and Matera Elite Bib Shorts features:
Jersey features a relaxed cut, full-length zipper, 100% polyester mesh fabric, three rear pockets with a single zippered waterproof pocket
Bib shorts feature detachable straps and F-1 chamois
Both feature laser-cut cuffs with sublimated pattern
MSRP: $63.95 (jersey) and $136.95 (bib shorts)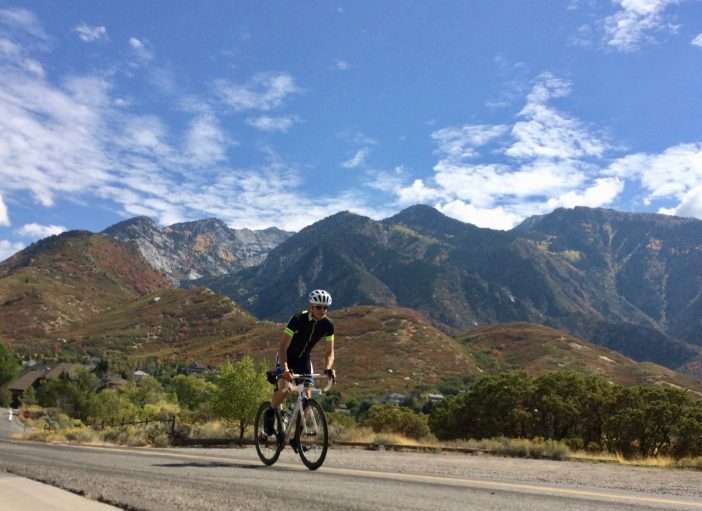 Unique Designs Mix Things Up
Affordable bike kits can be hard to come by. It's easy to spend well north of $400 for a new jersey and a pair of bibs, but it doesn't have to be that way. There are plenty of affordable options that have a ton to offer even the most picky of riders.
Funkier Bike is a great option for those looking at a new kit but don't want to break the bank. With 25 years in the apparel industry and now over 8 years making cycling clothing, Funkier Bike may not yet be a household name, but that shouldn't deter anyone from giving them a try. The complete Funkier lineup includes road, mountain and fitness cycling clothing, helmets and even running apparel.
I've been running the Certaldo Pro Jersey and Matera Elite Bib Shorts for several weeks and have found them to be on-par with most clothing in their price range, but they do have a few unique features that make them stand out from the crowd.
Certaldo Pro Jersey Review
Let me start with the Certaldo jersey. The construction is a mixture of polyester fabrics that feature both standard and flatlock seams throughout. The fit is a bit generous as the size medium has a loose fit compared to other jerseys I've tested. By no means is it baggy, but it does give me some wiggle room on my 5'11" 165 lb. frame.
Like most jerseys, the Certaldo features mesh panels for added breathability, which work well overall. The black panels do tend to attract more heat than other black jerseys I've tried as mid-day rides can be a little toasty. Thankfully, the full-zip can help mitigate some of that extra heat. Collar height is a little taller and looser than I'd prefer so on-handed unzipping is difficult. But, the zipper pull is easy-to-grab and pull once started.
The rear pockets are narrower than I'm accustomed to, so keep that in mind. That narrow width makes them a bit difficult to reach on the bike. A waterproof zippered pocket is a nice touch to keep your phone or wallet protected.
Matera Elite Bib Shorts Review
The bib shorts are certainly unique in the market. I've never seen bibs with detachable straps before, but when nature calls, these clips do come in handy. Putting them on is a little odd because you have to stretch the uppers over your head, but once on they are quite comfortable.
The clips are easy to operate when needed and do provide some value if you prefer bibs but hate unraveling yourself just to go to the bathroom. I thought I'd notice the clips while riding, but I didn't unless I really thought about it. I'm not completely sold on the center-pulling straps, however. I will add that the fabric used with the straps is comfortable and offered chaff-free performance. In addition, the laser-cut leg openings and sublimated grippy fabric is a nice touch here.
I went with the size large bib shorts and found them to fit just right on me. I have a 33″ waist and really normal proportions on my 5'11" 165 lb. frame, so keep that in mind.
The Italian-sourced chamois is good overall, but not outstanding. Again, more expensive bib shorts will have a more full-featured chamois, but this one is on par with what I'd expect.
The Good
Affordable price points
Good visibility elements throughout
Waterproof zippered pocket for valuables
Detachable bib straps for bathroom breaks
Fabric is soft next-to-skin with chaff-free performance
The Bad
Jersey pockets are really narrow
Collar is wider and taller than I'd like
Center-pulling bib straps don't do it for me
Jersey is hot in direct sunlight
The Bottom Line: Funkier Certaldo and Matera
As an out-the-door price of right around $200, this kit is certainly worth a look. As part of their Pro and Elite lines, respectively, the Certaldo and Matera are built from the best mix of fabrics in the Funkier line. Still, I wished for bigger jersey pockets and I'm not sold on the unique bib straps. If you like bib shorts, but hate undressing just to use the bathroom, these are worth a try.
Buy Now: Available at FunkierBike.com