We all know Gore-Tex very well. This wonder material has been part of countless mountain expeditions, is embedded in urban culture and has even protected astronauts in space. But, in spite of all that, it still hasn't taken off in cycling because, while it's waterproof, breathability hasn't been as good as it needs to be for on-bike use. Because of this, Gore's Windstopper fabric has been the clear material of choice for cycling. However, their new Gore-Tex Shakedry fabric is turning Gore-Tex into waterproof, breathable, windproof and stretchy cycling jackets.
Gore C7 Gore-Tex Shakedry Stretch Jacket Features:
Extra-long back for added coverage
Gore-Tex Active Shakedry
Shakedry stretch panels (hips, shoulders, cuffs and underarms)
Reflective print
Lightly-backed collar
Weight: 170 grams (large, actual)
MSRP: $369.95
The C7 Stretches, Breathes and Protects
During the weekend of the 2018 Paris-Roubaix, I had the privilege of spending time with the Gore team global ambassador, Fabian Cancellara. The purpose was to launch the new Gore C7 Shakedry Stretch Jacket, oh, and watch the race with the 3-time winner of The Hell of the North.
Having just finished my review of the Gore C5 Shakedry 1985 Viz Jacket, I was familiar with the material — unfaced and unbacked Gore-Tex membrane. Gore-Tex Shakedry remains 100% waterproof and, because it is no longer sandwiched between fabric layers, breathes in ways that Gore-Tex has always dreamed of.
While Shakedry is amazeballs, it does have limitations. Tops on that list is durability. It can't take repeated abuse from backpacking or tree-whacking on a backcountry ski tour, but it's more than durable enough for cycling. The other limitation of Shakedry is its lack of stretch, which made the C5 Shakedry a little oversized.
So, with the C7 Shakedry Gore-Tex Stretch Jacket, Gore has introduced honeycomb-like stretch panels that allow for a more streamlined fit and comfort on the bike. The fit is quite remarkable, actually. We're talking a race fit, 100% waterproof, 100% breathable jacket that doesn't restrict movement in any way. It's truly incredible stuff that makes someone like me (who has seen a fair share of jackets), giddy.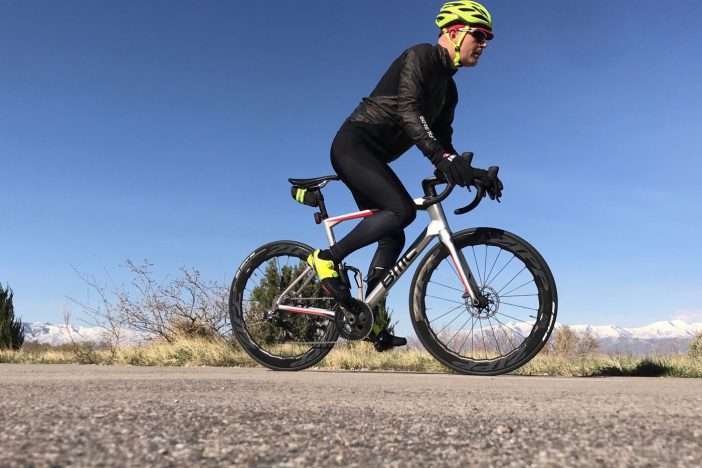 C7 Shakedry Stretch Blows My Mind
As mentioned, the fit is decidedly race-cut and the large fits me perfectly-snug (I'm 5'11", 175 lbs. with a 40″ chest). I can wear a base layer and a long-sleeve jersey underneath quite comfortably. I can even squeeze the Castelli Fawesome Vest underneath, if necessary. Things get quite snug at that point, so on the coldest of rides in the 40's, a long-sleeve base layer and long-sleeve jersey combo is just right.
Because Gore-Tex Shakedry blocks all wind, it's not surprising that it keeps me warm on winter rides. The black color, though not as visible on the road, does attract the sun for added warmth — no doubt that plays a role in things.
After wearing countless cycling jackets, slipping this one on reveals something special. The fit is superb with the proper sleeve length, hem length (with extra coverage to boot) and collar height/diameter. In short, this is the pattern of choice for the proper cycling jacket.
On the bike, the C7 Shakedry Stretch Jacket lays flat and still throughout the entire ride. It doesn't ever ride up or feel constricting. The stretch panels definitely do their job and allow for an athletic fit.
Performance has been superb with waterproof construction and excellent breathability. Yes, sweat will gather on the back panel during hard efforts, but the fabric never gets overwhelmed. Breathability is so good, I can confidently recommend this jacket year-round as a wet or cold-weather barrier. And, if you do go on a soggy ride, just shake the jacket when you're done and almost all the water flies off, leaving only micro droplets on the jacket.
A few more details worth mentioning include the comfortable collar which is lightly-backed for added comfort next-to-skin, stretchy cuffs for a secure fit at the wrist and a waterproof zipper to keep the elements at bay.
The Good
Lightweight and packable enough to stuff in a jersey
Supreme weather protection
Breathability beyond any Gore-Tex ever tested
Excellent, streamlined fit
Stretch panels allow freedom-of-movement
The Bad
Take care not to abuse the fabric
The rear pocket is difficult to use
Black is the only color (they are working on additional colors)
A multi-direction zipper would put this over-the-top
The Bottom Line: C7 Shakedry Stretch Jacket
The Gore C7 Gore-Tex Shakedry Jacket is the best cycling jacket I've ever tested, period. Shakedry amazes with its weather protection and breathability and the stretch panels make for pure nirvana. It breathes well enough to be used year-round when serious weather protection is needed. And, it blocks the wind so well that it can be worn on cold rides with the proper layering.
Buy Now: Available at Backcountry.com
In Summary
The Gore C7 Gore-Tex Shakedry cycling jacket is the best jacket I've tested and represents the new benchmark in weatherproof performance. It breathes (finally), stretches and keeps the elements at bay. Oh, and the fit is spot-on in every way. Chapeau, my friends. Chapeau.