Pulling out all the stops is what Louis Garneau does with their Course line. And, for winter, the Course Elite Bib Tights get the royal treatment with everything anyone could ever want in a winter-weight bib.
Louis Garneau Course Elite Bib Tights Features:
Super Lite Dry panels for water/wind protection
Heatmaxx fleece maintains warmth
Carbon X-Mesh for muscle compression
5Motion chamois
4″ zip fly
7″ ankle zips
Price: $299.99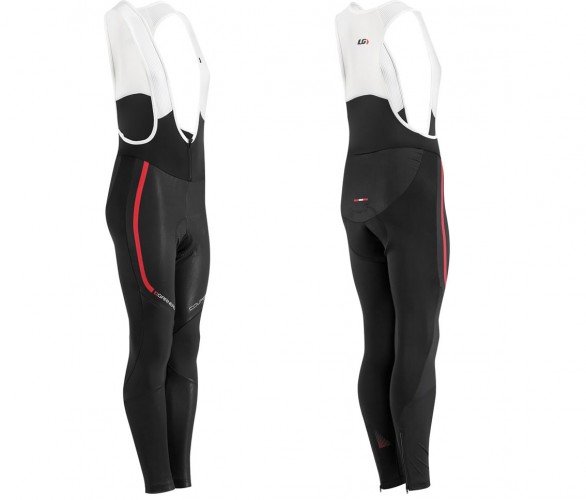 Course Elite Bib Tights Deliver Versatility
When it comes to winter-weight bib tights, sometimes it pays to mix in a variety of fabrics. The Course Elite Bib Tights are a great example of that versatility coming into play throughout the wide spectrum of conditions they've been subjected to.
My very first ride wearing these was on a perfectly miserable day. Outside was a steady rain with thick, grey clouds making it feel like it was nearly dusk, even though it was one o'clock in the afternoon. Not only was it raining, but it was a cold, on-the-cusp-of-snowing kind of rain. Nobody in their right mind would ride in this kind of weather, except me.
So, I kitted up with the Course Elite's and trusted that they would keep me warm and protected. With a constant rain, the weather-resistant panels actually did quite well overall. I stayed fairly dry, but most of all warm, for the most part. I say that with one caveat — the lower leg panel is completely unlined. So, while it remains water resistant, there's nothing of warmth to keep everything below the knee from turning into an icicle. Not sure how that got missed, but that's about the only whiff on these bib tights.
While the unlined Super Lite Dry lower leg panels may feel chilly while riding in the mid 30's or when wet, the knees and thighs are kept warm and toasty with a double dose of fleece-lined goodness and Super Lite Dry. In addition, the backside is also double-protected to keep tire spray from getting the best of your hind end.
One thing is for certain, Louis Garneau knows how to make a proper chamois. The included 5Motion chamois is certainly one of the best on the market for overall comfort and vibration absorption. It makes for a comfortable perch.
Having a short zipper in the bibs makes for easy entry/exit and bathroom breaks. The wide straps of the uppers are also extremely comfortable next-to-skin and keep the tights perfectly in place.
I've worn these in a temperature range of about 35 to 50 degrees and that's about what I'd place their usable range.
The Good
Feels like a million bucks
Wide straps for extra comfort
Softshell panels keep things warm and dry
Little zipper means a lot
Body-hugging panels
The Bad
Unlined lower legs make for cold rides
It all comes at a premium price
The Bottom Line: Course Elite Bib Tights
Garneau knows a thing or two about how to make proper bibs, or, in this case, bib tights. The Course Elite Bib Tights feature pro-level features and comfort (with the exception of the unlined lower legs) that can stave off winter's best.
Buy Now: Get at CompetitiveCyclist.com