Bibs are where it's at and Louis Garneau is one of a handful of brands that sponsor a World Tour outfit (Team Europcar). As such, they have quite the test bed for abuse and the Elite Lazer Bibs are a great example of a well-sorted pair of bib shorts.
Garneau Elite Lazer Bib Shorts Features:
Ergonomic fit: Pre-shaped to fit and support the body in movement
Inseam: 11.25″/28.5cm
7 panels
1 back pocket: Fits phone, MP3 player, or gels
Seamless inner leg: Reduces bulkiness and excess material that causes saddle bunching for more comfort
Stretch trim on bib straps: Provides greater ease and comfort
Aero Lazer band at thigh: Lazer-cut, smooth transition to improve aerodynamics and muscle support
Nature calls panel: For fast and easy "pit stops"
Back and bottom reflective accents: Enhance visibility
5Motion Chamois
Compressive Fit
Coldblack® Finish
MSRP: $179.95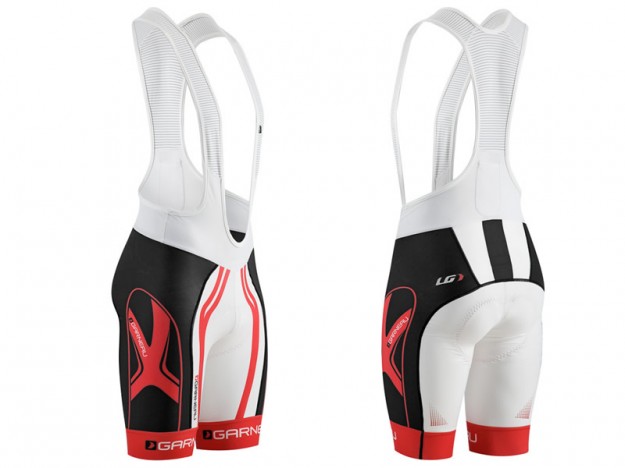 Garneau Elite Lazer Bibs Deliver Elite-level Comfort
As my first pair of Garneau bib shorts, the Elite Lazer arrived with much interest. Doing a little pre-test research on cycling forums, I've found tons of praise for their kits. Granted, there are proponents of any given brand, but the praise for Garneau bibs and the chamois comfort was like a love-fest of epic proportions. Now it was my turn to take spin to see what all the buzz is about.
First off, the bibs are cut just a tad longer than others. Garneau designed the Elite Lazer Bibs for proper compression, so each panel is optimized to properly support your muscles for long days in the saddle. I've appreciated the added compression they afford and really like the overall feel of the bibs on my legs. The fit is definitely Euro in nature as the size Large bibs fit my 5'11" 170 lb. frame perfectly.
The star of the show is the 5Motion Chamois. I'm not kidding when I say it is the most comfortable chamois I've got in the stable. It helps that it is thick, but the padding is downright fantastic. If you roll for hours in the saddle, you'll dig this chamois.
Another area where the Elite Lazer Bibs shine is the straps. I've got a variety of strap types and shapes and while everyone's torso's are different, for me, these sit perfectly atop the shoulders and are situated just right across my chest without chaffing. Believe me… I've got some bibs that have chaffed my nipples raw — not so with these. The straps are wider than others, so perhaps that has something to do with the fantastic feel. When nature calls, the uppers stretch easily.
As with all the best bibs on the market, the leg cuffs are wide and lack the old-school grippy nonsense we all endured for years. These sit perfectly without ever feeling like they need adjustment. I've been wearing these with the Garneau Elite Carbon Jersey, which provides quite the unified kit.
The only thing negative I can pick out of these bibs is the styling. I prefer a little more muted design, but you may disagree. If that's all I can point out, that's saying a lot.
The Good
Bib straps are easily the most comfortable I've worn
5Motion chamois is the most comfortable chamois tested
Compression you can feel
Fits well and stays put — all without grippy leg openings (grippy legs be damned!)
Easily stretched when nature calls
The Bad
White/Black/Red color is a bit loud (luckily, White/Black is available)
The Bottom Line: Garneau Elite Lazer Bib Shorts
Louis Garneau has obviously done their homework with the Elite Lazer Bib shorts. Talk about comfort… these literally take it to another level with the fantastic 5Motion Chamois and overall fit. These are my new benchmark bibs.
Buy Now: Available at CompetitiveCyclist.com