While at Bike DealerCamp, I stopped by the friendlies at the SRAM booth to see what was new. Hanging from the tent was a beautiful Specialized S-Works Roubaix decked out in full Zipp trim and the then-elusive SRAM Red 22 with hydraulic disc brakes. I looked at it and asked if I could take it for a spin. So, down it came and off I went for a quick ride around Deer Valley, UT
I'm not going to go into exhaustive detail on how the brakes and drivetrain performed, but I will share some first impressions. As I got the run-down, it ws brought to my attention that disc brakes for road bikes don't have to provide the sheer stopping power of their mountain-friendly brethren. Why? Well, if it's too powerful, you can overpower the small contact patch between the road and the tires. Skidding on a mountain bike is acceptable, but skidding on a road bike can be downright dangerous. After the run-through, I pedaled off for some quick climbs and descents to see what all the fuss was about.
The Test Bike: Specialized S-Works Roubaix Disc
Initial Performance
My initial impressions with the drivetrain were just how smooth the new 11-speed grouppo is. Red 22 offers some of the crispest and fastest shifting on the market. Initial performance truly outshines Shimano Dura-Ace in my book, but admittedly, I still struggle adjusting to DoubleTap shifting. More time, methinks.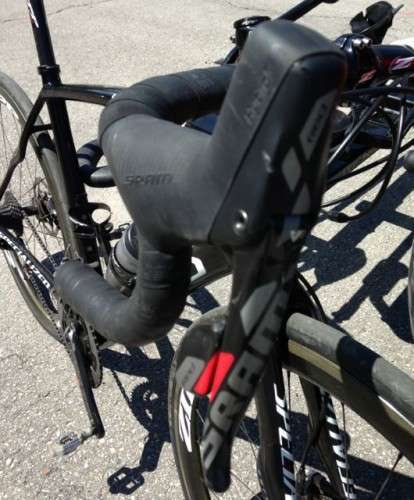 Now onto the braking performance. I loved the feel of the brake levers and the hood design. Yes, the hoods are taller, but they don't feel or look awkward either. Before getting the tutorial, I was expecting jaw-dropping braking power. While the performance of the SRAM Red Hydraulic Discs was smooth and predictable, they didn't feel that much better than a set of top-end brakes under perfect conditions. Let me emphasize perfect. That's the problem and the reason why disc brakes have all-but eliminated rim brakes in mountain bikes — conditions are rarely "perfect" for braking performance.
While I'll reserve full judgement on the capabilities and performance of SRAM's hydraulic road disc brakes until I get a chance to ride them at length, I will say that it is obvious that discs have a great place in the road bike market. Braking consistency, modulation and all-conditions power will help riders maintain safe speeds, avoid collisions and allow racers to ride faster knowing full-well they can stop faster, when necessary.
Bring On the Thru-Axles
Personally, I think that frame designs will need to catch up over the coming years as designers finally embrace thru-axle designs for the road. Modern thru-axles offer a stiffer frame/wheel connection and help to properly distribute braking forces across a larger surface area — all with little speed penalty with wheel changes. With its 15×100 front and 142×12 rear axles, the Focus Izalco Max prototype is what I believe frame standards should settle into. I'm not a roadie purist, just practical. Thru axles go with disc brakes like peanut butter and jelly.
Who's All In?
So, at this stage, what kinds of riders are primed and ready for disc brakes? Well, right now there are limited options in frames with the vast majority of them being endurance bikes like the Cannondale Synapse, Bianchi Infinito CV (beautiful bike) and Specialized Roubaix. There are also limited wheelset options (unless you custom build). Honestly, I'd step aside and let the early-adopters get these early frameset designs and wait for thru axles to come on the scene. I have no doubt that discs will become standard on road bikes — there are way too many benefits to ignore.
More Info: Visit SRAM.com