Aero road helmets all feature unique designs in some way. Many lack vents while others look very much like a triathlon lid while others tiptoe a fine line between all of the above. Mavic poured thousands of hours of R&D into the shape and design of the CXR Ultimate helmet to get it just right. I've been riding that "just right helmet" and it's quite a solid all-round aero helmet.
Mavic CXR Ultimate Helmet Features:
The result of 145 prototypes to refine the aero shape
Claimed to be the lightest everyday aero road helmet
Air disbursement system allows air to flow smoothly
28 vents for breathability
CXR Ultimate fit pad for head-cradling comfort
Ergo Hold SL retention system
360-degree reflective highlights
Weight: 230 g (Medium, actual)
MSRP: $219.95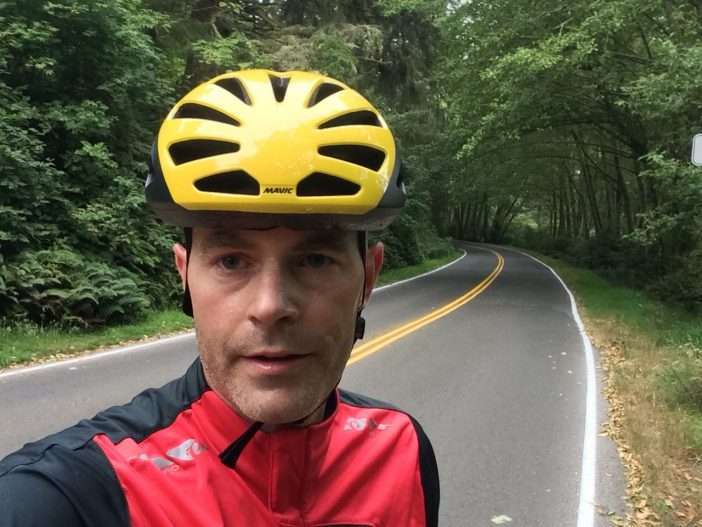 The CXR Ultimate's design stands out
When considering a helmet, standing out from the crowd is oftentimes a good thing. Consider on-road visibility. Bright, bold colors are always my preference. Funky shapes, on the other hand, can be much more polarizing than a visible color scheme. While the CXR Ultimate features a livable everyday design, nobody is going to call it typical.
After buckling up the CXR Ultimate helmet, my son said, "Dad, it looks like you have a Pokemon on your head." Me, not knowing what any Pokemon characters look like, I agreed and smiled. Looking in the mirror, I could see what he was talking about. My friends have said it looks like I have a frisbee on my head, amongst other things. But, that standout design is purpose-built for cheating the wind. And, while I'm not riding in the drops for 100km, I believe you and I can benefit from a little reduction in wind resistance every now and again.
Not having a wind tunnel at my disposal, I'm going to have to take Mavic's claims at face value. And, in my informal wind noise tests, the CXR Ultimate does slice through the wind much quieter than the non-aero helmets at my disposal. Some are downright loud, but the CXR's shape remains relatively quiet at speeds above 30 mph.
The fit is also quite comfortable with the size and shape perfectly contouring to my 57cm head. The Ergo Hold SL retention system features a small, but easily-used dial to deliver just the right fit. Both cool mornings and warm afternoons have been quite livable with this helmet. With 28 vents, air gets moving and moisture is evacuated. I will say that soggy, coastal morning rides caused my Rudy Tralyx sunglasses to fog up beyond use. Some of this is due to the deeper fit of this helmet — a good thing, but obviously bad for soggy morning rides.
Without sunglasses, the CXR Ultimate helmet provides enough wind protection at speed so as to shield the eyes. I believe it does so due to the depth that it sits on your head, thus blocking direct wind from your eyes when in an aggressive position.
Overall construction is excellent, but I'm going to call out Mavic here for not offering such an advanced helmet with MIPS. I've come to expect that brain-saving technology in any top-shelf helmet, so that's the biggest miss here for me. Other than that, I did wish that the inner edges of the helmet didn't have so much exposed foam. It has held up just fine bouncing around in the back of the Subaru, but it's likely that dents will occur here.
The comfort of this helmet is outstanding. All padding is moisture-wicking and comfortable next-to-skin. I shave my head, so I can feel every nuance and this helmet has offered fuss-free comfort from the get-go. The supple strap, padding and Ergo Hold SL retention system all work in perfect harmony. I will add that stashing this helmet in a bag can result in deformations of the retention system, so pack carefully.
The Good
Quiet aero design
Stands out in a crowd
Yellow color is highly-visible
Really comfortable to wear
Great breathability
Easy strap adjustments — thin, comfy straps too
Star-shaped frontal padding nails the comfort zone
The Bad
No MIPS
Polarizing style (but all aero helmets look funky in their own way)
Wished for less exposed foam
Thin retention system pieces can get bent if stashed into a bag
The Bottom Line: Mavic CXR Ultimate Helmet
When seeking aero gains, a helmet is a good place to start as it bears the initial brunt of the wind. A good helmet is slippery, that's for sure, but for everyday riding, the only gauge I've got is how quietly it slips through the wind at speed. This one is quieter than most helmets, so I can only assume it is more aero. Comfort is certainly top-notch with the CXR Ultimate as well.
Buy Now: Available at CompetitiveCyclist.com
In Summary
With the Mavic CXR Ultimate helmet you get excellent aerodynamics in a livable package that provides superb comfort. The styling is unique, but this one is still a good all-around helmet for everyday use.