As a mountain biker who also rides on pavement, I often-times find myself caught between two worlds. Do I shave my legs or not? Do I buy actual road pedals and shoes or not? Well, with the new Norco CRR 2 full-carbon roadie at my disposal, I've finally been willing to do all of the above.
Without question there's no better tool than a road bike to put on the miles and vert in a hurry. Cross-training for epic ascents and all-day trail rides on pavement will pay off in spades as you are able to ride longer, harder and faster. Yes, admittedly, I'm not as technically-savvy on a road bike as I am with mountain bikes, but it doesn't take a PhD to appreciate the goodness of Norco's all-new HTR high-modulus carbon fiber on the road — believe me.
Norco CRR 2 Features:
Frame: Norco CRR High-Modulus Carbon Fiber
Fork: Carbon blades w/alloy steerer
Drivetrain: Shimano 105
Cranks: FSA Gossamer
Wheels: Shimano RS10
Cockpit: Ritchey Comp bar/stem
MSRP: $2040 USD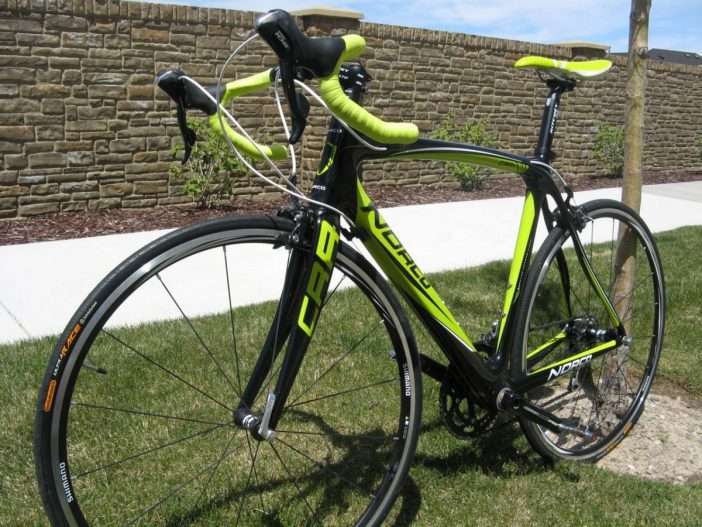 Norco CRR 2 Review
I'm stepping up in roadie land. I've now gone from full-steel to aluminum with a carbon fork then to a scandium/carbon frame with a carbon fork and now this… the all-new Norco CRR 2 full-carbon road bike. While Norco has built road bikes in the past, this year represents a clean-slate rewrite of Norco's performance road program with the introduction of the all-new frame material and makeup. Utilizing a more efficient process to lay up the carbon (EPS Mandrel System) in combination with both High Toughness Resin (HTR) and Thermoplastic Mesh, the end-product is more refined, stronger, lighter and durable than previous designs.
So, heading out on the road, the new CRR 2 is definitely the most advanced road frame I've ridden and all it took was a few pedal strokes and that became crystal clear. Smooth, fast, responsive… indeed, this would be fun.
This Spring has been fleeting with snow, rain, wind and mostly-cold temps for quite some time. This has kept me from riding on the road on consecutive days because either the trails were finally dry for a mountain bike ride (I can't resist dirt) or we just had several feet of powder and the hills beckoned. Though the test period has been spread out a little more than I would typically do, it hasn't done much to block my ability to be thoroughly-impressed with this bike.
First off, the entire package is gorgeous with a large-diameter downtube, oversized bottom bracket junction and shaped/bladed seat tubes all dressed-up in bright yellow/black. Roadies are supposed to be a bit flashy and this one definitely fits that bill. The CRR 2 offers midline components with Shimano 105 throughout, stiff FSA Gossamer cranks and Shimano RS10 wheels. I actually like that they didn't play smoke and mirrors by adding an Ultegra rear derailleur while cutting corners elsewhere. The cockpit is also favored with a Ritchey Comp stem and bar combo in lieu of house-brand stuff. Comparing to a similar Specialized Tarmac Elite, you get a similar frame and build but with more brand-name components and Shimano 105 brakes at a $160 savings — in other words, it's a pretty sweet package for the money.
I've been very impressed with this frame's ability to absorb road vibrations yet still remain ultra-responsive under sprinting and hard ascents. The difference between this frame and every other frame I've ridden to date is like night and day. Its smoothness is oh so nice and has made rough roads seem dreamy.
The geometry is extremely-capable as I've found it to suit me perfectly for extended climbs (my favorite part of riding the road). I've been able to ascend some serious pitches in the saddle with an occasional stand-up and have never felt one ounce of sluggishness — step on it and it responds. The Shimano wheelset has been smooth and predictable with the right amount of stiffness. These are fairly low-end wheels, in my opinion, but you'd never know the wiser.
The handling is very comfortable as well. I've had some roadies feel a bit squirrely on the descents or suffer from wanderlust on the climbs, but this one seems to track straight uphill and offers command and control on the down. Not once have I felt this bike get twitchy at speed (hit 55 mph the other day).
The few drawbacks I'm seeing with this bike are with the 105 drivetrain that is solid and performant, but after using SRAM Red, the difference can be felt. However, that difference will also be felt in your wallet, so it's a small sacrifice I think we'd all be willing to accept. I also had a little bit of a tough go at adjusting the direct-mount front derailleur. It took a few tries to get the mounting location right, but once I did, it has shifted smoothly. I'd also like to see bars with ovalized top tubes for added comfort.
The Good
So smooth on the rough you think you're cheating
Instant power transfer
Seemingly flies uphill
Comfortable and predictable downhill
Really corners well and just feels right
Sexy lines makes this bike sing
An excellent value
The Bad
Shimano 105 drivetrain is good for the money, but not perfect
Would like ovalized tops for more comfort
Direct-mount front derailleur is sweet once adjusted properly
Bottom Line: Norco CRR 2
Norco's new road program is for real! The all-new CRR 2 ascends and descends comfortably and smooth while those sexy full-carbon lines draw plenty of attention. A solid choice if you live North of the border or should you be lucky enough to find one Stateside.
Buy Now: Search for a Norco Dealer