Among those who know, Pioneer has long been the standard in power meters. And, with the advanced data collection it provides, their Dual-sided HD Power Meter is among the most widely-used at the professional level. If you're data-hungry, this is the unit for you.
Pioneer SGY-PM9100C Dual-sided HD Power Meter Features:
Dual-sided design for optimal measurement
Available for most top-end alloy cranksets
12-point force vector measurement
ANT+ connectivity
HD data displayed on Pioneer or Wahoo head units
Meets or exceeds IP66 or IP68 industry testing standards
2-year warranty
MSRP: $999.99 (R8000 and power meter), $799.99 (power meter alone)
Be patient; setup can take time
As consumers of modern electronics, we collectively have little patience. When WiFi goes down or Bluetooth connectivity fails, we lose it. And, when pairing those devices becomes difficult enough to require reading the manual, we routinely move along to something simpler. Let me warn you right out the gate that while Pioneer's HD Power Meters offer amazing data collection, the setup process can be tedious.
To get started, I shipped off a brand new Shimano Ultegra R8000 cranskset to be outfitted with the Dual-sided HD Power Meter (SBT-PM9100C). A phone call, a quick shipment and 10 days later resulted in a fully-outfitted crankset that was destined for the Factor O2 Disc test bike.
Keep in mind that the power meters do require ample chainstay clearance and may not fit every frame. Additionally, they also require magnets placed on the frame to properly measure cadence. The setup process is outlined in detail in the installation manual. In all honesty, the manual is very involved and not something I'd expect from a modern piece of technology. It took weeks of tinkering to get the head unit configured correctly. Much of that time was spent troubleshooting a bad battery (on me), but the longest part was configuring the SGX-CA500 head unit and finally displaying HD data. A full factory reset of the left/right power meters and new batteries finally got me on the right path.
Initial setup of the SGX-CA500 head unit is clunky and time-consuming with a resistive touch screen that makes typing things like emails, usernames and passwords an exercise in futility. Unfortunately, the Cyclo-Sphere mobile app, though promising, isn't much better. Yes, you can review post-workout analysis, but I much prefer the data provided by Strava (especially with Premium) or Wahoo.
Frustrating, time-consuming setup? Oh yeah. But, once configured, I've had a 100% trouble-free experience with excellent data collection and analysis. That data includes independent left/right data, pedaling vector analysis and overall pedaling efficiency (on top of standard stuff like cadence).
The SGX-CA500 head unit is slow to startup, so keep that in mind when starting a ride. The buttons are also non-intuitive and I found myself shutting down the device on various occasions when all I wanted to do was stop the ride. Once successfully ended, I have been able to leverage the Strava integration with WiFi to sync ride data pretty reliably. GPS lock has been good, but the resulting elevation maps have been a little chunky, however overall vertical ascent/descent is seems accurate.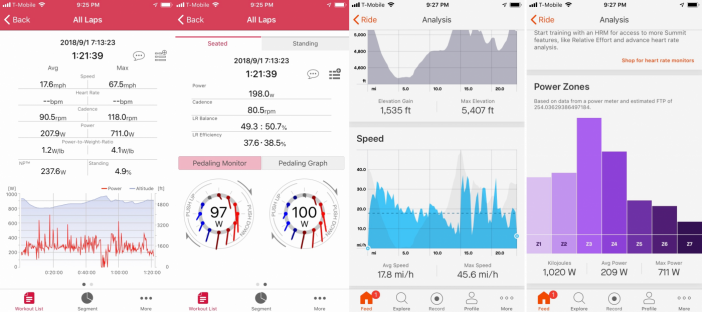 Compared to the latest devices from Wahoo, the SGX-CA500 feels like a BigTrak from 1979. Luckily, Wahoo and Pioneer just announced a partnership with Wahoo ELEMNT computers now able to receive, display and store Pioneer's HD power data. Hallelujah! There is a God in heaven and I can now use the vastly-superior ELEMNT Bolt with both the Quarq D-Zero and Pioneer's HD power meters.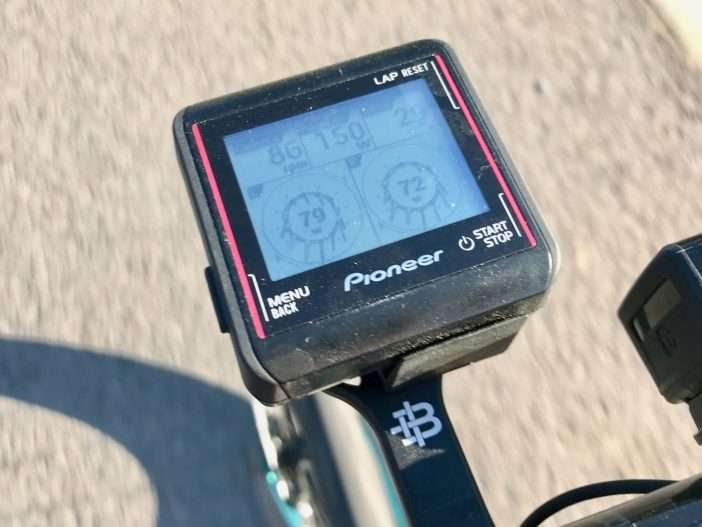 Enough with setup — how's the data?
At the end of the day, a power meter is only as valuable as the data captured and Pioneer is incredible in that regard. Data pickup is instantaneous and reliable across all types of riding. There are a myriad of power-based training techniques that aim to increase overall power-to-weight ratio. Climbers, endurance athletes and sprinters alike will revel in the data provided, but the HD data delivered by Pioneer's Dual-sided unit is above simple power data.
Pioneer's Dual-sided HD power meters have long been a staple in the pro peloton. That trademark triangle unit is easy-to-spot and the large head units can display a wide array of data. Of everything it can display, the combination of pedaling vector and efficiency has provided more real-time coaching than any other power meter I've used.
As it turns out, I'm a pretty efficient climber with an excellent overall pedal stroke, but where I need to focus more is in the flats. That elusive 40% efficiency is harder to achieve in the flats than I thought it would be. I need to work harder and with this power meter, I have a clear target. Certainly, I've gotten better and my pedal stroke has become more consistent when I'm using the Pioneer power meter, another power meter or no meter at all.
Overall, that's one of the biggest take-aways for me is awareness of the proper pedaling stroke that has created muscle memory both when using the Pioneer HD power meter and not using it. For more information on Pioneer's extensive data collection, visit their web site.
Note: Pioneer just released updated HD power meters with additional connectivity and, hopefully, easier setup. Their new SGX-CA600 head unit looks promising too. 
The Good
Accurate, consistent power data
Force vector analysis is a valuable coaching tool
Aiming for 40% efficiency makes for a challenging, but clear target
Proven, tested technology
Wahoo partnership will be HUGE (or at least the new SGX-CA600 unit)
Clean look with Dura-Ace or Ultegra
The Bad
Woeful setup process — be patient, it pays off
SGX-CA500 head unit is bulky, clunky and not user-friendly (Wahoo update can't come soon enough)
Alloy cranksets only
Requires separate magnets for cadence and other measurements
Cyclo-Sphere mobile app needs an update
The Bottom Line: Pioneer SGY-PM9100C HD Power Meter
When actionable data is your goal, Pioneer's Dual-sided HD Power Meters should be your jam. With immediately-actionable metrics, I've been able to improve my pedal stroke both with and without the Pioneer power meter. Choose your training plan and leverage the myriad of real-time and post-ride data to achieve the results you're searching for. I'd recommend a Wahoo unit instead of the SGX-CA500 once their firmware update arrives. And, quite honestly, most of my gripes have been with the setup of the Pioneer head unit. The power meter itself has been stellar.
Buy Now: Available at CompetitiveCyclist.com