Rapha is no stranger to pro-level apparel and Gore-Tex is leading the way with their latest Infinium Windstopper fabrics, so a marriage of the two is a clear win for demanding cyclists. The result of this partnership is the Rapha Pro Team Long Sleeve Gore-Tex Infinium Jersey and it's a top-notch, race-oriented jersey/jacket for cold or inclement weather.
Rapha Pro Team Long Sleeve Gore-Tex Infinium Jersey Features:
Highly-breathable and fully-windproof jersey
Utilizes Gore-Tex Infinium Windstopper fabrics
High-stretch to move with you
Very close fit for aerodynamics
Three rear pockets
MSRP: $290
Pro fit and function in a breathable, cold-weather jersey
Rapha doesn't shy away from the skin-tight fit of the new Pro Team Gore-Tex Infinium Jersey, and I'm here to reinforce that point — it's definitely a racy fit. I typically wear medium top/bottom in Rapha, but the size medium wasn't happening for me and the large is comfortably snug, which I think is just perfect.
As always, it's important to consider how you'll layer up a jersey like this one. I say "jersey" because that's what Rapha calls it, but it's more of a tight-fitting jacket. What differentiates it from most Gore-Tex jackets is it still has three rear pockets, so we'll call it a jersey. That being said, you'll want to minimize the bulk of your under layers, so wearing a jersey underneath this jersey is a little redundant, but possible. Layering up for rides around 45-degrees, I chose a long-sleeve midweight Merino base layer. With that setup, I knew descents would be chilly, but I'd be comfortable elsewhere (and that proved to be true).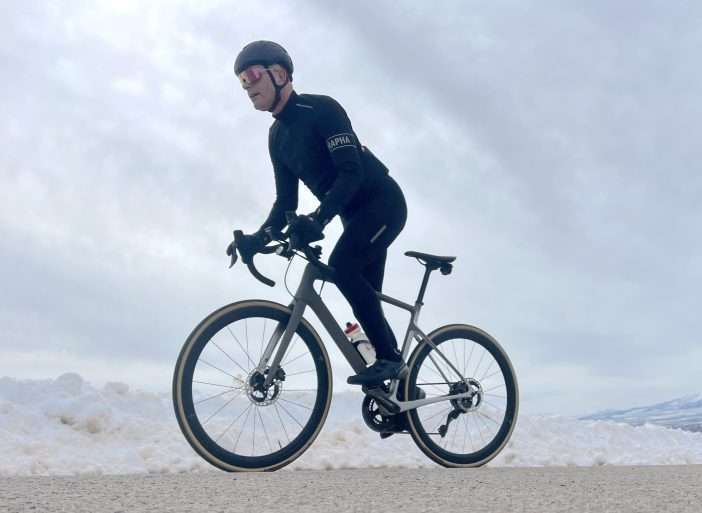 Pull on a thicker base layer for colder temps or a lightweight one for warmer temps. Sticking with the brand, I'd recommend the Rapha Merino LS Base Layer, which is similar to the one I've been wearing. Yes, you could wear it with a short-sleeve layer, but I've found Gore-Tex Infinium to perform better with a base layer, and it's not nearly as comfortable next-to-skin as a nice wool blend.
Heading out for a ride in the mid-40's, I knew there would be occasions where I might feel chilly. However, I also knew that once I warmed up and achieved homeostasis with my body, base layer and outer layer, I'd be comfortable. If you can squeeze in a thicker base layer, you can comfortable dip into the low-40's, but I'd leave colder temperatures to something a little better-suited for the weather (like a fleece-backed softshell). I've found the Pro Team Long Sleeve Gore-Tex Jersey to be ideal for weather in the 45-55 degree range.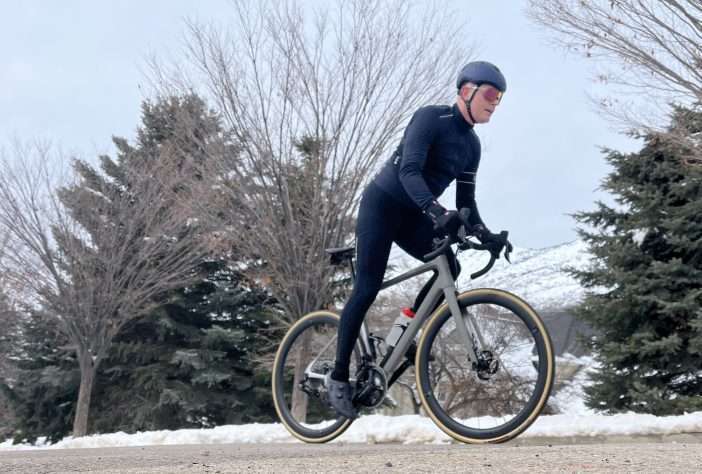 Without question, Gore-Tex has their breathable/waterproof game dialed. No, this one doesn't have the "Guaranteed to keep you dry" badge, but for all intents and purposes, you'll stay warm and dry with this jersey (unless you're caught in a full-blown winter downpour). All critical shoulder and arm seams are taped, and water just beads up and flies off the face of the fabrics. No, it's not a rain jacket, but for typical riding weather, you're going to be protected. If torrential rain is anticipated, a fully-waterproof jacket would be better.
Beyond wind and rain protection, let's talk breathability. Without question, breathability is the top consideration for any cycling jacket. Nobody wants to feel like a high school wrestler wearing a garbage bag to make their weight class. Inferior fabrics and jackets tend to greenhouse instead of breathe. Gore-Tex has high-output activities nailed with their Infinium Windstopper fabrics and it works amazingly-well here. I'm always blown away at how well this fabric breathes.
On one ride, I pushed myself hard with multiple hill repeats. Temperatures were right at 45 degrees and this jersey kept my perspiration evaporating out and away without ever feeling the need to unzip and vent. Neither my base layer, nor the jersey ever got saturated. In fact, after my rides, my base layer would dry completely in just a few minutes and the inside of the jersey would only have minimal signs of moisture. I call that incredible. Check it out below.
Outside of the bonkers breathability, I've got to mention a few other niceties of this jersey. The snug fit provides aerodynamics for the most demanding riders. Nothing flaps in the wind, and it's as snug as I'd like it throughout the body and sleeves. I dig the "just right" collar that's just the right diameter and height to deliver wind protection and comfort.
Of course, it has a dropped hem for added rear coverage. You'll want to make sure that your chosen bib tights sit up high enough to provide proper belly coverage. I've been wearing the Santini Gravel Bib Tights and they have been a great combo. Importantly, the sleeves are cut a little long (hallelujah!), and the cuffs are stiff. This combination ensures you will never experience the dreaded wrist gap. Paired with the Castelli Mortirolo Gloves, the Pro Team Long Sleeve Gore-Tex Jersey is like a fortress against the elements.
Thankfully, Rapha has three pockets on the backside. But, reaching those pockets can require more flexibility than I've got. It's rather difficult to place or retrieve items from them — particularly in the saddle. Yes, there are pockets and they can store ample stuff for a 2-hour ride, but accessing items placed in there may require a pilates class or two.
Fit: I'm 5'11" and 175 lbs, wearing the size large.
The Good
Gore-Tex Infinium Windstopper fabric is the bomb
Breathability and protection are both outstanding
Stretchy, with a perfect on-bike fit
Stays put
Front zip is easy to use with gloves on
Efficient, aerodynamic fit
Added sleeve length with stiff cuffs provides killer coverage
The Bad
Accessing the pockets is difficult
Snug fit makes layering up more challenging
Pretty niche jersey at a high price
The Bottom Line: Rapha Pro Team Long Sleeve Gore-Tex Infinium Jersey
With an aggressive fit and top-notch fabrics, the Rapha Pro Team Long Sleeve Gore-Tex Jersey is an optimized, weather-shedding jersey for the most demanding cyclists. Breathability is out-of-this-world and the cut and coverage is superb. You won't want to replace your waterproof jacket with this one, but if cold weather and light rain are typical, this one's a winner.
Buy Now: Visit Rapha.cc