Upon arrival, Bontrager's Velocis road shoes were visually striking. The prior version also had brightly-colored uppers and these continue that pattern with an improved fit and reliable performance at an affordable price.
Bontrager Velocis Road Shoe Features (2018 Update):
inForm Pro last delivers an ergonomically optimized, high-performance fit
Silver Series carbon/fiberglass composite sole for added stiffness
Boa IP1 dial for precise, two-way adjustment
Stiffness index 10 of 14
Perforated synthetic uppers allow increased breathability and comfort
3-bolt SPD compatible
Colors: Black, Waterloo Blue, Radioactive Orange (tested)
MSRP: $179.99
Carbon soles, comfortable uppers and Boa IP1
If I could sum up the perfect pair of road cycling shoes in three phrases, it would most definitely be "carbon soles, comfortable uppers and Boa IP1." So, there you have it… the Bontrager Velocis Road Shoes in a nutshell. Done, end of story. Well, there's certainly more to the story than that, so let's get to it.
For starters, Bontrager is leading the charge in cyclist visibility. Their Flare RT and Ion 200 RT front and rear lights are the best in the business, hands down. And, if you look at the variety of Bontrager garb I've tested throughout the years, you can see a distinct brightness to it. The Velocis, in its Radioactive Orange color, is no less visible. Will shoes save the day when it comes to cycling safety? Maybe not, but research has shown that brightly-colored moving bits offer a significant boon to visibility. With that, I'm taking these bright orange dancing shoes to the bank.
So, a bit of added safety (in the orange color) is on tap here, but what else? The revised uppers are a great story as they cradle my feet perfectly. Certainly, the human foot is something of a snowflake, with no two the same. But, Bontrager has done a significant amount of research to come up with their chosen molds and uppers. The Velocis road shoes fit my flat, regular-width feet like a glove for hours and hours of enjoyment.
As part of that comfort are the medium-stiff carbon/fiberglass soles. These rate a 10 out of 14 in stiffness and that puts them in Goldilocks territory for me. Wicked-stiff, raceday shoes are too stiff, in my opinion, as daily drivers. These are just right. In fact, I still use prior version because it performs so well and fits like a glove.
In recent years, lace-up shoes have made a resurgence. I can appreciate the classic looks and the ability to pinpoint tighten the shoe, I can't fathom not having the awesome Boa IP1 lacing system. Without question, it's the simplest and most comfortable lacing system available. I find myself tweaking the fit throughout every ride since all it takes is a quick twist in either direction as my feet swell. You just can't do that with Velcro, laces or ratchets. That's why I'm such a big fan of Boa lacing systems.
Due to the wire laces and smooth glides, the fit micro-adjusts automatically as well. Since there is just a single IP1, Bontrager has added a Velcro tab in the forefoot of the Velocis for an even more personalized fit. For me, I left it loose to maximize toebox comfort. Oh, and another great thing about the Boa IP1 — you can adjust your shoe fit even while wearing shoe covers. Good luck doing that with any other lacing system.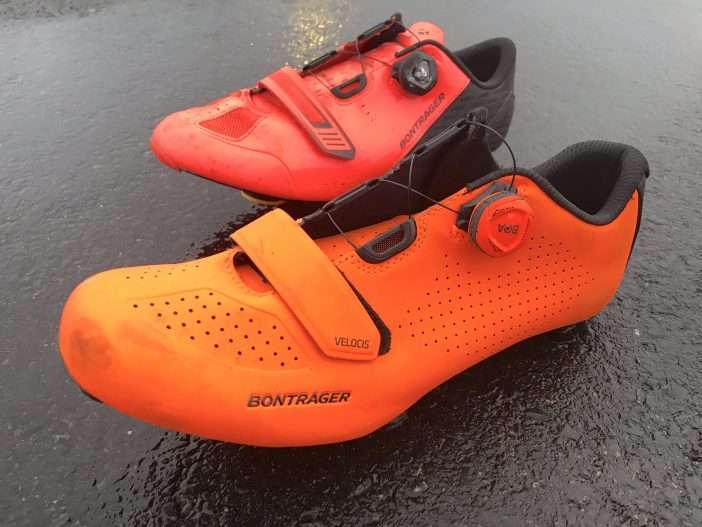 You'll notice that the updated Velocis features a larger, wider toebox compared to the prior version. That extra roominess has paid off in spades as these are now my preferred shoes for long and short days in the saddle. I also appreciate the subtle metatarsal button on the insole that helps spread out my forefoot.
There's only one thing that gives me problems with the updated Velocis road shoe — the tongue. It's considerably thicker than the older version and it seems to take a few minutes of pedaling to get situated. Once it does, it goes unnoticed, but those initial few minutes just feel a little off.
The outsoles are identical between the old and the new shoes — just different graphics. And, while the old version featured mesh panels for breathability, the updated Velocis has perforations throughout. Overall breathability remains good for even the warmest days in the saddle.
The Good
Excellent update to an already-awesome shoe
Really the Goldilocks in stiffness, fit and performance
Good breathability
Boa IP1 offers excellent adjustability
Killer overall value
More supple materials add to fit
The Bad
Tongue can feel a little thick, initially
The Bottom Line: Bontrager Velocis Road Shoe
When Bontrager revamped their entire road shoe line a few seasons ago, they delivered a winning design. The new Bontrager Velocis road shoe offers an entirely-new upper that delivers improved fit and comfort while retaining the same perfect stiffness for daily use. It's hard to deny the overall value these shoes deliver.
Buy Now: Available at TrekBikes.com (or your local retailer)
In Summary
The updated Bontrager Velocis road shoe offers increased comfort with more supple materials and a wider toebox. The result is a Goldilocks shoe at a killer value.