In my search for the perfect saddle last season, I kept returning to the tried-and-true Specialized Body Geometry designs. I've used them on my mountain bikes for years, but hadn't used one extensively for my road bikes. Well, the carbon-railed S-Works Romin arrived just as I was finishing up my last century of the year and never left my bike.
Specialized S-Works Romin Features:
Patented Body Geometry design is lab tested to assure blood flow to sensitive arteries
Stiff FACT™ carbon fiber shell tuned for support and ride compliance
Super-light PU padding for comfort and support on longer rides
Ultra-light and strong oversized FACT™ carbon rails
Tough, light and water resistant Micromatrix™ cover
Size 143mm/ Weight 158g (tested)
Size 155mm/ Weight 165g
Size 168mm/ Weight 173g
MSRP: $300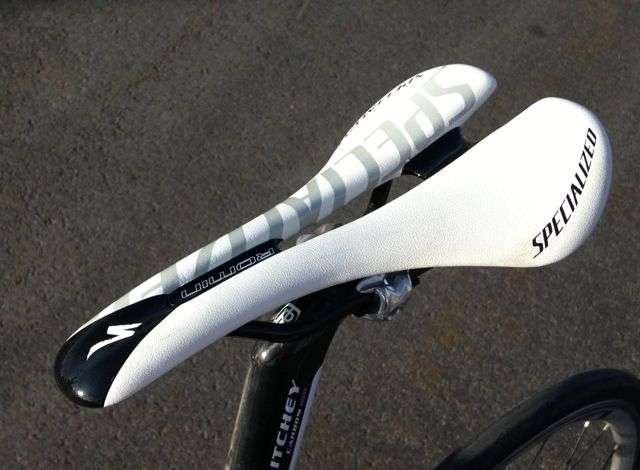 Rolling on the Romin
When it comes to saddles, there's no question that it is one of the most personal choices any rider can make. With all the variations in saddle sizes and designs, it's pretty much impossible to select the best saddle for you simply by looking at it online or even at your local bike shop. The proof comes after miles of use. It comes after your body has adapted to the saddle and after you finally become one with your bike via your hind end.
Over the past year, I've ridden road saddles from Selle Italia, ISM, Williams Cycling and Specialized. I chose the Williams Aurora SLC as one of the best saddles for your money, but it is only offered in one width. Well, the S-Works Romin is offered in three widths (143, 155 and 168mm) and also boasts a full-length cutout and Body Geometry design. That full-length cutout makes long rides in the saddle a sensational (literally) affair.
When installing the Romin, keep in mind that it features 7x9mm FACT carbon rails. While most top/bottom clamping seatposts should be compatible, if you have a side-clamping seatpost design, you'll have to fish for special adapters. I had to do that very thing with my Ritchey WCS seatpost, but it only set me back $20 and I was on my way.
What bums me out about this saddle is that I didn't get it until after I had suffered through some serious backside issues on both of my century rides last Summer. Admittedly, I hadn't completely gotten used to the ISM Podium saddle before hitting the Colorado Triple Bypass and I hastily opted for the stock Selle Italia saddle for my second century around Utah Lake. Both saddle choices were met with nearly-disastrous results. In fact, the latter left me numb for nearly 36 hours after the event.
After that stint, I vowed never again to ride a standard, non-cutout saddle. Again, the Romin came just in time for miles of Fall riding and was tested aboard my Scott Foil 40 and the Felt F1 I had in for review. On both bikes, the Romin has performed like a race-tuned machine. Keep in mind that some carbon-railed saddles may offer extra comfort and others are made for maximum stiffness and power transfer. The S-Works Romin is built for the highest levels of racing where every ounce of energy counts. Therefore, this saddle is stiff and responsive but not overly-harsh.
While riding the Romin, I felt like I was aboard a race-tuned machine with zero energy loss. Road feel is superb and long-distance comfort is achieved. I used bibs from Craft, Castelli, Sugoi, Pearl Izumi and Hincapie and every one of them performed well with this saddle. The extended cutout provided relief from nerve-damaging pressure and made for comfortable and near numb-free riding. Only after a few long stints in the saddle did I get minor numbness — I'm talking the kind that goes away about 15 seconds after getting up and out of the saddle. Compared to every other saddle I've used, this one is tops on my list of race-day comfort and numb-free performance.
The Good:
Body Geometry design significantly reduces and almost eliminates numbness for me
Cover allows fore/aft movement without grabbing
Carbon rails are race-tuned for the ultimate road feel

A respectable 160 g (143mm – as tested)

Rail designs work with most top/bottom clamp seatposts
Comfortable with every bib/chamois combo I used (Craft, Pearl Izumi, Sugoi & Hincapie)
The Bad:
Isn't the most forgiving saddle
Steep price of entry
You may need different seatpost clamps
The Bottom Line
While the S-Works Romin is race-tuned, I found it to be an excellent daily driver. The Body Geometry construction kept my nether regions comfortable and happy while the saddle itself gave me excellent road feel.
Buy Now: Visit Specialized.com or your Local Dealer