When it comes to supercharging your ride, nothing beats adding carbon wheels. Whether it's on the dirt or road, carbon wheels represent the next level of performance. The full Syncros line has been juiced by the new direction from Scott Sports and the all-new RL1.0 wheelset will quickly make a name for themselves in the market.
Syncros RL1.0 Wheelset Features:
FW Syncros RL1.0 32mm Carbon Clincher
32mm Carbon Clincher rim
DT Swiss nipples
DT Swiss RWS skewers
20F/24R DT Swiss Straight Pull Aero spokes
CNC machined Hub with DT Swiss internals
Shimano/SRAM 10 or 11-speed compatible (tested with Ultegra 11-28T cassette)
Includes: Special Carbon brake pads, Wheelbag, Syncros RWS QR
Weight: 610g (front), 760 g (rear) – 1370g (pair)
Price: $2750 (pair)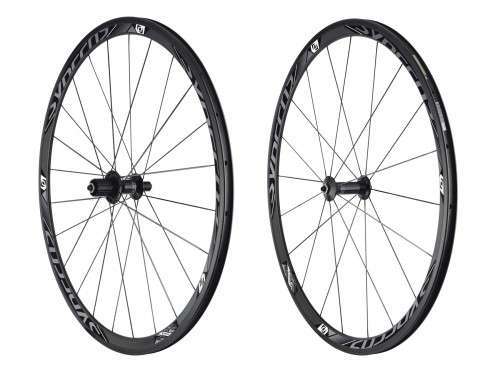 Great all-rounder carbon clincher
This year marks the first full round of Syncros components and Scott is not shy about spec'ing them on their full line of bikes. They are also not shy about hitting the aftermarket to carve out their spot in the crowd. The RL1.0 carbon clinchers represent the flagship all-rounder wheelset in the line. At 32mm deep, the RL1.0's are deep enough to provide aero advantage without becoming overly suceptible to dreaded crosswind. Looking them over, the complete package leaves little to be desired.
Teaming up with DT Swiss, the RL1.0's are light and fast. Leveraging the DT Swiss Star Ratchet rear hub is a no-brainer as their components are readily available and time-proven. The full-black design is stealthy and looks fantastic paired with my Scott Foil 40 (really stepped things up, I might say).
When considering new road wheels, there are now three options: clinchers (like these), road tubeless or tubular. It's fair to say that tubular's offer fantastic performance and ride feel, but you really only ride them if you are fully-supported since hauling a spare and re-gluing a set of tubular tires on the side of the road is not really an enjoyable option. Road tubeless offers fantastic, tubular-like qualities without all the hassle of tubulars, however, changing a road tubeless tire is also not something you'll want to do on the side of the road — though it's much easier than tubulars.
So, the consistent, safe bet is to stick with clinchers. And, for now, that's all Syncros sells. You get easy repairs and familiar maintenance with the enhanced road feel of a carbon wheelset.
Coming off the stock Shimano WH R501 wheels to these was truly eye-opening. I've ridden carbon clinchers on stock bikes previously and have been thoroughly impressed with their performance, but I didn't have a prior benchmark comparison. With over 2000 miles logged on the Foil 40 pared with the Shimano boat anchors, I immediately felt a drastic difference after switching to the RL1.0's. That change was simple: install the DT Swiss carbon-specific brake pads, slap on the wheels and then adjust the rear derailleur.
To make the before/after comparison as fair as possible, I equipped the RL1.0's with the same tubes and tires as the R501's. Those tires are the versatile 25mm Continental Grand Prix 4000S. I find the 25mm width to provide added comfort and handling with no trade-off in the speed department.
With new shoes installed, my first ride was eye-opening. Road chatter was significantly reduced while road feel was measurably improved. The wheels instantly became one with the bike and upped the overall feel of the Foil 40 by a hundredfold. I went from a good, all-around 17 lb. bike to a 16 lb. superbike in a jiffy. Much of that improved feel can be due to the reduced rolling weight, but by nature, carbon wheels are simply snappier and suppler at the same (seems contradictory, but it's true).
My riding consists of mostly climbing. I ride with the purpose of obtaining vert. Other riders may go for miles, but I go for vert. The RL's are perfect for my mountain-loving style. Spin-up is wicked-fast and rolling weight is about as minimal as possible without going to a race-specific build. On that note, the RL1.0's have no stated weight limit and have put up with all the punishment I could dish out — both wheels are still as true as day one with smooth bearings. Should any maintenance be required, that's where the first negative comes into play… you have to remove the tires to access the nipples (not so bueno).
At speed, the RL's are quiet, with just a slight hum of the spokes cutting through the wind. The 32mm rim depth offers fantastic aero advantage while not being so tall as to get caught in crosswinds. I've been very pleased with the lack of getting thrown around in the wind while riding these wheels. This depth is the perfect balance between aero and safety for all-around riding.
What about lateral stiffness? Well, the 20 straight-pull aero spokes on the front and 24 straight-pull aero spokes on the rear, you're getting excellent lateral stiffness and performance. With other wheelsets this spring, I've had to either open up the rear stoppers or put up with wheel rub under load. With countless standing climbs on the RL's, not once did I experience wheel rub. I'm no Cat 1 racer, but my 175 lb. frame can generate decent power, so that speaks volumes to me. Flying downhill at speed also exhibits excellent tracking and "one-with-the-road" feel. Curvy mountain roads have meet their match.
What about braking power? That's one of the few weaknesses I noticed as well. It's solid and predictable, but not quite as good as I've had with other rims (carbon or aluminum). I didn't notice much in the way of fade, but I did notice that it took a little longer to stop than usual. Nothing really to be concerned about… just know that you may have to exert a little more force for equal stopping.
What about the cost? Admittedly, these new wheels are hitting the market at a premium price ($2750 and 1370 grams complete). The most sought after comparable wheels would be the Zipp 202 Firecrest ($2725 and 1375 grams complete), which have years of engineering behind them. Syncros wheels are assembled with cherry-picked parts from the DT Swiss lineup, so you can be confident that every component of these wheels is top-notch.  Regardless of origin, these are high-quality carbon clinchers using proven guts with a price that's on the high side of the market.
The Good:
Feels like cheating

Instantly makes the bike feel one with the road
Stiff under load with no noticeable lateral flex
Significantly smoothes out road chatter
Solid DT-Swiss internals
Clincher design makes them rider-serviceable
Ultra-responsive at speed
Skewers are the best on the market and easy-to-use
Includes carbon-specific pads and wheel bag
The Bad:
Braking could be slightly better

Gotta remove the tires and rim strips to access the nipples
Premium price for seemingly new-to-market designs
The Bottom Line
The Syncros RL1.0's sure know how to crash a party. With this being the first full year of the new Syncros, these wheels are fantastic flag-bearers of what's to come. The RL's are stiff and snappy when needed and compliant at the same time to smooth out road chatter. A fantastic wheelset that should prove competitive in the market.
Buy Now: Visit Syncros.com to Find a Local Dealer