The 2023 Trek Domane went on a serious diet for its 4th generation. Now with just half the IsoSpeed as before, wider tires and a comfort-tuned carbon layup make up the difference on the Gen 4 Domane. In review for almost a year now, the Domane SLR 9 AXS is likely a shoe-in for 2023 bike of the year honors.
Trek Domane SLR 9 AXS Gen 4 Features:
800-Series OCLV Carbon frame and fork
Rear IsoSpeed only
Aerodynamic Kammtail tube shapes
Integrated frame storage in downtube
Full SRAM Red AXS drivetrain with Quarq Zero power meter
Internal cable routing for a clean look (and watt savings)
Bontrager Aeolus RSL 37 wheelset
Bontrager Verse Short Pro saddle with carbon rails
Bontrager Pro IsoCore VR-SF 42mm bars
Clearance for 38mm tires
T47 threaded bottom bracket
Weight: 16.6 lbs (56cm, actual)
MSRP: $13,199
Domane SLR Gen 4 stunner
This particular frame and build kit represents the best that Trek offers in their Gen 4 lineup. At a $13,199 price point, there better not be anything left to be desired. No doubt, every box is checked with their highest-level wheels, components and paint. SRAM Red AXS is the best there is and an integrated power meter is a necessity for demanding riders. Including the versatile and fast Bontrager Aeolus RSL 37 Wheelset is also a great choice — even though someone paying this much for a bike may want a set of Zipp 353 NSW wheels. (As luck would have it, I tested those on this bike too.) That said, the Domane SLR 9 is for those with deep pockets or adept budgeting skills.  For more details you can ogle over the specs on the Trek web site.
While this spec is the best of the best, thankfully much of the performance I've come to love can be had at lower price points. The SLR models start at $7999 while the SL models start at $3499. Trek also offers Domane SLR, SL and RSL framesets should you wish to swap parts from your existing bike and/or do a custom build.
Utilizing Trek's best 800-series OCLV carbon throughout, the Domane SLR 9 AXS is light enough to go toe-to-toe with many climbing bikes, yet comfortable enough to ride all day on all terrain. You'll notice that the simplified IsoSpeed unit is now only in the rear and absent from the head tube. That alone dropped hundreds of grams off the frame. Tube shapes are now optimized for aerodynamics as well, for a true one-bike quiver.
Most high-end bikes now come with full internal routing from drops to stays. While the sleek lines do make for an amazing aesthetic, most of the time that type of routing limits stack height variations or cockpit changes unless you're a skilled mechanic. Thankfully, Trek has outfitted the Domane SLR AXS with a separate bar/stem and unique cable routing that allows for cockpit and fit changes without much fuss. The secret is the Bontrager RCS Pro Blendr Stem, with its cable-concealing cover that hides and routes brake cables neatly through the head tube. Spacers can be inserted or removed and stem length/rise can be accommodated (within a reasonable range) without brake hose disassembly.
Fit and geometry
A quick note on the overall fit and geometry of the new 4th-gen Domane. As Trek's most popular model, the Domane is built to fit everyday riders and high-octane riders alike. You can slam it or let your body dictate the right feel. For me, the geometry is as if it was custom-built. With two 5mm spacers and a 100mm stem, the reach is spot-on and I'm in the proper position to attack all types of terrain in absolute comfort. And, because it has a separate bar and stem, I can further change the cockpit as needed.
Something to note is that if you have long legs for your frame size, you might find yourself needing a longer seatpost than comes standard. I have a 30″ saddle height and that's within a few millimeters of the max height. I don't see alternative lengths available for purchase, but perhaps my sample bike inadvertently came with a shorter length?
Compared to other endurance bikes, like the Cannondale Synapse Carbon 1 RLE and the BMC Roadmachine X One, the Gen 4 Domane looks and feels pro with minimal spacers. I love the sleek look, but most of all I love that I can get into the correct body position for best performance on the Domane. It's not always that my 48-yr-old self can have a bike that looks sleek and pro and fits like a glove, but that's what I get with the new Domane.
Of course, your best fit starts with your friends at your local Trek dealer, who can begin with their fit system and refine from there. Or, you can get fully-dialed with a professional bike fitter for maximum performance. (I use my friend, Jeff Sherrod at Precision Bike Fit here in Sandy, UT.)
First rides and more
As you should know by now, I actually ride test bikes and products for a long time before posting a review. I have the luxury of not being beholden to editorial timelines or advertising campaigns. With this bike arriving in August 2022, I've had it a long time. Utah's epic snow year did draw things out — but that's not the only reason. The real reason is because this bike is so much fun. So, beyond a first ride impression, this is a well-rounded review of how the Domane SLR performs on all types of terrain and conditions — including gravel.
My first three pre-launch rides went swimmingly. Each one was on roads and Strava segments I've ridden hundreds of times. At this point, PR's and cups are hard to come by, but each ride had a handful with several other segments just barely off those top times. Call it "Domane Courage," but my initial results had me convinced that there's something to this new bike.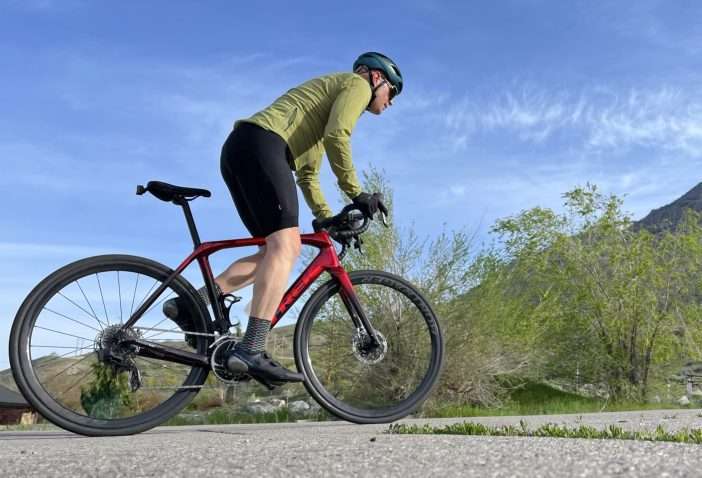 Let's talk about climbing first since it's obviously second-fiddle in that department to the Emonda. Long, mountain ascents are best served by a light and snappy climbing bike, but the Domane ascends quite capably. At 16.6 lbs, it's not the lightest bike, but it still beats everything but the pure climbers. Aerodynamics, comfort and power transfer all add to the Domane's climbing ability. I can settle into a rhythm and knock out even the longest climbs while seated or standing. I love mixing things up with a quick shift and standing to add variety and power through steeper sections.
Some endurance bikes feel floppy when standing and climbing, but not the Domane. The frame is rock-solid and all power is efficiently converted into forward motion without wandering or wonkiness. With all the efficiency, I still appreciated the 1:1 gearing on the steepest climbs, but didn't use it all that often as I danced my way up most climbs.
When it comes to rolling terrain, the aerodynamic shapes and fast-rolling wheels come into play. Yes, the Bontrager R3 Hard-Case Lite 32c tires are a little wider than the Bontrager Aeolus RSL 37 wheelset, which does reduce aerodynamics, but they also aren't the fastest-rolling treads on the market. Still, they are comfortable and durable, which usually wins the day. Back to rolling terrain… the Gen 4 Domane SLR simply shines at speed. Once you're pedaling along at a good clip (18-21 mph), momentum is maintained and the entire bike just slices through the wind and keeps speed through undulating terrain. Not since the 2020 Specialized Venge Pro have I had so much fun on rolling roads.
Whether you're coming back down the Utah's Alpine Loop or descending a shorter hill, the Domane SLR delvers confidence beyond confidence on any descent. Speeds are deceiving because the ride is just so pleasant and planted. Trek has nailed the perfect combination of road feel and road dampening. It's easy to point it where you want it and the bike follows — almost like it's tapped into my brain. With some luck, wide open roads have been my reward and I've been able to open it up and spank any descent at speeds I haven't hit in years.
One of the keys to the Domane's greatness is how well it handles. Most endurance bikes lack that race bike panache. They don't track perfectly through tight corners while maintaining momentum or a progressive track. With the Gen 4 Domane, I have found it to handle as well as the best bikes I've tested. Yes, that means I'd stack it up against a Pinarello Dogma and the Specialized Venge Pro (two of my all-time favorite bikes). It's as if the bike anticipates corners and allows me to angulate into and out of them in a whiptastic way. Momentum is maintained and it pops out of turns with speed. Winding descents are an absolute gas and I just can't seem to get enough of them.
With excellent 1:1 gearing and stiff, responsive layup, I can climb up anything, roll through any roads and descend like a rock. Considering the Domane SLR's body of work, I see it as the one to beat — by a clear margin. If you want an even racier Domane, you can custom-build the RSL frameset to your liking, but tire clearance is reduced to 35c on that frame.
Going from dual IsoSpeed to a singular, simplified unit does have some people saying that the new Domane feels less cushy than before. For me, it's just right. Rolling at 55-60 psi with the R3 32c tires offers plenty of comfort and the IsoSpeed is icing on the cake. I appreciate Trek's approach and the simplification this decision provides.
Domane SLR does gravel
With 38mm tire clearance, the new Domane is ready for all the local gravel routes and a wide variety of gravel tires on the market. With IsoSpeed, tubeless gravel tires and wide rims, comfort is outstanding. Instead of removing the Bontrager R3 tires, I decided to mount up a set of WTB Vulpine 36c tires to the Zipp 303 S Carbon wheels and give it a go. These tires measure out to 36.5mm and there's plenty of clearance for even wider rubber.
I didn't hesitate taking the Domane everywhere I ride other gravel bikes with even wider tires. Road approaches led to rolling gravel and winding singletrack. Across all terrain, the Domane responded with an adeptness I hadn't imagined. One one of my first gravel rides, I hit a segment I've ridden nearly 150 times and got the third best time ever. I was floored. The Domane is not only fast and efficient on the road, but gravel too.
On singletrack, it feels just as capable as it does on wide-open gravels. The only thing I miss from my Open WIDE is the added flare from the ENVE SES AR Bars. Well, and I do miss a little more rubber to charge even harder on rough terrain. But, standing climbs, fast flats and descents are all tackled with capability beyond anticipation with an "endurance" bike. If you can find the right treads, I'd max them out at 38c and find yourself a second set of gravel wheels (Bontrager Aeolus Pro 51 or Pro 3V are both great choices for easy swapping).
For gravel or other long rides, the downtube storage is a huge bonus. With a flat kit in there and a few other small items, you can get away without a saddle bag and augment it with food or other items in jersey pockets. This storage compartment remains water-tight and keeps mud and dirt at bay. Plus, it includes a sleeve that's set up to quietly carry tools and a flat kit.
Alas, not everything is perfect
Now that I've showered the latest Domane with praise, it's time to be nit-picky a little bit. Ultimately, my biggest grip is with the handlebar selection. In my opinion, an endurance/gravel bike should not have traditional drop bars. The Bontrager Pro IsoCore VR-SF bars included here feel like a miss-spec. Not only are compact drop bars more wildly popular, they would feel better on this bike and put riders in a more versatile position when riding in the drops. The C-curved drops feel dated and out of place on a bike like the Domane. Why the shorter and more comfortable-dropped Bontrager Pro IsoCore VR-CF bars weren't spec'd is beyond me.
The proprietary seatpost and IsoSpeed system is greatly simplified from the adjustable one from years past and provides excellent compliance and comfort without sacrificing efficiency. However, after a few creaky rides, I had to empty a sinful amount of carbon paste on the post and seat tube to keep it from creaking. Thankfully, it did fix it. On top of that, the oddly-short seatpost for a 56cm size is a little baffling.
Fit: I'm 5'11" and 175 lbs, riding the 56cm. With the stock tires, running tubeless, I settled on 55 psi front and 60 psi rear. 
The Good
A beautiful combination of aerodynamics, efficiency and comfort
Handles as adeptly as most race bikes
Versatile tire clearance for all terrain
Simply flies down curvaceous descents
Tons of fun on gravel too
Downtube storage is an added bonus
Dropped a ton of weight over previous model
R3 tires are versatile and grippy
STABLE at speed without any twitchiness whatsoever
The Bad
Creaky seatpost required a ton of carbon paste
Short seatpost maxes out at just over a 30″ saddle height on a 56cm frame
Why the compact drop VR-CF bars weren't spec'd is beyond me
The Bottom Line: Trek Domane SLR 9 AXS Gen 4
It's hard to imagine a better overall "bike" on the market today. The Gen 4 Domane has all the right mix of aerodynamics, comfort and speed to enjoy anything you can throw at it. At speed, it's a hammer and it just devours mountain descents with Italian-like precision. It does yield a little to pure climbers when the roads tick upwards, but that's only a mind game since the overall package is just so delightful.
Buy Now: Visit TrekBikes.com
In Summary
I settled right into the new Domane like an old friend. The geometry and spec delivered a near custom-fit for my body shape and riding style. Above all, this bike is just plain fun to ride -- everywhere. While it shines on all terrain, I love the responsive, race-like handling without any twitchiness that's sometimes associated with a fast-handling bike. It's the right combination of all the things to elevate this bike to the top of the endurance bike class, in my mind. The Domane SLR 9 AXS is expensive, but the same performance can be had at lower price points.