The original Wahoo ELEMNT BOLT was a revelation. It was small, connected to all sorts of devices and it just plain worked. I still have it and use it regularly, but once the new ELEMNT BOLT 2 arrived, the color screen has won me over.
Wahoo ELEMNT BOLT V2 Features:
High-contrast 64 color screen
Smart navigation with millions of miles of onboard maps
Aerodynamic design with semi-integrated out front mount
Three easy-sense buttons
Ambient light sensor adjusts brightness automatically
Configurable Quicklook LED's
16 GB of onboard storage
Easy setup via ELEMNT app
MSRP: $279.99
BOLT V2 shines in color
Tops on any cycling computer "must have" list is reliability. Losing a ride — especially an epic one — is the biggest buzzkill there is. Power data, distance, effort, elevation gain… all gone. Poof. Beoooowp! We've all been there, but not once has that happened in over six months with the Wahoo ELEMNT BOLT V2. So, at least in my extensive experience, this one passes the reliability test. Everything else is just gravy, but let's dig in.
With the new model, Wahoo has introduced a 64-color high-contrast display. For the most part, this is fantastic. I can easily pick out high/low metrics like power or heart rate because the background color changes accordingly. Under nearly all conditions, the screen is a significant improvement over the Bolt 1.0's monochromatic display. It's kind of like in the 1980's when we went from the green screens to color monitors. I definitely like it.
Sometimes, however, the ambient light sensor isn't as responsive as I'd like it to be. Early morning rides are sometimes too dim to see when the sun is up, but it's still dim. This is really a Wasatch issue here in Utah since the mountains shield the actual sun until hours after the actual sunrise. But, when I ride into and out of tunnels along the local Murdock Canal Trail system, it doesn't respond quickly enough to those changes.
As far as connecting devices to the ELEMNT BOLT V2, it's drop-dead easy. You can do that from the device or via the bonkers-easy Wahoo ELEMNT mobile app. On the mobile app, it's about as easy as you can imagine to configure screens, pair your phone and generally slap the unit around. And, all that can be done mid-ride too! That's not always the case, but I use it regularly and love being able to tweak things mid-ride.
By far, my favorite feature of the ELEMNT BOLT 2.0 is the routing functionality when riding a set route or a race. For the 2021 SBT GRVL Blue course, I pre-loaded the map and the BOLT served as a bit of a cheat-sheet for the race with elevation profiles, distances to cues, etc. My favorite view was of climbs where I could anticipate the summit and plan my output accordingly — maintaining the proper power and cadence. I wasn't out to crush the competition. All I wanted to do was stay in my limits and comfortably finish the race. Having that virtual carrot dangled out in front turned out to be fantastic for me. Oh, after 7+ hours of use at that event, my fully-charged unit still had 50% battery remaining.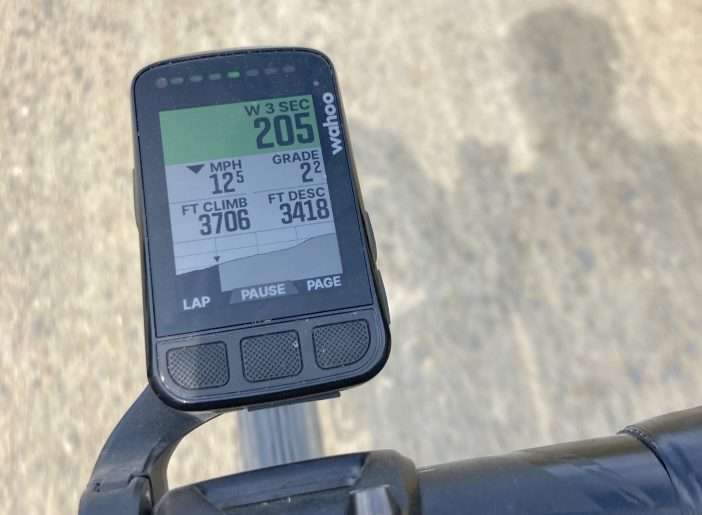 I do love how you can zoom in/out of the data shown to highlight more important metrics. I purposely place "nice to have" metrics at the bottom and only expose them when needed. That way I can have larger numbers for the truly important data (watts, distance, average speed, time of day, etc.).
The unit acquires GPS signals in a jiffy and locks onto power, heart rate and shifting signals almost immediately as well. On occasion, I would have to turn the Bluetooth on/off on my iPhone SE for it to sync, but that hasn't happened in a long time.
Wahoo touts the aerodynamics of the BOLT and it does look sleek and smooth compared to the competition. The mount is easy to use and offers an additional bolt to keep things in place, if you desire (I've never felt it necessary — even on the roughest rides).
Functionally, the buttons all work easier than the 1.0 version (at least the three primary buttons). Those three are bubble-like and are depressed a little too easily, I think. I wish for a bit of tactile feedback when pressed, to be honest. The power button does seem to need a bit longer than I always think to engage it, but it fires up in a jiffy. I also always appreciate the confirmation prompts when completing a ride so as not to terminate one too early.
Honestly, I'm still not ready for USB-C, but this one introduces that in Apple-like fashion. I have found that not all USB-C cables or charging blocks will charge the BOLT V2, so keep an eye on that. It's an unfortunate world we're all living in now, with all the variety of charging cables. Hopefully USB-C stays around awhile.
The Good
Touch of color to highlight performance
Crisp display is easy on the eyes
Aerodynamic design
Wahoo ecosystem is delightful to use
Has been super-reliable with no glitches
Long-lasting battery
Route guidance feels like cheating
Smart navigation is helpful in new locations
The Bad
The three buttons could have more tactile feedback
USB-C still isn't my favorite
The Bottom Line: Wahoo ELEMNT BOLT V2
With a 64-color screen, the BOLT V2 highlights data that matters and allows easy viewing when needed. I love having routes pre-loaded so I can dangle a carrot in front of me on long rides and races. And, it has just plain worked. The data is accurate and I have received timely firmware updates that are easily installed on a regular basis. With a sleek form-factor and an easy-to-use ecosystem of device hardware and mobile apps, Wahoo has my vote once more.
Buy Now: Available from CompetitiveCyclist.com