When gravel rides turn rowdy, a little more tread goes a long way. After rocking the Byway 47's much of the summer, it was time to get a little rowdier and that's when I turned to the Venture 47's. With a more aggressive tread pattern, the Ventures offer even more control while still rolling fast on pavement.
WTB Venture 47 650b TCS Tires Features:
The large, high-volume footprint of each Venture tire allows for more working edges of the tread to always be in contact with the terrain.
Rounded profile with vertical channels to enhance cornering characteristics.
High volume casing enables comfortable ride.
Dual Compound Rubber means a fast rolling tire with great corning traction.
Weight: 575 grams
MSRP: $59.95
Venture 47's can go deeper
When the Venture 47's were sent along, WTB PR Manager, Clayton Wangbichler, sent this little tidbit:
"I love the Byway, but to be honest, they haven't seen as much use since we came out with the Venture. That being said, I do live in the Pacific Northwest where most of my gravel rides end up on some degree of sketchy 4×4 road."
With that, I was anxious to get the Venture 47's on the Open UPPER to see just what kind of shenanigans they could help me conquer.
Setting up tubeless tires can be challenging. Most road-specific tubeless tires are a breeze, but once you get into 650b tires, it can become a little trickier. I'll be honest with the Venture 47's in that it did take some degree of fiddling before everything was dialed. I used the Blackburn Chamber Tubeless Floor Pump and employed the following tricks to get them mounted to a set of Zipp 303 650b wheels.
A little bit of soapy water
Pinched the tires cheeks to help seat the bead
Removed the valve core on inflation for increased airflow
Once seated, I added let out the air and added Muc-Off tubeless sealant
After following the above steps, the tires held enough air for a same-day ride, but were completely deflated after hanging on the wall for a couple of days. Next, I inflated to about 50 psi. and proceeded to shake each wheel and spin it to distribute the sealant. Doing that sealed the remaining gaps and they have been money ever since.
At my 170 lb. rider weight, I've set these up between 35-40 psi. I suppose I could go lower, but those pressures have felt just right for my rides. One of my favorite mixed rides is a 9 mile loop from the office in Lehi, UT that I call "The Perfect Lunch." It consists of gravel roads, a paved ascent and a fun singletrack climb right in the middle (see on Strava).
As you can see, I PR'd Fox Canyon (1 mi. / 300 ft / 6%) with the Venture 47's on the Open UPPER. I ride that a lot and I was floored by just how quickly these tires climb on pavement. And, on gravel and singletrack, they do even better — with knobs digging in and providing solid, confident handling. Overall, there's nowhere the Venture's can't take you. And, those beautiful tan sidewalls are just icing on the cake.
Per Clayton's thoughts above, I'm now in search of more technical tracks to allow the Venture's to further show me what they are made of. Everything I've thrown at them has been great thus far.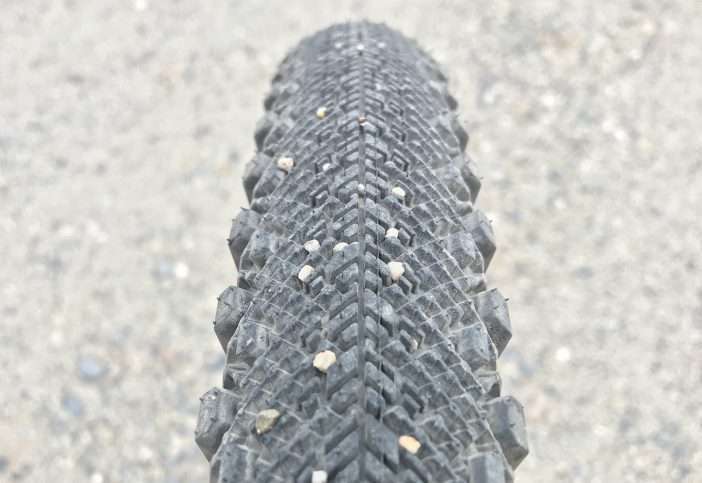 While the treads do spread out and confidently grip terra firma, they do have a tendency to grab and flip small pebbles. It's not a huge deal, but something I noticed more than other tires. That "ting, ting ting" on the downtube from flying pebbles does become a little annoying. Additionally, when cornering hard, like you'd expect to do on an aggressive road bike, you can roll over the shoulder knobs and wash out if you're not careful. Descend and corner with a little bit more caution than you would on a that Venge Pro.
The Good
A little extra bite goes a long way
Excellent cornering traction on dirt/gravel
Added comfort from lower pressures
Roll quite well on pavement
Love the tan sidewalls
The Bad
Tends to grab and flip little pebbles
Hard, angulated cornering on the road can exceed the side knob stability
The Bottom Line: WTB Venture 47 650b Tires
Tires come in all shapes and sizes. Because of that, everyone can find something that suits their preferred terrain and performance characteristics. While the WTB Venture 47's may not be ideal for every type of mixed-terrain riding, they are pretty darn awesome. A little meatier than the Byway 47's, but still great at rolling on pavement without too much extra effort. If you're looking for a little more hook in a 650b gravel tire, take a gander at these.
Buy Now: Available at JensonUSA