Last year, Zipp introduced their all-new 303 Firecrest and 303 S wheelsets with wider widths and somewhat controversial "tubeless-only" compatibility. Going on five months, I've been flogging the Zipp 303 S Carbon wheelset with tons of gravel and road miles and these affordable Zipp's have a little something up their sleeve.
Zipp 303 S Carbon Tubeless Wheelset Features:
Hookless rim design
27 mm outer, 23 mm inner and 45mm depth
Baked-on graphics (no more Zipp stickers!)
Fastest aerodynamically with 28mm tires
76 / 176 DB center lock hubs
Shimano or XDR driver body options
Requires use of tubeless tires
Lifetime warranty against defects
Disc brake only
72.2 psi max (yup, welcome to tubeless amigos)
Weight: 1530 grams (stated)
MSRP: $1327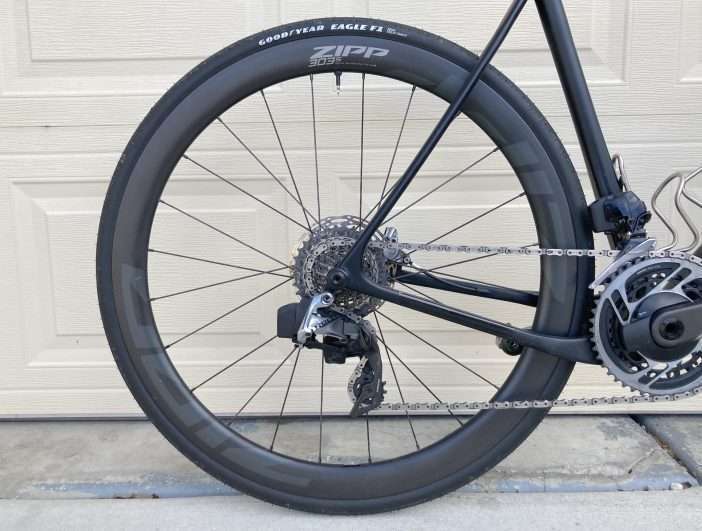 Do these affordable Zipps perform?
Zipp has never been known to be a budget brand — especially with their racy carbon wheelsets. I tested (and quite liked) the first-generation, ultra-expensive Zipp 454 NSW wheels a few years back, but the new Zipp 303 S wheelset checks all the boxes in a different way. How so? By having all the features you look for in a modern wheelset while still costing less than $1330 for the pair. So, can these budget hoops really live up to the Zipp brand? After a summer of riding, I'm going with the slow nod.
When Zipp revamped their most popular 303 wheelsets, they made them wider. The 303 Firecrest is now 25 mm internal (up from 21) and the 303 S is 23 mm (up from the super-narrow 17mm 302's). Both widths establish these wheelsets among the benchmark road wheelsets on the market. Wider is definitely better, and the 23 mm internal on the 303 S is still plenty wide to support today's all-road and gravel tires. In addition to the added width, both wheelsets are tubeless-only and feature a hookless bead that greatly simplifies rim construction and strengthens the bead against inevitable impacts. Check out the video to learn more.
Hookless rim profiles are not new (they have been used in vehicle rims since… well… forever) and are also common in mountain biking. Traditional, hooked carbon rim beads are more susceptible to impacts and require extra steps and tooling to get that lip just right. Going hookless means a simpler, stronger carbon layup with thicker sidewalls and better impact resistance. But, as mentioned, it requires using tubeless tires which will be able to seat properly and stay in place on the flat inner surface. You can run the 303 S wheels with tubes, but you will still need to use tubeless tires, which have a thicker bead. Make sense?
With that, max pressures are also ultra-low for those die-hard roadie purists. Yes, it's 72 psi MAXIMUM. No, that's not a typo and yes, that's plenty more air pressure than you should ever put into an appropriate 28-32mm road tire. At 170 lbs, I vary between 50-65 psi, depending on the road tire width used. And, with gravel tires… we're talking 35 psi max. Not once did I feel like I needed more pressure. And, not once did I feel slow or sluggish. Zipp even has a handy tire pressure calculator you can use.
Tubeless setup is drop-dead easy
In short, get some 28-32mm road tubeless tires or some 38-45mm gravel tires, set them up tubeless and forget about all your worries. Let's just say you'll be on the way to "hakuna matata" in a hurry. Are there risks with tubeless? Of course. But, honestly, the benefits far outweigh any perceived negative attributes. Carry along a tube, a tubeless plug kit and a mini pump and you're good (though in all my miles and races, I've never needed any of them). We get lots of goat head thorns here in Utah and I get plenty of those, which, when pulled, seal right up.
With that, let's go ahead and go there. Tubeless setup with the 303 S has been dreamy. With both the Zipp Tangente Course G40's and the Goodyear Eagle F1 30c tubeless tires, I had zero hiccups. I seated the tires without tools and inflated them with the Blackburn Chamber Tubeless Pump on the first try every time. The sealant of choice has been Orange Seal these days and it's been nothing but smooth sailing with over 800 trouble-free miles.
Absolutely gravel-approved
The bulk of my miles have been with the Zipp Tangente Course G40 tires aboard the Ventum GS1. With mixed gravel training here in the Wasatch, the 303 S wheelset have proven durable and reliable. On multiple occasions, I have compressed the tires to the rims on square-edged rocks or curb hopping (hey, I'm no Danny MacAskill). Each time, my initial grimace has ended up as a non-issue with not a single sign of abuse anywhere.
Responsiveness is stellar on all types of gravel and singletrack. They are as stiff as you'd expect and compliant as well. Aerodynamics are less of an issue when rolling 42mm tires, but crosswinds are. At 45mm deep, they aren't exactly shallow. And, with that, comes stability concerns. Certainly, stability is improved over similar wheels of yesteryear, but they don't quite measure up to the most stable wheels I've tested in this depth range. So, head-to-head crosswind testing against the Bontrager Aeolus Pro 51's reveal that the 303 S is good, but definitely not best-in-class in regards to crosswind stability.
Durability has been excellent after a bazillion rocks have flipped up and hit the sidewalls. Yes, there are a few dings here and there, but it's pretty minimal. And, the baked-on decals are so much better than the stickers Zipp used in the past. After 100 miles on the SBT GRVL course, they were dusty for sure, but the 303 S's are just getting broken in. If gravel is your game, don't hesitate to spin up a set of these wheels.
Of course, road miles too
With all the attention to gravel these days, don't forget that the Zipp 303 S is absolutely a great wheelset for road riding and racing. I swapped out the 10-50 cassette used on my Rival/GX AXS Mullet setup and slapped a 10-33 in its place. All my road miles have been aboard the versatile Open UPPER and there's no question that the 303 S is a capable wheelset. For the money, they are respectively-light and on par and even lighter than comparable carbon wheels, so climbing never feels sluggish. Handling is excellent and lateral stiffness is maintained under standing efforts.
No doubt, these climb well. And the 76/176 hubs spin up in a jiffy and respond well under load. This is more applicable on the gravel side, but I haven't noticed any issues responding to sudden changes in terrain. No, you won't find best-in-class engagement, but you're splitting hairs if that's your hangup with these hubs. And, the beauty of the standard nipples and bladed spokes means that any future maintenance will be a snap.
When it comes to rolling efficiency, the 303 S isn't the best-rolling wheelset I've tested. In my standard roll-to-stop tests, they are on the lower-middle of the bell curve (not bad, but nothing to write home about). And, on the road, where stability matters more than on gravel, these aren't as stable as the best wheelsets I've tried. Again, they aren't bad, but aren't best-in-class. You will notice a little tugging in crosswinds, so be prepared.
At 45mm deep, you will notice extra aero benefits over shallower wheels. They are optimized for 28mm tires, but the narrowest I have used are 30mm (measure out at 32mm), so I wasn't exactly "optimized." Also, some of the earlier production runs didn't have weep holes in the side to allow water to drain out. I have ridden these in drenching rain and didn't notice any water entry.
The Good
The goodness of the Zipp brand at a reasonable price
23mm inner width is plenty wide for road and gravel
Makes 28-32mm road tires ride like a dream
Durable and capable for the gnarliest gravel terrain
Bonkers-easy tubeless setup
Traditional nipples for easy servicing
Great depth for aerodynamics (with narrower tires)
Baked-on graphics are way better than the stickers Zipp used to use
The Bad
Crosswind stability could be better
Aren't the fastest-rolling wheels (even in this price range)
First production runs lacked weep holes
The Bottom Line: Zipp 303 S Wheelset
When the Zipp 303 S was released, many people scoffed at the seemingly-low 72 psi max pressure. Wait… what!?! You mean, I shouldn't be running 100 psi? No, friends, you shouldn't and Zipp is helping you cross that chasm by delivering a reasonably-priced wheelset that aims to deliver a smoother, more comfortable ride while still being worthy of the Zipp name. No matter where your adventures take you, the Zipp 303 S is a reliable wheelset with serious tubeless chops.
Buy Now: Visit CompetitiveCyclist.com
In Summary
The Zipp brand exudes performance and they have certainly packed a whole lot into the new 303 S wheelset. They are wider than most competitors and they are tubeless-only. Even though it is 2021, the tubeless debate rages, but there's no doubt that running tubeless is so much better than tubes. With the straight internal sidewalls, Zipp is forcing the issue in a good way by delivering a lightweight, reliable tubeless wheelset for gravel or road adventures.