While carbon everything is certainly my preference, recent experiences with aluminum bits have reminded me that the material still has game. The Zipp Service Course SL-70 Ergo bars are a great example of affordability, comfort and performance without paying the carbon tax.
NOTE: These bars changed for 2018. Read our review of the 2018+ Zipp Service Course SL-70 Ergo bars.
Zipp Service Course SL-70 Ergo Features:
Material: AL-7050
Weight: 260g (42cm)
Sizes: 38, 40, 42, 44cm (measured center-to-center for 2014)
Reach: 70mm
Clamp: 31.8
Clip-on Compatible: No
Drop: 128mm
Ramp Angle: 10-deg
Drop Outsweep: 4-deg
Colors: High-polish Black (tested) or Beyond Black
MSRP: $110
Service Course SL-70 Ergo is the Ticket
When Zipp redesigned their Service Course SL bars for 2014, they did so with a nod to bike fitters everywhere. For that reason, my choice for decking out the latest test rig (Devinci Leo SL) was the new Service Course SL-70 Ergo bars. The features of this bar are impressive with the promise of comfort beyond its materials (7050 aluminum versus carbon fiber). The end result has been impressive.
With a shape the mimics the super-stellar Contour SL's, the all-new SL-70 Ergo bars are dubbed a "bike fitter's dream" due to the short reach to the hoods and drops, thus allowing for longer stems for improved steering and handling. For many riders, a comfortable position can oftentimes result in a shorter stem or increased rise. The result may be improved body position for long-distances, but handling can become twitchy on high-speed descents.
While certainly not a long stem, the 100mm Service Course SL stem I've been running has worked well in concert with the SL-70's. On paper, I had concerns that all that stiffness would be too harsh for comfort, but the results have been surprising. While I've yet to ride these bars on long distances, I have let them rip on extended, rough descents here in the Wasatch and the responsive handling is also equally balanced by a smooth demeanor. Small road chatter is dispersed and considerably reduced compared to similar aluminum bars. Much of this comfort is due the ergo shape of the tops and may also be enhanced by the Service Course CX tape I've used.
Out of the saddle, the SL-70's are quite responsive. Pushing hard on sprints or standing climbs, they are stiff and natural-feeling in the hoods or in the drops. With the short and shallow shape and ergo tops, it's also quite easy to dance around them to find the most comfortable position during extended climbs. Going from the tops to the hoods and back is an easy and smooth motion.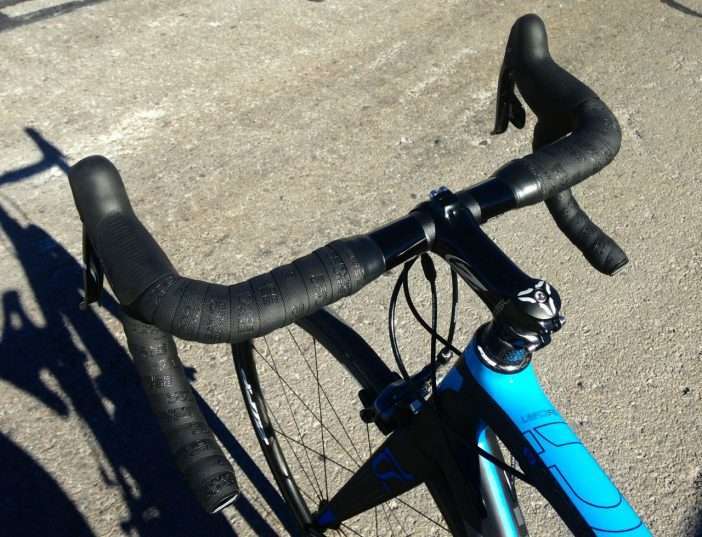 Something else to note is that the measurements have changed to center-to-center for 2014 isntead of out-to-out. Be sure to clarify this with your local shop or online retailer before pulling the trigger.
19 Jan 2017 Update: I've been riding these bars again aboard the Pinarello Dogma F8 and found them to be an absolute delight. They are stiff, responsive, comfortable and more chatter-reducing than some carbon bars. 
The Good
Ergo tops provide extra comfort
Short and shallow drops make for easy transitions
Comfortable for extended stints in the drops
Natural, upright position for endurance riding
Stiff when sprinting or climbing full-gas
Reduces road chatter very well for a stiff aluminum bar
The Bad
Ovalized tops may reduce usable area for outfront mounts
The Bottom Line
The SL-70's are easily the most comfortable and rider-friendly aluminum bars I've ridden. The short-and-shallow shape makes for easy hand movements and the ergo tops extend ride comfort. And with a $110 price point, it's certainly a bargain in today's world.
Buy Now: Available at CompetitiveCyclist.com