As more and more folks have ventured into the backcountry, alpine touring gear has evolved. I remember the first Fritchi Freeride binding almost 8 years ago. It was the first set of burly alpine touring bindings that you could stomp with in the backcountry. Then, the evolution of boots began. Scarpa, Dynafit and Garmont have progressively stepped up the stiffness and overall burlyness of their alpine touring ski boots.
Now, Garmont is stepping it up again with the all-new Garmont Shaman ($750 @ Backcountry.com) sidecountry ski boots. With the launch of the Shaman, Garmont has focused on the growing masses of sidecountry skiers who either ski hikeable inbounds terrain (like the North or South Backcountry at Crystal Mountain, WA) or who like to head out the lift-accessed backcountry gates at their local resort (like at The Canyons Resort, UT). Either way, this skier needs a burly, no-nonsense ski boot that can also safely climb and hike if need be.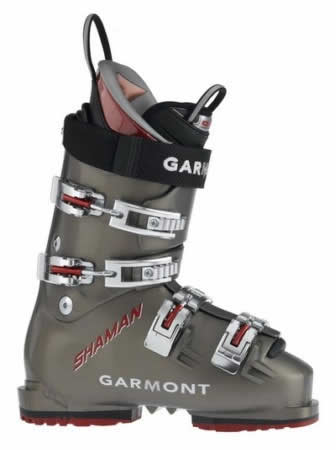 The result is the Garmont Shaman. It's a true race-fit alpine boot. It's a no-nonsense design that will handle the iciest blue ice and schuss through the deepest powder without flinching. The Shaman has two big innovations. The first is the pre-punched, anatomical shell, which according to Garmont and a few testers at Outdoor Retailer Winter Market is one of the most comfortable boots out-of-the-box on the market. I'd love to slip on a pair to test that out myself. The second innovation is the sole itself. It comes standard with a hikeable and replaceable walking sole that is completely DIN compatible.
For anyone who has tried to hike extensively in their traditional alpine boots (ahem… yours truly), the Garmont Shaman will provide that added bit of traction and stability as you're traversing that rock-strewn ridgeline in the Wasatch backcountry. This should be a great companion to the new Marker Duke Bindings. Full price for the Garmont Shaman is $749.95, which is a fair chunk of change, but you only need to buy a new pair of boots every few years and you'd be hard-pressed to find another boot as flexible as the Shaman. We'll post an update with retailers as soon as they become available.
Another option is the Garmont Endorphin
If you're looking for a more touring-friendly, yet still burly option in the backcountry, check out the Garmont Endorphin ($729 @ Backcountry.com). This boot is the standard for gnarly backcountry ascents and descents where you need a powerful and stable ski boot.
Check back for a review of the Endorphin this winter. In the meantime, if you're looking for a new pair of alpine touring ski boots, browse on over to backcountry.com and check out the full gamut of backcountry gear.