More than 600-inches of snow this year fell on the slopes of Snowbird. By May 13th there was still a base of almost 200-inches of snow at mid-mountain. I had to go hit it. The 'Bird decided to discount its tickets, as it often does when late Spring comes around and the snow is still high and deep in Little Cottonwood. For those wise enough to spend Friday the 13th on the mountain, it was obvious that the unlucky ones were those still sitting in offices down in the valley.
I walked into the Snowbird tramdock about 5 minutes after 8am. The first ship of the morning had just sailed. It was a bluebird day with a few inches of new snow, but the tramline was so empty it was almost spooky. These sorts of great skiing conditions would normally mean a Disneyland-type line wrapping all the way through the dock and out to the ticket window. Today there was only one guy in front of me.
The red tram arrived in a few minutes, covered with morning frost. It was strangely quiet, but the core riders were there. Here and there you could spot a member of the fabled Gold Miner's Daughter crew, with the fattest skis and full-face helmets. Snowbird is where IFSA stars are born and bred. There was even a slim woman in her fifties with a helmet, a tan, fat-twins, and custom SureFoot boots.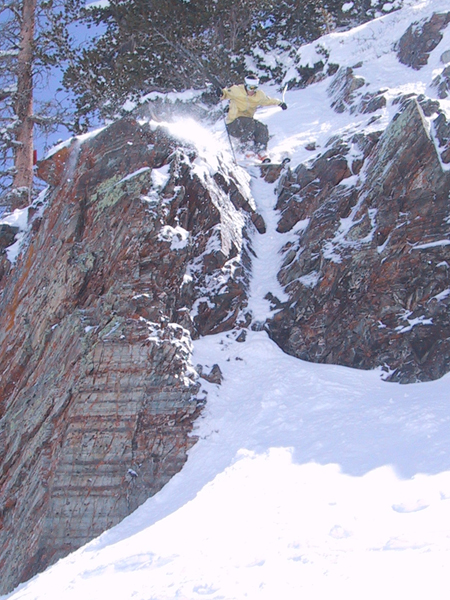 The Experience
At the top of the tram ride I looked around dumb-struck. You know, I always forget what an amazing 360-degree view there is from the top of the 'Bird until another sunny day comes and gives me a jolt. And even having skied Snowbird so many times over so many years, I am always impressed with the consistent good snow coverage. For my first run I decided to ski right down the Cirque from the top of the tram — and I counted only 5 other riders the whole way down. What's more, I had fresh tracks for the majority of that run. And the next. And the next. I was lapping the tram so fast that my legs were getting cooked in the first hour-and-a-half. I rode the red tram all morning – racing it down each run and meeting it at the dock. The frost melted progressively off of the tram car with each lap through the warming sun.
I ran into a pair of guys who were obviously long-time friends, Colin Bywaters and Steve Helfenbein. I needed to document what a great day it was, but I couldn't very well take pics of myself. So I followed them over to the Little Cloud Lift. Little Cloud is an old two-seater lift with no pads – a classic. There's one groomed run that snakes down it called Road to Provo. Everything else was left ungroomed and untouched. Some weird wind paths had blown yesterday's tracks into fascinating patterns, and on the skier's left of the RTP there are traverses that lead to some nice rolling pitches. Today they were mostly untracked.
Later in the day I knew that we would have had to stay in the north-facing sides of the pitches to make sure we still had light snow. But the air was still chilled and the sun had not yet baked the south-facing rolls, so as the three of us yo-yoed the knolls it was still soft everywhere.
After a few laps on Little Cloud we made our way back toward the cirque. There had only been a handful of tracks down the upper area since I left for Little Cloud. From the tram earlier I had spotted a finger of snow on Great Scott that reached upward below a short cliff area. No one had hit the finger today (or maybe even yesterday, from the looks of it). It was a nice, steep pitch and the rocks protected it from sun exposure for most of the day. I could hop the ridge protecting the finger and drop in blind, knowing exactly what the consistency of the snow would be.
I was right. It didn't have a track in it and it was much softer than the sun-exposed areas that still had cut up soft chunks under last night's new coverage. The finger turned out to be 4 or 5 turns of practically perfect conditions. Then it opened to the wide run-out of the cirque. By now there were enough tracks through the covered chunks that it would have been easier to switch to short hop turns. But since the advent of fat skis, making short hop turns has come to feel so slow to me – even in these conditions. So I end up arcing GS turns like usual, but loosening up my knees to absorb the variable conditions rather than trying to stomp on the outside ski and power through it.
Whenever I switch to that mode I remember a shot at the start of an old MSP film – was it Sick Sense? – in an opening sequence when McConkey is turning toward the camera above a small cliff. The snow is just knobby and unforgiving, but rather than try to power through it he lets his legs work like shock absorbers to maintain control. That's probably a terrible description, but it's what sticks in my head. And whenever I have to shift to "shock-absorber-mode" during a GS-style turn in variable conditions, I can't help but think about him in that shot. The adaptability of McConkey and the smoothness of Seth – that would be the holy grail of big mountain skiing.
Anyway, when we get to the bottom I take a break and then start back up the tram. It's time to venture over toward Baldy.
Baldy sits directly opposite the Cirque, and they both share the same lower mountain runs to the tram. Since it requires a bit of a traverse it can often hold untracked stashes a bit longer than the Cirque. I also figured I needed to find some more subjects to help me document the beautiful day we were having. Frankly, you can't go wrong following any Snowbird local – they all rip. Even those who build their own fat skis – like a crazy nutcase named Jack that I used to know up there. He took two pairs of old Kastle race stock skis and melded them into one pair of super-stiff, low-profile fat skis. Yeah – crazy.
So as I started out the traverse I ran into another pair of friends: Rachel Burks and great guy named Brian. I soon found out how lucky I was to cross tracks with a pair of really great friends and skiing partners. They both competed whenever they could in park and big mountain competitions, and their love of the core and soul of the sport was evident. It's always so refreshing to run into a couple of kindred spirits on the mountain. Rachel led the way to a few sheltered areas off of the Baldy Traverse that weaved through some trees and had some small rock drops that were perfect on a day like today.
I didn't count how many drops we hit over the next couple of runs, but Rachel stomped every one of them clean – without so much as a hip check. But what else do you expect from an IFSA queen who dominates the podium? Brian implied more than once that he felt like her apprentice, but truth be told he also stomped every single one clean. On our last run Rachel sized up a rock on lower Baldy that looked good, but the sun was baking the cut-up landing and it looked a little sketchy. But, true to form, she just counted down from 3, dropped it, and skied away smoothly – again, without a hip check.
By now it was time for me to head home, regrettably. Not only had I been skiing Snowbird pow on May 13th with almost a 200-inch base, I had met up with some really great people. When most people think of Spring skiing they think of slushy terrain parks and spending most of the day on the sun deck. If you come to Snowbird, it's just as likely that you'll be skiing May powder on some of the best expert terrain in the world. Alaska isn't the only place that has cliffs with soft landings in the Spring. Snowbird is a jewel of the lower-48. I'd say I was extremely lucky to have a day like this on Friday, May 13th. But if you know Snowbird like I do, you know that luck has nothing to do with it. After a few seasons it's just what you come to expect from Snowbird. And Snowbird always delivers.