Every fisherman who knows his worth has a trusty vest. Dakine is now aiming to extend that axiom to backcountry skiers. There are certainly parallels between backcountry skiers and fisherman and both can benefit from having a versatile vest. The Dakine BC Vest may seem gadgety, but it functions well.
Dakine BC Vest Features
Vertical snowboard carry
Retractable cable ski carry
Organizer pocket
Radio pocket
Snow tool/shovel pocket
Hydration compatible
Interior climbing skin pockets
Side compression straps
Sizes: SM/MED, LG/XL (tested), XXL
Weight: 1.9 lbs
MSRP: $130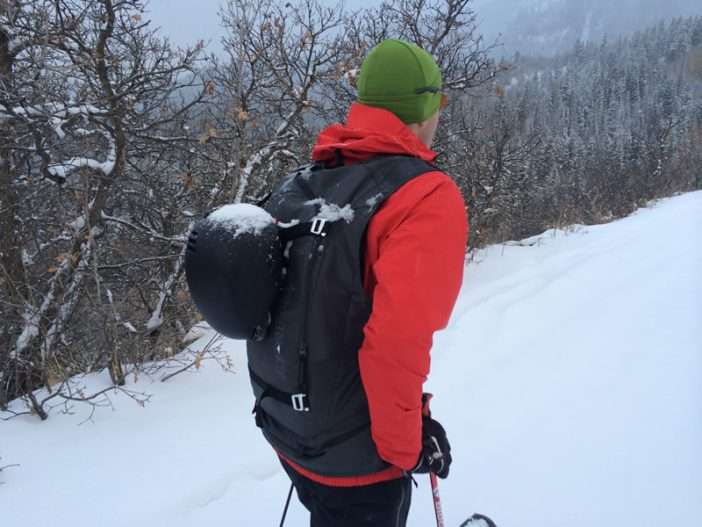 Fishermen and Backcountry Skiers Need a Good Vest
Both of them wake up early in search of the prize, but backcountry skiers haven't had the benefit of the vest until now. My time with the BC Vest has made it quite apparent that this vest has a nice home in the spectrum of backcountry equipment on the market.
While I'm quite drawn to having extra safety gear along in the backcountry (e.g. Avalung and airbag), the BC Vest quickly won me over. Before my first tour with the vest, I started loading it up — fully expecting to have to make some compromises on what I was bringing along. With the unzipping of each pocket, I became more and more of a fan of the design. There's a reason fisherman use vests and having an array of front pockets at my disposal was something I didn't realize I needed — but I do need it now.
I wanted to push the limit of the BC Vest, so I went with the full D-handled aluminum shovel, and it fit quite nicely. Opting for a more compact design would be more fitting for this vest, but it's great to know that you can bring along a real snow mover and it will carry it just fine.
For my low-angle tour up American Fork Canyon, I was able to carry everything I wanted. I tucked my transceiver into the lower-left pocket, some energy bars and gels in the lower-right and misc goodies throughout. The 70-oz hydration sleeve tucked into the shovel compartment quite nicely (though you'll have to make sure you have a straight-pull bite valve). I didn't utilize an insulated tube and my liquid remained liquid, no problem. Access to water was very easy as it tucked into place with just enough hose length to easily reach my mouth.
I always bring along a helmet and found I could easily thread the uppermost snowboard carry strap through the helmet straps of my Smith Maze helmet with my Scott Fix goggles, inside their bag, threaded their way inside the cavity of the helmet. This offered a secure helmet carry with added goggle protection on the way up.
At first, I thought the L/XL vest would be too large and baggy, but once loaded and cinched down, it's just the right size for my 5'11" 170 lb. body. On the way up, it was snowing and quite cold, so I wore my Westcomb Focus LT Jacket on top of a Patagonia Piton Hybrid Jacket. As the sun peeked out and the wind began to calm, I unzipped the vest slightly to improve breathability. It was then that I realized one of the few gripes: there should be a single buckle across the front and the front zipper should be of the semi-locking variety.
A chest strap would add security to the vest by reducing the likelihood of the vest getting torn off in a tumble or a slide. And, the locking zipper would accomplish much of the same, but also allow the zipper to stay put at the top or wherever it is placed. I was also a bit baffled as to why the compression straps pulled backwards instead of forwards as compression was slightly awkward.
Wearability of the BC Vest really puts this contraption over-the-top. I had a friend who said he thought it more of a gadget than true gear, but I think otherwise — this thing is going to find regular use. Like many others, I suffer from lower-back pain after a long ski tour. Much of this is due to wearing a laden backpack and bending at the waist during a tour. I'm happy to report that with the BC Vest, I experienced no back pain as the weight of everything was evenly distributed and carried by my entire upper body. The vest simply feels a part of your every move.
The same comfort extends to skiing as the BC Vest skis invisibly. Tucking the skins into their perfectly-made interior pockets, everything stays in place and wears well on the down. Everything remains within reach with easy access to my phone, camera, transceiver and other essentials.
I should note that I didn't test the ski or snowboard carrying function of the pack in the field. I did do a few dry runs and found the deployable carrying strap/cable combo to be stupid-easy to use. As expected, with skis on the back, the avie gear pushed awkwardly against the middle of my back, but it would be fine for short stints, when necessary. The tails of my Surface Live Life's remained out of the way and provided a nice pedestal for taking the pack on/off when strapped on.
The Good
Distributes the load evenly
Pockets? Boy, does this have pockets galore
Stays put even when unzipped
Easily compatible with hydration sleeves
Fits my large Voile aluminum shovel with ease
Great skins carrying mesh pockets inside
No lower back pain  — AWESOME
The Bad
No dedicated helmet carry
Main zipper should be a locking zipper to prevent accidental opening
A single chest strap would be nice
Cinch pull straps should pull forward
Reduces breathability a little more than a backpack would
The Bottom Line: Dakine BC Vest
The BC Vest has won me over for short tours, low-angle trips and sidecountry adventures. The wearability is superb — eliminating lower-back pain for me. And, the versatility of having a myriad of pockets goes without saying. Yes, backcountry skiers AND fishermen need vests.
Buy Now: Available at Backcountry.com