Hailing from the Midwest, Epic Planks has a growing line of skis and snowboards with the obligatory set of soft goods (hoodies, beanies, caps, shirts, etc.). This season, I've had a pair of Epic Planks Ripper skis for review and have had a great time riding them in the Wasatch.
Epic Ripper Features:
Poplar Core
Full Vertical Sidewall
Early Taper Tip Rocker
Slight Camber
Directional Twin
Sizes: 175cm (133-98-125 r=15.6m) and 185cm (139-103-130 r=17.2m)
MSRP: $649.95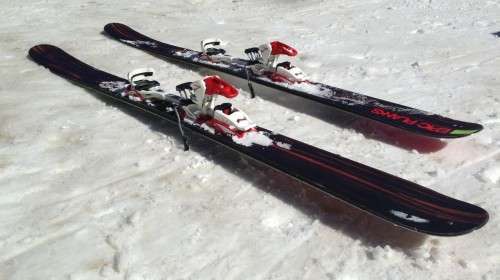 My Experience
On paper, the Ripper has all the great trappings of a great one-ski-quiver in the West. I had my hands on the 185cm version with its 139/103/130 dimensions sporting an early-rise tip, minimal camber and an upturned tail. The shape is solid and the dimensions are about right for all-around versatility. Looking at the overall package, the construction is excellent with subdued topsheets and a bit wilder bases. I really like the woodgrain topsheets for their muted, classic style. The Ripper also features vertical sidewalls and a poplar core for a good, predicable feel.
I opted to mount them up with Fritschi Freeride Pro bindings for the ultimate in versatility. Mounting location was exactly as specified by Epic Planks and has felt balanced and natural in all conditions. Thus far, my time has been spent a few days inbounds at Alta Ski Resort, but I'll continue to follow up with their performance in the backcountry as the season continues. I wanted to share my thoughts on the Rippers from an inbounds perspective first.
My first day aboard the Rippers was on a cold, hardpack day at Alta. I had spent the morning skiing on the 2013/14 Q105 and Q115 skis from Salomon. So, coming from those big-name skis to the Ripper's certainly provided some perspective. Conditions on the groomers were firm, so I immediately tested the carving ability of the Rippers. For me, they seemed to settle into medium to long-radius turns on the firm stuff. Attempting to whip them around with short, snappy turns required too much effort as the tails tend to want to lazily finish the turn. So, I didn't spend too much time whipping out slalom-style turns.
What felt natural were long arcs. The skis are a bit damp, but like to be railed. Of course, I was best rewarded with proper angulation, however, don't expect much in the way of snappiness from this ski — even when pushed hard.
When I ventured into leftover crud and settled powder, the Rippers began to show more signs of life. They liven up considerably when the snow softens and whipping them around became less difficult. Swing weight is excellent and they carve through thick powder with ease. I'll also say that with new snow on the groomers, they became much more fun as well.
With the rockered tip, I rolled from turn-to-turn in hook-free fashion at slower speeds. Whipping them around on the groomers was easy and riding switch was natural as well. Rounding out the tests, they have been great at skidding around with the kids and/or in tight situations.
Next up… backcountry time with the Ripper. Stay tuned.
The Good:
Excellent shape for the Wasatch
Very stable at speed (likewise prefers big, sweeping turns on hardpack)
Reasonably-priced
Easy to skid around at slow speeds
Carves short-radius turns well in soft snow
The Bad:
Lacks pop finishing turns on hardpack

Doesn't do anything that "wowed" me
Everyone kept asking me, "A ski company based in Michigan?!?!"
The Bottom Line
So far, I'd say I'm impressed overall with the Epic Rippers. They have taken a stellar shape and built a very versatile ski at a reasonable price. I do wish they were a little snappier on the hardpack, but their performance thus far off the groomers has been commendable.
Buy Now: Visit EpicPlanks.com