Ready to take your helmet and goggle game to the next level? Giro makes a mark with the Zone MIPS helmet and Contact goggles. Seamless integration, comfort, and protection are the name of the game.
Giro Zone MIPS Helmet Features
Construction: MIPS – Multi-directional Impact Protection System, Hybrid Construction, Durable hard shell ventilated upper, Lightweight In-Mold Lower & Sidewalls, Low-profile design
Fit System: In Form 2 Fit System, Vertical Tuning
Ventilation: Thermostat Control Adjustable Venting, Stack Ventilation
Features: POV Camera Mount Included, Fidlock® Magnetic Buckle Closure, XT2® Anti-Odor Padding, Compatible With Aftermarket Giro Audio Systems by Outdoor Tech, Seamless Compatibility With All Giro Goggles
Certification: CE EN1077
Head Circumference: M: 21.8 – 23.2 inches; L: 23.2 – 24.6 inches
Vents: 8
Price: $200
Giro Contact Goggle Features
Lens: spherical dual lens by Carl Zeiss
Interchangeable Lens: yes, SnapShot lens interchange system
Technical Features: anti-fog lens coating
Frame: EXV (Expansion View Technology) semi-frameless
Face Size: large
Case Included: protective goggle and spare lens case
Manufacturer Warranty: 1 year
Price: $250
What the MIPS?
A quick primer: MIPS stands for Multi-directional Impact Protection System, a technology whose focus is to reduce rotational forces in a crash. Essentially an elastomeric liner is attached to the EVA foam (impact absorber), which allows the foam to be able to rotate around your head in the base of angled impact. The act of the foam rotating helps to reduce the forces that would ordinarily be directed into your noggin, reducing trauma. In short, it means better protection.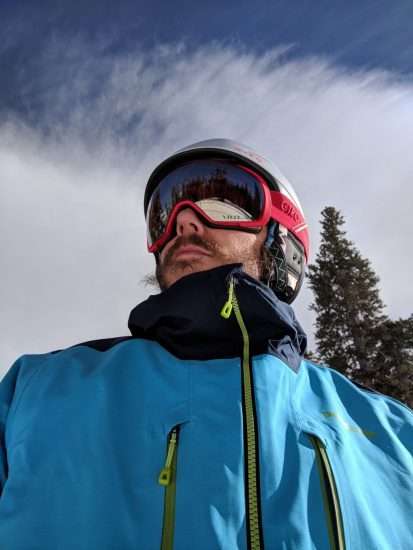 The Giro Zone MIPS helmet is comfortable. The liner is smooth and soft to the touch. It's like wrapping your head in cozy warmth… well, cozy warmth that won't mess around with impact. With XT2 anti-odor treatment in the liner and padding the Zone will stay fresh, no matter how sweaty you get. Worried about helmet funk? Problem solved.
Giro has eliminated everyone's least favorite game of "squeeze the tiny buckle with bulky gloves" with an updated clasp. It's so simple it's a wonder why someone didn't come up with it already. Instead of "insert and squeeze" the clasp easily slides together. It's directional so you can't rotate the strap and put in backwards. A small magnet helps keep the clasp from opening on it's own. The first time I closed it I was skeptical that it would stay shut. No amount of movement, shaking, or swinging my head could get it to open. Skepticism resolved.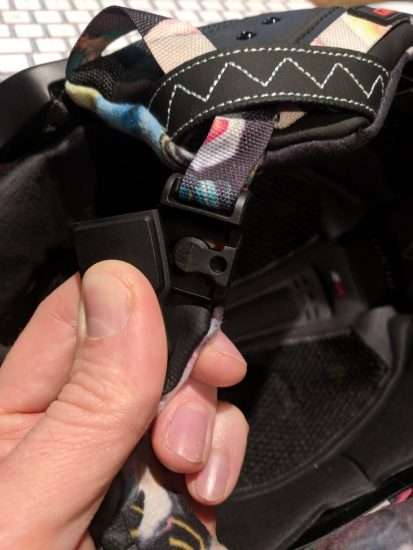 I'm 50/50 on the size adjustment. I like the ease and micro-adjustability of the wheel style adjuster. Super easy to tweak even with gloves on. What I don't like about it is I've had it open up accidentally. First time it happened I was sitting on my first chair of they day making all of my usual adjustments: making sure the jacket is zipped and comfortable, adjusting cuffs over my gloves, etc. As I was moving and looking around the wheel rubbed on the hood my jacket and opened. Thinking it was odd I tightened it and went about my day. A little while later I was scoping a line and it happened again. It has now happened enough that it's not a fluke. I've never had it happen while I was skiing, it's always happened either on the lift or when I'm standing there looking around.
Venting on the Zone is okay. I'd categorize this as a great, cold day helmet. When locked down, very little air moves through which is perfect. When opened up on warm days, I would have liked to have felt more air movement. The vents aren't big and audacious but they are well placed so when skiing you can feel some air flow. But when your head is baking in the sun on the lift, there's not much ventilation going on (good thing helmet funk has already been addressed). The vent slide is firm and will stay in place. Ironically, however, there's less wind coverage at the back of the neck in the helmet as compared to other helmets I've used in the past. Definitely felt more wind blowing up the back of my head. This is good on warm days, bad on cold.
3, 2, 1, Contact!
Contact is an apt name for this Giro goggle. It's made to seamlessly integrate with any Giro helmet providing great fit and eliminating any gaps. When paired with the Zone the fit is great and comfortable.
The lenses are the standout feature for the Contact goggle. You get two lenses in the box: a great all around sunny day lens and a low light lens. Both are mirrored to help reduce glare and strain on your eyes. The field of vision is great. The lenses are big and wide letting you see as much as the environment as possible. The lenses are held on with magnets (more on those in a minute) and those magnets do sit in the field of vision. I noticed them (and kept noticing them) the first day I wore the Contact. After that, I haven't noticed them at all.
The magnetic interchange system is a little like Dr Jekyll and Mr Hyde. There's good and bad with it. The magnets make it super easy to change lenses. As in, ridiculously easy to change lenses. No toggles to mess with, no trying force "locks" through small holes in squishy frames. Lenses and in and out in a few seconds. The big drawback is lens retention. Even the simple act of pulling the frames over the helmet or moving the goggle up onto the helmet when you walk into the lodge will cause the lens to disconnect from the frame. There's a chance that the lens falls off when you're walking around. When moving the goggle back onto my face, the lens has slid back into place every time. Additionally, it hasn't happened to me, but others have reported the lens popping off in crashes. This could potentially be dangerous.
Finally, the my favorite small feature is the strap. Giro actually made it long enough to fit around a helmet and a big face without having to be maxed out or needing a separate extension strap. I've used too many goggles that leave foam imprints on your face because the strap isn't long enough. Goodbye face squeeze.
One last note: I've read other review where users complained of persistent lens fogging. I didn't experience a single issue with fog. Venting seemed great to me. Granted it could be environmental.
The Good
MIPS technology
Comfort (both helmet and goggles)
Easy helmet clasp
Seamless integration
Wide field of vision
Easy adjustability all around
The Bad
Helmet adjuster would pop loose
Lens comes loose when moving goggles over helmet and could come off in a crash
The Bottom Line: Giro Zone MIPS Helmet & Contact Goggle
Whether you're looking for a complete system or just one or the other, this is a good way to go. The Zone MIPS will you protected and comfortable. The Contact goggles provide a wide field of vision and easy lens swapping. Just don't drop the lens!
Buy Now: Giro Zone MIPS Helmet and Giro Contact Goggle at backcountry.com.