Before getting the lowdown on the latest sunglasses and goggles from Julbo, I had pidgeon-holed them into the "mountaineer-only" category.  Their famous glacier sunglasses are worn and trusted by many mountaineers worldwide… that's all I thought they made, but I was pleasantly surprised to see their latest lineup of sunglasses and goggles.
Talking through the new sunglasses and goggles, I was impressed with the quality and pricing offered by Julbo.  With a crowded market, Julbo has their work cut out for them to capture enough business to become a solid player, but with smart designs and quality products, they just might make it happen.
Julbo Zebra Photochromic Lenses
The most notable feature of the Julbo lineup is the Zebra Antifog Photocrhomic lens technology. It is available on several sunglasses and the Revolution goggles. This lens automatically adjusts from 40% Visual Light Transmission (VLT) to 6.6% VLT in 28 seconds. Interchangeable lenses are great, but automatically-adjusting lenses are even better–especially ones as versatile as the Zebra lens.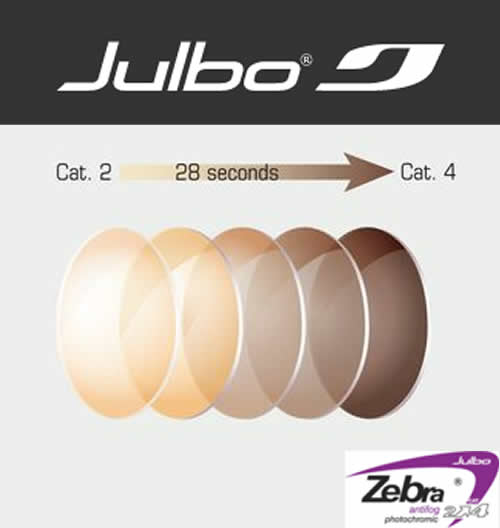 Julbo Run Sunglasses
Targeted at mountain bikers, the Julbo Run sunglasses fit extremely well and are very lightweight. With a wraparound design, adjustable nose rubber and grippy earpieces, the Run sunglasses look to be a great option for mountain bikers looking for one pair of sunglasses to rule them all. Interchangeable lenses are great, but automatically-adjusting lenses are awesome–without the hassle of hauling extra lenses or switching on every ride.  Julbo Run sunglasses are available with either Zebra Photochromic or polarized lenses.
Julbo Tracks Sunglasses
The Tracks feature interchangeable lens technology with adjustable ventilation for highly-aerobic activities. These glasses are super light and versatile, but the frames seemed a little flexible to me.  Only time will tell if these frames are too flimsy or are just right for real-world abuse. Available with Zebra Photochromic or an interchangeable set of 3 lenses (polarized, hi contrast and clear).
Julbo Revolution Goggles
Continuing with the Zebra Photochromic lens technology, the Revolution Goggles look to be solid players for the winter goggle market. I found it interesting that these goggles sport a single-lens design while every other goggle I've seen has a sandwiched dual lens to keep everything from fogging. I was told that the antifog coating on the lenses is good enough to have a single lens. Photochromic lenses are awesome in the mountains where light conditions can vary from run-to-run. With a helmet-friendly outrigger design and clip back strap, the Revolution Goggles have a lot to offer.
Buy Now: Search for Julbo Sunglasses on GEAR.com