Park City Mountain Resort has long been the local's mountain for those that call Park City home. Amidst the many tourists that are attracted to Park City's slopes each year, you may be lucky enough to ride the Jupiter Lift with a long-time local. Ask them about powder days in Jupiter. Chances are they'll have more stories than the ride on the old-style two-person Jupiter Lift would leave time enough to tell. With all the Jupiter ski lore floating around town, it was time we checked it out for ourselves.
Checking the Ski Utah snow report revealed that Jupiter was the most blessed area in the Wasatch with 5 inches of new vs. other areas in the Wasatch receiving only 2-3 inches. Somehow I couldn't imagine that Park City had received more snow than any other resort in the Wasatch, but as Jason Mitchell and I neared the top of the Jupiter Lift we could see that indeed there were 5 inches… and more.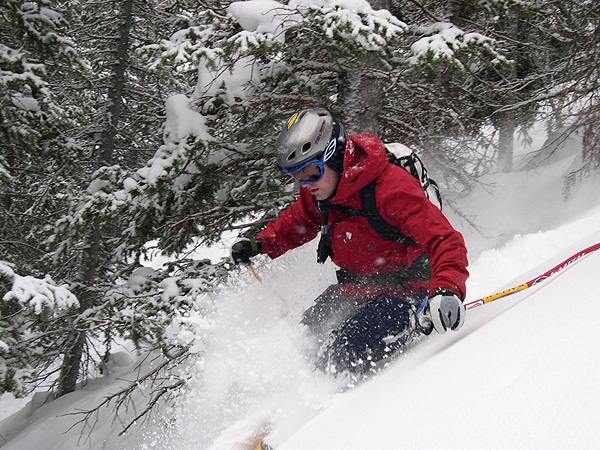 The PCMR Experience
Riding the Jupiter Lift gives the feeling that you've somehow skied away from Park City to another resort–one in the past. Distance-wise it's a long way from the base of the mountain, but the distance isn't the only thing separating Jupiter from the rest of the hill. The front and mid sections of Park City, with their high speed everything and flying couches (the 6 passenger lift), give the impression that it's all modern and that the only things ancient are the mining relics that are spotted throughout the resort. Indeed just getting to Jupiter is a trek, after taking 3 lifts from the base to a long access road/run, but as we discovered the destination is worth the trip.
As we rode up Jupiter for the first time, we immediately spotted numerous tree chutes to the skiers right of the lift as Jupiter Bowl continued to wrap beyond the tree chutes to the east. It looked to go on forever, stretching toward the horizon. Under the lift was a nice steep face that leads to glades and more tree shots below. As we prepared to unload Jason nudged me, beaming, "We're going to have some fun today."
Getting off the lift and turning left there is a long traverse that leads through the woods and then along a ridgeline. It eventually leads to a saddle in the ridge and a decision – to hike Jupiter Peak or to continue traversing around until you can't resist the tempting lines below. We started off the day in the woods.
"Wow" I thought, "there's a lot of untouched lines in here" as I eyed untracked powder below and to the right. Although on a Saturday Jupiter is chuck full of locals and tourists, if you've got a nose for powder and don't mind the smallest of deviations from the beaten path, chances are you'll find a rewarding treasure in Jupiter. In fact, your chances are good. We bombed down the first chute, which led to a second, and then a couple turns and a small traverse led us to yet another trackless glade.
The subsequent rides up Jupiter had us pointing out and scheming about routes that would keep us skiing the most untracked still remaining. Like kids in a candy store we couldn't get our fill. Towards the bottom of each run we came upon untracked glades and lines. Now if it's 1pm and you're finding untracked, it's either a Tuesday or there's a reason it's untracked. We couldn't resist and dove in, 7-8 turns later to realize why it was still untracked – flats. These bottom glades just lookers left of the lift are a powder addicts worst nightmare, or no big deal if you don't mind a little poling and some side stepping up the slight hill at the end. It was well worth it as we repeated on the next 3 runs.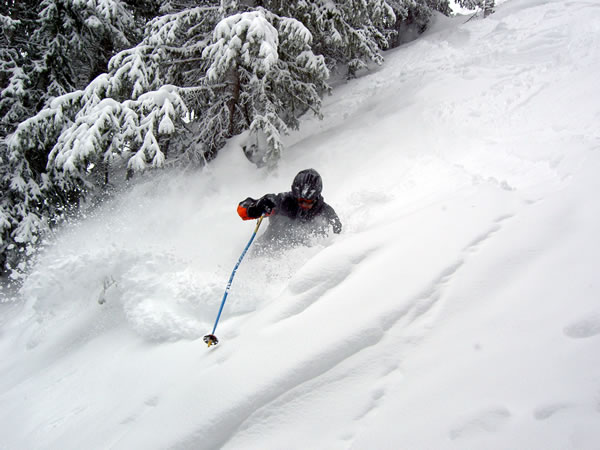 On one run in particular we were poking around in the trees, hollering back and forth to each other about where the chute was that we had seen from the lift. Just within an ear shot of the traverse a local must have overheard us saying, "Just to your right is the chute" and indeed it was. Huh, so much for stingy locals.
Nearing 2 o'clock we once again found ourselves headed out the traverse and upon arriving at the saddle we decided to "saddle up" our sticks and hike to the summit. How could we ski Jupiter without skiing the peak itself?
The hike was pretty mellow, gradually ascending for about 15 minutes. By committing to this hike and the challenging terrain on the backside of Jupiter Peak, we knew that we wouldn't be returning to the Jupiter Lift. Upon reaching the summit there are a number of very steep and rowdy lines to drop, the most obvious being Machetes. 6 years previous on his first visit to Park City, Jason had launched this cornice and on his first turn said adios to his ACL. It was payback, redemption day. Conditions were a bit firm in the chute but it opened up to a sweet apron of nearly untracked powder all the way down. Jupiter had delivered. We stole a last glance at our tracks and Jupiter Peak before diving into the trees below, headed for home.
The Lowdown on PCMR
Regardless of how busy and bustle like Park City Mountain Resort may appear from the base with it's award winning terrain parks, flying couches and an expansive village, Jupiter is worlds apart. Tucked in the back of Park City is a gem of an area that will challenge you with steeps, test your nose for powder and reward you with a bounty of both should you venture there. I know a guy who used to work for Park City and left there to work at another local mountain for 7 years, but despite his competitive nature you could never catch him talking negatively about the slopes at Park City, particularly Jupiter. A piece of his heart and soul is there. I finally realized what so many locals have known for so many years – Jupiter is a special place tucked away in a corner of paradise.