The legendary Mt. Baker Ski Area, just south of the Canadian border in Northern Washington State is getting pummeled once again. I just saw posted on their site that they have had 220 inches of snowfall in the month of December alone! That doesn't even count the endless powder they have received recently.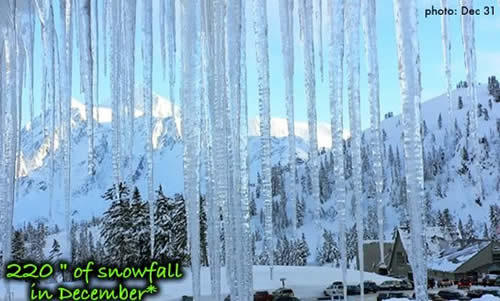 The last La Nina season, Mt. Baker broke all annual world snowfall records with a whopping 1,140 inches (1998-1999). On a great year, Alta will get 600 inches, so that's absolutely insane! Even moreso when you consider the water content of the snow at Mt. Baker. If they got the blower powder that Alta got, that same annual total would be at least another 400+ inches more! To see the latest snow conditions at all Washington State ski areas, visit www.SkiWashington.com.
The bottom line is that this year's La Nina conditions in the Pacific are creating endless storms for the West. Utah has been the beneficiary of storm after storm recently, so don't think that bottomless pow is only on the West coast. It's time to break out the fat, powder skis and head to the hills!
MORE INFO: Visit www.SkiUtah.com for the Latest Utah Ski Conditions