I was poking around and found a handful of skis that I thought were pretty darn stupid if you asked me. Now I know that there exists a market for super-specialized skis for super-specialized skiers and terrain, but come on… these skis take the cake as far as lack of real-world functionality.
I suppose it can be looked at like fashion shows where they show off the most outrageous stuff that has clues of what will be coming to the marketplace. These skis, however, ARE in the marketplace already. And, people are supposed to consider buying them for real. Seems pretty silly if you ask me. So here they are.
Fischer Duke 207 Powder Skis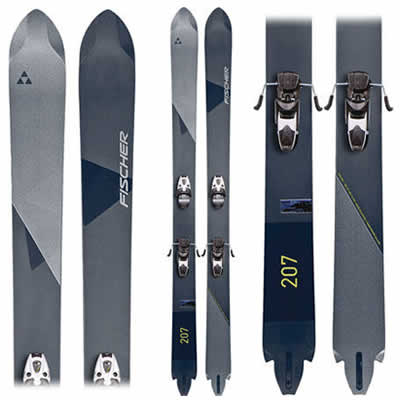 Yeah, you read that right… these babies are 207 cm's of fat, straight and pow-lovin' goodness. Their dimensions are 150 / 121 / 130 mm, so they are pretty much as straight as they come. Though I'm moderately interested in seeing these in person, I can't for the life of me figure out what Fischer is thinking. Even Mr. Powder himself, Mike Wiegele, wouldn't even think about skiing these boards. A triple swallowtail and a skeg? Holy smokes… these skis aren't going to be flying out of any retailer's doors this winter. If, by some reason, you feel the need to buy and ride these skis, they are available for less than the $1175 MSRP.
BUY NOW: Buy the Fischer Duke 207 Fat Powder Ski from Backcountry.com
---
K2 Pontoon Powder Skis
So, we all love Shane McConkie, but come on… reverse-sidecut skis (think waterskis)? Did he go nuts on his last BASE-jumping trip or something. Shane has been pushing the limits of skiing and, now ski design, so you've got to give him some credit. But, reverse camber seems like a BAD idea unless you only ski in the bottomless stuff, and you don't ever care to carve a turn. Skids galore, but floating on top is the flavor of the day. I still think it's a bad idea unless someone wants to send me to AK with a pair for a day. For the rest of the world, a $1000 deep powder and deep powder only tool is ludicrous. At least the K2 Pontoon's are available in realistic lengths: 169 cm, 179 cm and 189 cm. But, the dimensions will still make you wonder at 160 / 130 / 122 mm. Again, if you want to buy a pair, Backcountry.com has them in stock, and for a bit less than MSRP.
BUY NOW: Buy the K2 Pontoon Powder Skis from Backcountry.com
---
Armada ARG Limited Skis
So, Tanner Hall can ski the park like the champ he is, but he's also schlepping the reverse-sidecut Armada ARG Limited. Just like McConkey's K2 Pontoon, they are reverse sidecut with a slight sidecut underfoot giving them more dimensions than your new house at 125 / 135 / 133 / 134 / 120 mm. Though some of the reviews seem positive, the ski still seems odd. However, seeing as this one actually does have some sidecut underfoot, maybe it does still ski OK in more conditions than untracked pow.
BUY NOW: Buy the Armada ARG Limited Powder Skis from Backcountry.com

---
Zai 182 Tschadila
A friend of mine, pointed me to Zai skis. Holy smokes… I understand custom, handmade skis, but for $3500! Yeah, put them next to my H2, the fur coat and 10 carat diamond necklace. I see they are for sale at the finest shops in Vail, Aspen, Avon and Keystone, so you had better have an AmEx Black if you're hoping to get a pair of these skis. I'm sure they are some of the finest handmade skis on the market and I'm sure these guys are building some awesome stuff, but unless you're a celebrity, don't even think about it. According to their site, they are great to"try your skill on switchbacks". So, if you're into charging switchbacks (and who isn't), these are your skis.
BUY NOW: Buy the Zai 182 Tschadila from Gorsuch