Much in the same way that a 3 person tent is typically a 2 person tent, a 4-pair ski carrier a few years ago would typically only fit 3 pairs of skis. Thankfully, RockyMounts knows how to make a ski rack that carries a proper pair of skis in the LiftOp Medium.
RockyMounts LiftOp 4 Features:
Medium Carry 4 pairs of fat skis or 2 snowboards (Small – 3 and Large – 6 also available)
Aerodynamic tubular design
Easy opening lever
Mounts to all types of crossbars (factory, aftermarket or Euro rails)
Includes lock cores
MSRP: $139 Small, $159 Medium and $189 Large
The LiftOp 4: Easy Install and Solid Function
No doubt this review needs to start with the installation process. Modern ski and bike racks are thankfully built to be crossbar agnostic. Some are better executed than others and I'd have to give the cable-style mounts found on the LiftOp 4 the nod for what is likely the easiest install of any ski rack on the market. I've got the size Medium (4 skis) in my test, but LiftOp is also available in Small (3 skis) and Large (6 skis).
The recommended process is to mount the LiftOp footings loosely to the rack before placing the combined unit on the crossbars. I didn't quite get that process very clearly from the installation instructions, but watching the following installation video confirms that is the best way to go. It's much easier to install the footings on the floor of your garage than trying to do it atop the vehicle.
Installing the cable footings on my stock Subaru crossbars (2005 Subaru Outback) required that I tighten the cables all the way in, which took up most of the mounting time — twist, twist, twist. Subsequent installs will not require that I tighten the cable all the way in. I was surprised that the most ubiquitous mountain vehicle would require that I tighten them in completely — anything smaller than those found on my Outback may not tighten enough. That said all round, square and most (if not all) factory crossbars should install in a jiffy with a single allen key. Once tightened and locked, the footing bolts are covered and the entire unit is secured. Total first install time: ~20 min.
RockyMounts includes optional insert plates for select European-style crossbars as well as spacers to increase binding clearance. As far as clearance goes, I had plenty of it without the spacers in place with all bindings tested. The total clearance is really dependent upon the crossbar configuration — some will have more clearance than others. Adding more clearance will be easy with RockyMount's new Aerodynamic Base Rack System.
The LiftOp racks are kind of boxy, but offer a substantial look and excellent performance. When shutting the latch, it instills confidence that your skis are safe. The rack closes securely with an audible latch telling you it's all good, much in the same way a quality vehicle's doors close with a solid thud. The rubber is fairly stiff, so it does take a bit of a strong hand to latch when full.
When it comes time to unlatch, the large plastic paddle is easy to reach and push up to open. Once open, the skis are easily retrieved and you're on your way.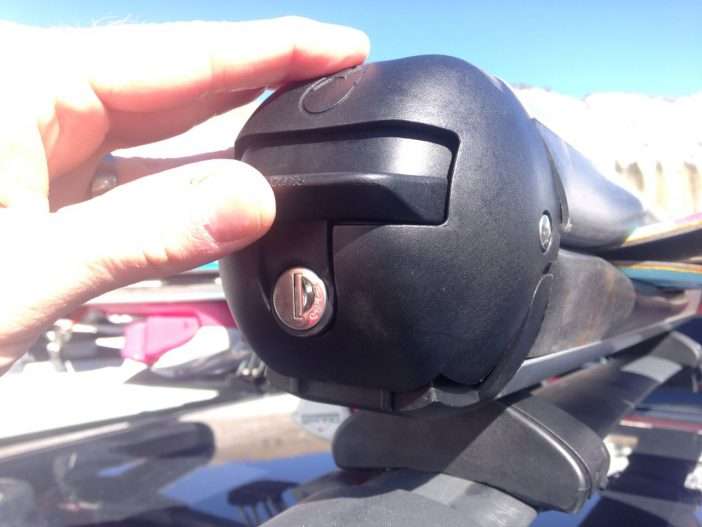 Driving at freeway speeds yielded no extreme whistling or loud wind noises — in spite of their blocky profile. The Yakima FatCat 4 is slightly quieter, but the difference is negligible.
When it comes time for the season to end, removal does require a little bit of work. Initially, I couldn't figure out how to give myself enough slack to remove the wrap-around cable system. In the end, the easiest method was to gently pry the cable loose with a screwdriver or allen wrench. Once I figured that out, removal was a breeze.
The Good
Footings easily attach to any crossbar type
Latches with a confidence-inspiring thunk
Wide paddle lever makes it easy to open
Really carries 4 fat skis
Excellent value
The Bad
A bit boxy looking
Takes leverage to close when loaded up with 4 pairs of skis
The Bottom Line: RockyMounts LiftOp 4
Born and bred in Colorado, the RockyMounts LiftOp 4 offers secure ski hauling with the ability to carry 4 really fat skis. Carry your quiver or bring along your posse on your next trip to the hills.
Buy Now: Available at REI.com