I had skied Mineral Basin only once before and it was the winter it opened. I was treated to 1500 feet of sun-crusted bumps–not my ideal run. Over the years I've realized that yes, I can ski moguls, but just because I can ski moguls doesn't mean I like skiing them. I'm a powder junkie and if I'm not skiing powder, I dig arcing big turns on the groomers.
But, those bumps had one thing going for them–a variable, but relatively consistent fall-line and a perfect pitch that wasn't too steep nor too shallow. Hmmm… those are the same ingredients that make for excellent hills on powder days. Sounds like pretty much the entire mountain at Steamboat, Colorado or Grand Targhee, Wyoming. Those hills are famous for perfectly-pitched champagne powder runs. Mineral Basin is like a mini Grand Targhee on a powder day… or so I'd heard.
The mythical waist-deep powder in Mineral Basin was just that, a myth to me. It was one of those things that I'd heard tons about like "Dude, Mineral was DEEP today," or "You missed an epic day in Mineral today man!" So, for me seeing was believing and the seeing happened January 12, 2008.
Mineral Basin Opens After a 30+ Inches
I got to The Bird early and hit the tramline first thing. Up until the past few years, the best way up the mountain was always the tram. Now that the Peruvian high-speed quad and Mineral Basin Tunnel are open, that's not always the case. I chose poorly, but got some good leftovers off the Cirque for the first run of the day. From there, the call was to lap the Little Cloud lift until Mineral Basin opened.
As it turned out, my timing was just a little off catching the opening of Mineral Basin proper–showing up about 15 minutes after it opened. Bombing down "Blue By You", in the sloppy seconds, something caught my eye–The Bookends. Not soon after noticing that the entire Bookends Traverse was still closed did I get an audible reminder that it just might open soon…
BOOM!!! Avalanche charges were being hand-placed by patrollers on their final sweep of the area. The game was now on.
I lapped Baldy Express once, then hit Mineral Basin Express two more times until I had heard that The Bookends Traverse would open shortly. A quick ride to the top and I was the 10th person to arrive at the rope.
"Area Closed – Avalanche Danger"
The crowd slowly increased, but as we waited, the rest of the mountain carried on–unknowingly missing out on some of the most epic turns of their lives. The impatient bailed out early just before ski patrol showed up–appeasing the crowds. Over the radio, we heard "you can now take Powder Paradise off your list of closures." We all crept closer as we anticipated the rope dropping and hitting some of the deepest turns of the season.
What happened next was a blur… people scrambling, falling over each other and me skating around it all only to drop in with first tracks right down the gut of White Diamond to Powder Paradise. Choking on every turn, I was getting face shots the whole way down… floating perfect arcs from top to bottom, all 1000 vertical.
"Holy sickety sick sick!" These were the turns of the century–the living proof that the once-mythical Mineral Basin was no longer mythical, but a reality. I had experienced the bottomless, epic powder that can be had in Mineral. I was now given the ability to spread the word as a believer.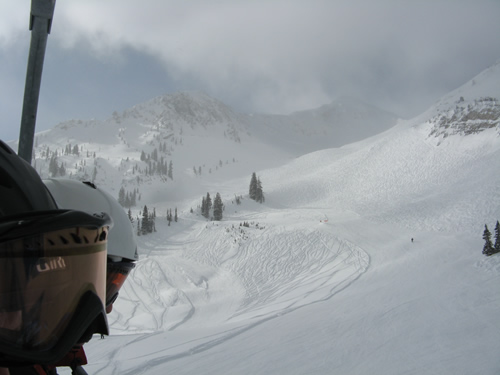 Lap-after-lap of untracked powder was found just a little further out on The Bookends Traverse. Nearly 10 laps later, I was still snaking untracked pow off the traverse.
I now know how good it can be. Mineral Basin can wipe those sun-crusted bump memories away and replace them with unforgettable, bottomless powder turns in an instant.
More Info: Visit www.Snowbird.com