Over the years, I've seen plenty of topsheets. From ultra-bright neon to Megadeath-esque to plain-Jane.  Some topsheets have long-lasting, classic designs, while others sported a one-and-done, "what the heck were they thinking?" motif.
This year, as I've thumbed through the Powder Buyer's Guide and racked my brain on all the skis I've seen in press releases or at tradeshows, I can't help but think that some of the designs try to make some sort of polarizing statement or come off as "hey look at me, I'm the sickest sick sick skier in the world bro brah." I'm not sure I'm down with a ganja-smoking dude, a barely-clothed or naked lady, peace and love or some other politically-motivated statement on my skis. Isn't there a better way to express yourself than on your topsheets?
Maybe I'm getting old, but doesn't anyone else get bothered by the fact that an awesome ski on paper or on the hill may be completely distasteful because of it's graphics?  Yeah, I do have a wife and kids (though many of you may not), so I'm sensitive to schlepping a pair of skis with a bikini-clad hottie on them around the house or on the hill while I teach my 3-year-old how to ski. Something about that doesn't seem like it would go over so hot in my house.
On the other hand, looking around at some of the best designs for this season, most of them are relatively simple or slightly abstract and fun. Here are some designs that are easy on the eyes in my book:
Bluehouse The Shoots 191
These skis are cool-looking and have a great name, which is kind of a play on words. Both the design and name remind you of the sustainable bamboo core you're skiing on and it conjures up images of the Baldy Chutes at the same time. However, these skis are made for bombing wide-open faces at mach schnell. These babies have a rockered tip and an ultra-wide 128mm waist. You are fully committed in style with The Shoots.
Learn more at www.bluehouseskis.com.
Black Diamond Zealot
You've got to see these skis in person. I dig the orangey-brown color and the subtle/abstract Zealot graphics on the tail. Some may hate them, but they are cool in my book. I also like the way these ski in deep pow and on backcountry tours. The whole Black Diamond ski lineup serves up family-friendly topsheets with lasting style.
Learn more at www.bdel.com.
Atomic Thug
When you're a Thug, you've got to be tough, so black topsheets definitely fit the bill. The cool cartoon thug face character reminds you that these are serious skis, which they are. With a 120mm waist and full twins, these Atomic skis mean business and look cool too.
Learn more at www.atomicsnow.com.
G3 El Hombre
Isn't it funny how the smaller ski manufacturers in general have more style than many of the major players? Maybe it's because they can't mess around with iffy designs or pay some super designer to come up with a Picasso on skis? G3 continues that trend with the El Hombre backcountry fattie. With a sweet Luchador graphic and (again) subtle black topsheet, the G3 El Hombre will slay the pow without alienating your friends. Nachooooooooooooooooooooooooooo!
Learn more at www.genuineguidegear.com.
Head Supermojo 105
While the J.O. Pro lives in loser-land, the Head Supermojo 105 sports a sweet brownish-orange design that's sure to please anyones tastes. And, with a stout 105mm waist and twin-tips, this ski should be a solid performer on and off piste.
Learn more at www.HeadUSA.com.
Line Sir Francis Bacon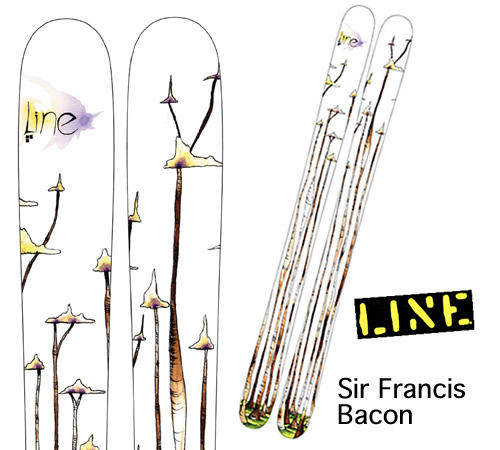 These skis remind me of some Dr. Seuss book, which should always conjure up happy thoughts. The Bacon's have a large 115mm waist, but still have both camber and a decent amount of sidecut to carve the groomers with aplomb. Fun skis for sure and google only knows if Sir Francis really invented bacon. The whole lineup of Line skis sports some fun graphics.
Learn more at www.LineSkis.com.
The Losers
In my mind, there are many skis with loser topsheets. These include those that are trying to make political statements, those that feature scantily-clad women or those that are still stuck in the skull-and-crossbones Megadeath era. You'll have to click thru on your own because I don't want to grace these pages with their images:
Now I realize that many people will disagree with me on my picks of losers… so be it.  I'm willing to bet that those with cool and subdued graphics will typically sell better and be more profitable to the manufacturer… just a hunch. Maybe I'm too old for this stuff or maybe I'm right. Chime in below with your best and worst ski designs for 2008/2009.