If you've got a kayak and you've got a car then you're definitely going to need to get a rack. There's a lot of options on the market. If you're looking for a solid rack with a good set of features and you don't want to break the bank, look no further than the Kuat Class 2 Kayak Rack. While the Class 2 falls in line with the standard J-style rack, Kuat includes a lot of features to make it more user friendly.
If you're looking to take it up a notch, then take a look at Kuat's other kayak rack, the Class 4.
Kuat Class 2 Kayak Rack Features:
Kayak carrier holds up to 80 lb. boats
Fixed J shape is secure and stable
Co-molded rubber offers protection for your boat
Includes rubber-protected cam buckles and bow and stern lines
Kuat offers a No Worries warranty
Dimensions: 24 x 16 x 8 inches
Weight: 12 pounds
Price: $159
Class 2 cradles your boat
What I appreciate the most about the Kuat Class 2 Kayak Rack is how wide the cradle is. It accommodates a lot of different boat sizes and keeps the loading and unloading manageable. You don't need to be as precise when setting the boat into the cradle as the front arm of the cradle is deep enough to catch your boat.
Kuat did strategically place rubber pads throughout the cradle, providing two key benefits. First, to act as a buffer for all potential contact points to protect your boat. Second, to help hold it in place when loading but also as extra insurance to hold it in place when strapped down.
The Class 2 also comes with a set of solid tie down straps (the same straps as the Class 4) and bow and stern straps. A dedicated strap slot on top of the cradle helps keep your straps organized. The lower strap feeds around your crossbars to keep your boat in place. The straps are plenty long, the buckles are burly and coated (easy on the hands and your car), and feature a small hook-and-loop strap to hold the tail in place.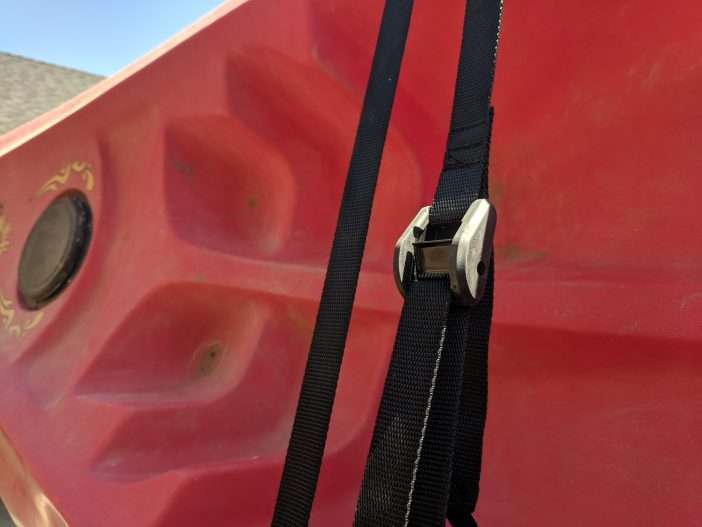 Installing the Class 2 was more difficult than the Class 4. Each mount is held in place by four bolts and wingnuts. The configuration of my factory rack provided very little clearance to maneuver each bolt and wingnut in place. I almost wasn't able to install it but fortunately there was just barely enough clearance so I could mount it. Once mounted, the Class 2 is sturdy. One item to note, the rack doesn't lock to the crossbars.
All in all, the Class 2 is easy to use, well constructed, and will do a solid job in hauling your boat to and from the water.
The Good
Straps integrate nicely
Wide design accommodates many boat sizes
Rubber pads protect your boat and keep it in place
Best kayak straps I've ever used
The Bad
Tight fit to install on standard roof racks
Mounts don't lock to the crossbars
The Bottom Line: Kuat Class 2 Kayak Rack
The Kuat Class 2 Kayak rack is a solid, utilitarian rack to haul your boat to and from the water. Solid construction, ease of use, and thoughtful design set this rack a part from other basic, J-style racks.
Buy Now: Pick one up at REI