Stems can do more for your bike than you think. As an essential part of you bike's cockpit, the stem serves as a primary part of your overall bike fit and can often do even more than that. The new Bontrager Pro Blendr stem is a great example of a stem that can do more.
Bontrager Pro Blendr 7 Degree Stem Features:
Pro-level quality 31.8mm clamp diameter stem weighs less than many carbon stems
4-bolt dual band clamp securely holds handlebar
Uses high-quality M5 corrosion-resistant faceplate bolts with 5.2Nm torque spec
Integrate accessories with included Blendr Pro base and Blendr XXX accessory mounts
Mounts intended for use with Ion and Trip, Garmin, GoPro and SRM accessories
Approved for carbon bars and steerer tubes
Safe installation requires 5mm spacer above and below stem
Weight: 143g (110mm)
MSRP: $114.99
Will it Blendr? Yes it will.
The famous Blendtec blender videos show the company's founder blending all kinds of things. While that kind of test might be fun, you'd never know just what makes Bontrager's new Pro Blendr stem unique. For starters, it's a light and stiff stem available in a nice 7-degree or 17-degree rise/drop. Unless you're a pro, the 7-degree is the ticket and what I've been riding aboard the new Trek Domane SLR Disc.
I've said this before and I'll say it again — stem length is a critical factor in proper bike fit, but remember that it works in concert with the reach and drop of your handlebars. I vary between 110 and 120mm stem lengths based on the frame measurements and bar reach. Know your measurements and if you don't, it's probably time to head to a bike fitter.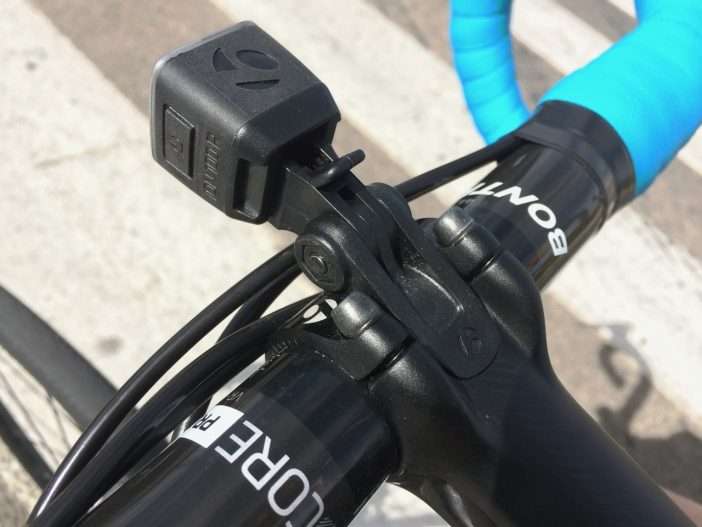 Aside from the proper length, stems can provide stiffness and some of them can even provide chatter reduction (like the Zipp Speed SL). With the Pro Blendr Stem, you're not getting chatter reduction, but you are getting a lightweight and stiff stem at a price on par with other high-quality alloy stems. The icing on the cake is the Blendr integration that enables hard mounting points for lights, computers, cameras and more. If you find yourself with limited bar space or have an aero bar, this stem will do the trick nicely.
With Blendr, your accessories will be out front and centered on your bike. This is great for lights, like the Bontrager Ion 100 R but will also work with Trip, Garmin, GoPro and SRM accessories. There are two options — single or double Blendr. Going double is awesome because you can mount your Garmin with a light underneath, but if your bars have cable grooves on the frontside of the tops (like the Bontrager IsoCore VR-CF), the double mount might not work so well. I tried it but my cables were bent awkwardly, so I just stuck with the single mount and used it primarily for the Bontrager Ion 100 R light.
I found myself wishing that the Blendr base could be installed without disassembling the stem, but, as I learned, that's necessary to ensure a solid mounting point. There are stepped grooves that keep the mount in place on both the top and bottom of the stem clamp. It's easy to get the top in place and not the bottom, so make sure and pinch the mount in place and hold it there until the bar is snug, then make fine-tune adjustments. Interchangeable mounts can then be swapped as needed. I put them in place just snug enough to stay steady, but loose enough to make small adjustments.
Something else worth mentioning is that center marks may no longer be visible with the base installed and you get separate front faceplate clamps instead of a unified design. Because of that, installation can be a bit of a cluster, but have patience and it all works out just fine. Don't forget carbon paste and a trusty torque wrench (I use the Park Adjustable Torque Wrench).
All-in-all, the Blendr Pro base is nice to have and adds to the flexibility of the Pro Blendr Stem, but the stem itself is also quite nice. It has a nice, clean look and can be set up as plus 7 or minus 7 degrees, as needed.  Alternatively, there is a 17-degree model should you like to get extra low. Lateral stiffness is solid and this stem works as advertised. The 143g. weight is respectable and within range of the competition.
The Good
Blendr integration is great for lights, computers, etc.
Great stiffness and respectable overall weight
7-degree rise/drop is good for most of us
Mono or Duo Blendr mounts available
Excellent clamping reliability
Frees up real estate on bars
The Bad
Duo Blendr base may interfere with cables
Blendr base can be tricky to install
The Bottom Line: Bontrager Blendr Pro Stem
When looking at a lightweight stem for your ride, Bontrager has taken things up a notch with Blendr integration. I've loved it for mounting lights, but did have trouble getting the Duo base mount to work with my existing cable routing. A little planning ahead will likely ensure the double mount will work for you.
Buy Now: Visit Bontrager.com or Your Local Trek Dealer