When you want to go fast, there's no denying the benefits of aero wheelsets. And, nobody does aerodynamic wheelsets like Zipp. With my recent affair on the Felt F1, I wanted to share some thoughts on how the Zipp 303 Firecrest wheels perform.
Zipp 303 Firecrest Clincher Features:
Utilizes Firecrest platform for industry-leading aerodynamics
Features ABLC (Aerodynamic Boundary Layer Control) to eliminate micro air gaps
Rim Depth: 45 mm
Weight: 1475 grams (pair)
MSRP: $2725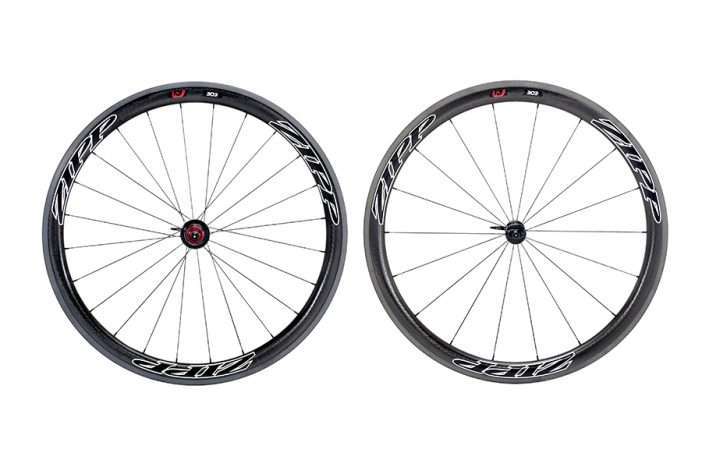 Zipp 303 Firecrest Carbon Clincher Review
Zipp's engineers are renowned for their attention to every detail, every angle, every aspect of their wheelsets. So, as I enjoyed the amazing ride of the 303 Firecrest clinchers, I knew it was the result of thousands of hours analyzing CAD drawings and wind tunnel testing (learn more about Firecrest). Some may wonder why, but that wonder stops the second you pour on the gas — these wheels are the ultimate in performance.
Lets get back to reality here — The 303's are about as expensive of a wheelset as you can get at $2725, so they better be damn fast and hopefully they can cook breakfast. Reading through the technical specs of the 303's, will get you lost faster than reading a dissertation on the evolution of marsupials. Just know this; all that technology really DOES make for a better wheelset that is worth its weight in gold.
Speaking of weight, the 303 clinchers tip the scales at 1,475 grams for the set. Respectable and reasonable for gram-counting riders all the way up to 250 lbs. I know of few carbon wheelsets with that kind of maximum rider weights.
If you want to continue geeking out on specs, you can find all you want on Zipp's Web site, this YouTube video from Performance Bike and this one from Zipp.
Let me share some of my thoughts on the actual ride characteristics of the 303's. I rode the 303's aboard the top-shelf Felt F1 I had for a little over a month. So, I had a tour-worthy frameset mounted to these tour-worthy wheels. That combination allowed me to isolate the wheels as I knew that the F1 was built to be stiff, responsive and fast. That said, I've never experienced such effortless efficiency on any bike in my life.
The 303's are constructed to meet the sweet spot between aerodynamics, efficiency, stiffness and ride quality. I'm here to say that Zipp has achieved nirvana. I broke through old PR's and felt like a champion on every ride. Each pedal stroke was met with instant response and acceleration on the flats and especially while climbing. I felt as if these hubs could roll on forever and once up to speed, the aerodynamic profile allowed me to motor along. Getting back on my regular wheels was like pedaling boat anchors around.
Lateral stiffness is outstanding as standing efforts are met with zero flex. But, of course Zipp engineers don't want you to feel like you're riding a go-kart, so these wheels have a dose of vertical compliance to reduce road chatter. I was very surprised at just how smooth these wheels are. Again, comparing them to my regular wheels was unfair. Road chatter simply disappeared with the 303's.
The only negative I found with the 303's was crosswinds. If you are a skilled, powerful pilot, you may not notice it, but for the average rider, you will still get pushed around in hefty crosswinds. Yes the wind profile is reduced compared to similar wheelsets, but there's no way around the fact that you still have a large side profile. In the flats, I didn't notice much crosswind interference, but on a few high-speed descents, I got hammered by sudden wind gusts that pushed my front end around. Yes, I am human and these wheels aren't quite perfect, but pretty darn close.
The Good
Wow are these fast
Instantly responds when going from a fast pace to sprint
Feels effortless on long climbs
Astounding lateral stiffness
Braking feels solid and predictable
Aerodynamics you can feel
Smooth bearings will roll forever
Vertical compliance that smooths out road chatter without deadening the ride
Easily-serviced
The Bad
In spite of Zipp's claims, these do get affected by crosswinds
This kind of speed costs a lot of money
Bottom Line: Zipp 303 Firecrest Carbon Clinchers
While I may feel outgunned talking up the technical details of the 303's, there's no getting around just how amazing these wheels are. Every millimeter of these beauties is optimized for speed and performance and it shows. I've never felt so fast and won't again until I have a set of my own.
Buy Now: Available at CompetitiveCyclist.com