The Columbia Mountain Monster is an aptly named glove – warm and waterproof, these gloves are loaded up with Columbia's dazzling Omni-Heat fabric and their OutDry laminate, plus a goatskin palm and medium gauntlet.  The ingredients of a great glove are here but there's nothing like some time on a ski hill to put gear to the test.
Mountain Monster Gloves Features:
OutDry membrane for total waterproofing
Omni-Heat thermal reflective and insulated for supreme warming power
Palm features 60g of Omni-Heat insulation for better touch and dexterity
Back of hand features 200g Omni-Heat insulation for superior warmth
Leather palm with split pigskin patch for dexterity and grip
Knuckle expansion pleats for comfort and mobility
Long guantlet
One-hand shock cord lets you adjust your hem on the fly
Nose wipe on finger
Goatskin backing
Goatskin palm w/ pigskin patch
100% nylon dobby shell
MSRP: $150
My Experience
Columbia has been piling Omni-Heat into virtually any product that will stand still and their Mountain Monster glove is a great application.  After my first experience with Omni-Heat in Columbia's Triteca athletic softshell I was excited to see how the fabric would perform in products designed purely for cold weather use.  While skiing, I used the Mountain Monsters in temps down to the mid teens with light liners in total comfort.  When temps warmed up between the low 40's and high 20's I went linerless and my hands never got cold.  Nevada hit a cold snap with highs in the single digits and these gloves kept my hands warm even then.
These gloves, more than any other product, really proved the magic of Omni-Heat to me.  I have constantly cold hands, the sort that get purple with orange spots during the winter.  Before the Mountain Monster I can't say I've ever been totally warm in a pair of gloves.  Thanks to Columbia's Omni-Heat technology my hands stayed warm when vicious winds were slowing down the chairlift and cutting through my facemask.  Omni-Heat's premise is quite simple, but it works surprisingly well: a 33% reflective dot pattern reflects the body's own heat, while the remaining 66% of the fabric is a breathable membrane.  People often touch the fabric and say that they expected it to feel like tin foil – to the contrary, Omni-Heat feels silky to the touch so it's perfect for use in gloves or baselayers.  Columbia didn't include a handwarmer pocket but with Omni-Heat I never felt like I needed artificial heat.
Aside from Omni-Heat's warmth, the Mountain Monster's OutDry laminate does a great job of keeping moisture out; in fact, I would say that it's on par with GORE-TEX performance-wise.  There's no chance that snow, be it dry powder or wet spring slush, will find its way into these gloves.  On my particular sample the right-hand glove had a small flaw on the seam that allowed water through when I completely submerged the glove.  Kind of unfortunate, but these gloves are well-constructed so I would deem this a fluke; doubtless Columbia would be more than happy to ship a replacement if you bought a pair with this issue.
Beyond performance, the gloves are loaded with features that everyone will appreciate.  There's a generous goatskin pulltab on each glove, simple elastic cord for tightening up the gauntlet, nose wipe pad on each glove and a design that places a lot of emphasis on tactility.  The gloves are definitely above average in finger motion and comfort.  I personally found the gloves to be true to size, but I know this is not the case for everyone.  My hands are between Large and X-Large; I tested the X-Large pair and, indeed, I found them just a little roomy.  Most importantly, I didn't feel like my fingers were jammed up against the end of the glove when I was gripping a ski pole, which is one of my pet peeves in a glove.  Glove fit is very personal and if you're dropping $150 on these I would highly recommend testing the fit at a retailer before pulling the trigger.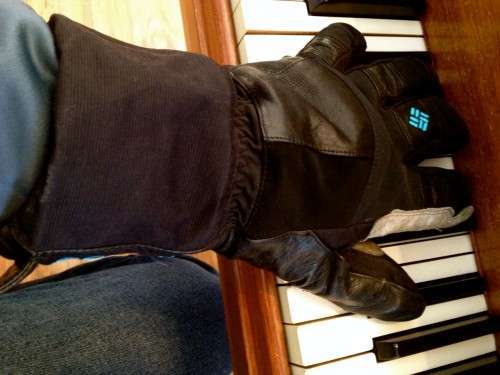 The Good:
With Omni-Heat, these gloves are HOT!
OutDry laminate maintains waterproofness
Very tactile, doesn't feel clumsy
Large pull tab and one-handed cuff adjustment are easy to use with gloves on
Gauntlet design easily fits over jacket cuffs
The Bad:
Omni-Heat tends to trap vapor and sweat
No handwarmer pocket
The Bottom Line
Columbia knows how to make quality gear and they've been doing it for 74 years.  The Mountain Monsters are a great piece of gear for people who need warmth and waterproofing; the gloves are built to last and the leather reinforcements on the palm and back provide a lot of strength.  Omni-Heat's bottom line?  It's hot, hot, hot and hot.
The Mountain Monsters are one of the rare gloves that successfully combine warmth and tactility, making them ideal for anyone who has ever had cold hands.
Buy Now: Available at Backcountry.com