Since 2004, the Wasatch Back Ragnar Relay has taken teams on a 188-mile journey through Utah's backroads from Logan to Park City. The Wasatch Back is likely the largest relay race in the country with nearly 12,000 racers running three legs of varying lengths and difficulty and running distances between 12 to 21 miles. While I'm not typically much of a road runner, the lure of the Wasatch Back pulled my wife in and I rode her coattails into the fray.
Our team was made a group of six couples from our neighborhood with each of us taking the most appropriate legs for our fitness levels. While there are several very difficult legs, the race is built so that runners of various abilities can still participate and feel pushed to their limits. Our team was 562 (Team Ghizwald) and I was runner 6, which put me in Van 1.
The team dynamic is something you have to experience to enjoy. At first I was wondering how the support vans would play into race, but I soon found out that eating, sleeping, running, sweating and stinking it up with your van companions would add immensely to the race itself.
Leg 6: Avon Pass to Liberty City Park – 6.9 miles
I would take over from my wife near the summit of Avon Pass. She did all the hard work (1200 ft ascent over 7.4 mi… yeowch) and I got all the glory. My quick 300 ft climb to the summit was then followed by a winding descent towards Liberty. Luckily the majority of the 1300 ft descent was on dirt, which made me feel quite at home — being the trail runner that I am.
Views from this area were spectacular as the entire valley came into sight with Powder Mountain to the East and Snowbasin across the valley to the South. Our long Spring has blessed the Wasatch with super-green vegetation; something that added to the fun of the race.
The X-factor in this leg was the dust kicked up by the support vehicles passing on the downhill. Extra speed and braking seemed to have kicked up much more dust than on the ascent. Luckily, I hit it early in the day as I'm sure those with later start times got the full-on dustbowl-effect.
I prefer to run alone and keep my pace by maintaining a specific heart rate range. As this leg was 6.9 miles, I couldn't push my 5k heart rate range, but in the middle of the leg, I met up with a guy who pushed my pace a bit. In the end, it was all good as I finished faster than I had anticipated, but it took a lot out of me — especially with the sunshine beat-down by the time I got to the exchange.
Stats: 57:15 elapsed time, approx 8:20 min/mi pace
Leg 18: Ascent to East Canyon Reservoir – 8.1 miles
Having pushed myself a little on my first leg, I was doing my best to get into a zone for my longest and final run of Friday. As time approached, my daylong cocktail of Clif bars and Nuun was topped off with a bag of Powerbar Raspberry Gel Blasts about 45 min prior to the start. My team thought I was angry or something because I quieted up for the last hour with anticipation weighing me down heavily.
With the mixture of dirt and road on my first leg, I had opted for my La Sportiva Raptors. While these are great crossover shoes, the black color and reduced breathability proved to increase the heat just enough to give me a blister on my big toe and bruise the top of my left foot. A little PowerGlide on the blister kept that at bay, but the bruise on my left foot would be problematic for the rest of the race.
On this leg, I slipped into my Somnio Pacemaker running shoes (which I absolutely love), carefully laced my left shoe and readied myself for the long run into the night.
The sun just started setting as I began my run with long shadows flowing across the valley. This was by far my most spectacular run of the race; both in beauty and my overall psyche. I pumped myself up quite well, stayed hydrated, picked the right outfit and juiced up at the right moment. Add on top of that my determination to run this leg at my pace and I ended up rocking it.
For my first leg I ran with both the heart rate and GPS monitor with my Polar RS800CX. I thought I'd appreciate the distance and speed monitoring, but for this leg, I ditched the GPS and relied solely on the heart rate to determine my pace. That decision was one of the smartest as I simply locked myself into a zone and powered through the run. I passed several runners and was OK when I got passed by a few rabbits — I would stick to my pace.
As the winding ascent (800 ft total) approached the East Canyon Dam, I felt like a million bucks and as I flew up the final hill to the finish, I sprinted like a track star into the exchange. The lights were on me and I was being met by thousands of onlookers… I felt amazing. Those 8.1 miles felt like cake as I'm confident I could have continued for another 8 miles. This was my best leg and the one that I'll always remember when I think back on the Wasatch Back.
Stats: 79:07 elapsed time, approx 9:45 min/mi pace
Leg 30: Heber City Glory Lap – 3.1 miles
My final leg was easy-cheesy. Flat, fast and fun, this leg would end my first Ragnar experience on a high note and complete the race for our van. As I cruised through Heber, I kept my pace via heart rate and felt quite good. I'm no speed demon, but in the end, I was satisfied with my pace as I slapped the baton to my teammate and was met by thousands of other racers.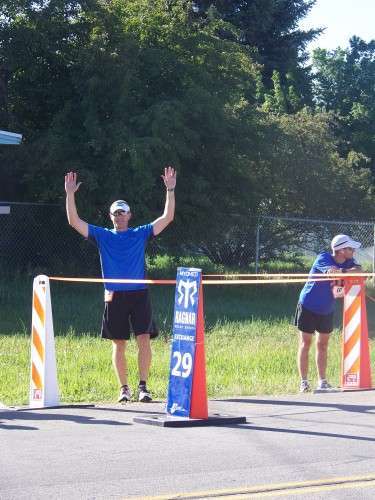 Stats: 25:11 elapsed time, approx 8.13 min/mi pace
Out of 658 co-ed mixed teams, we finished 462nd at 32 hours 40 min. No records broken, no serious injuries and maybe 3 hours of sleep but with a fun time had by all.
The Recap: My 2010 Wasatch Back Ragnar Experience
I loved being Runner 6 as I basked in the glory of each major exchange… something I got to experience in a truly unique way. Having my wife kick off each leg was also an added bonus as she flew into the exchange — loved that!
Would I do it again? For sure. Next year? We'll just have to see. Juggling three days of babysitters for our 4 young kids was quite a chore.
While the Wasatch Back is the crown jewel of the Ragnar series, there are 12 total Ragnar Relays around the country. Find one in your area and go have a great time.
More Info: Visit RagnarRelay.com