After selecting the Park City Mid-mountain as my first marathon, you'd think would have learned my lesson and eased into my first century ride. Well, it turns out that I'm a sucker for a challenge — especially anything that involves loads and loads of climbing. The Colorado Triple Bypass covers 120 miles with nearly 11,000 ft. of total vertical feet climbed. Dubbed as the ride for "those who dare", I came to Colorado and tackled the Triple. It's no walk in the park.
Unlike most people who choose to participate in the Triple Bypass, I didn't commit to it until about 3 weeks out from the race. I reached out to one of my college friends just to catch up on things. He then told me that they had several folks drop out of their Triple Bypass team and needed to fill some spots. "Have you been riding," he asks? "Of course," was my reply. And that's all it took.
Knowing full-well that I would not have time to train for the distances covered in the Triple Bypass, I decided to at least get comfortable with the climbs. In retrospect, I should have been more prepared for the descents — sheesh are they long.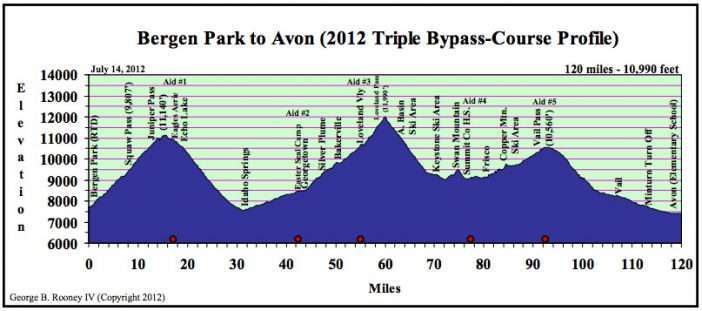 Juniper Pass – 11,140 ft.
We arrived in time for a 6:15 am start. After the obligatory morning routine, we all quickly zipped our way up towards Juniper Pass. The 16 mile ascent to the top was tree-lined and spectacular. I felt strong and rode with one of my friends at a good pace. It took us right at 1.5 hours from Evergreen to the summit, so we were feeling good about our start to the ride.
Then began what would unknowingly be the cause of some extreme discomfort for much of the ride — the descent. I mean, I've gone downhill before, but not in 4500 ft portions over 16 miles and not with an Adamo Road saddle (it was a poor choice to switch saddles just before this race). With all the fast, twisty turns and mixed road quality, my saddle had whacked my backside for nearly 40 minutes (I'm not a fast descender) and I was in serious pain. I kept thinking to myself, "I ride plenty of miles in the saddle (just not this saddle), what is wrong with me?" Well, what I couldn't plan or train for was a descent with that kind of sustained vert over so many miles.
As we pulled into the second aid station just outside of Georgetown, CO (we skipped the first one at the top of the pass), my left adductor muscle was in absolute pain from the previous descent. I couldn't find a comfortable spot in the saddle to save my life and it felt like daggers were being jabbed into my leg with every pedal stroke. I thought I was in serious trouble.
The stop at the aid station helped as I stretched and massaged that area enough that I felt OK getting back on the bike, so off we went.
Loveland Pass – 11,990 ft.
The climb towards Loveland Pass primarily follows the frontage road, then adds a bit of bike path charm as you get to the Loveland Valley aid station. As we began riding, the pain was severe and couldn't find a single comfortable spot on my saddle — no matter how hard I tried. I recalled that my riding partner had sworn by his S! Caps (www.succeedcaps.com), saying that every time his legs were in pain or cramping up, they have always saved the day. He gave me one and I told him to push ahead alone because I simply couldn't keep up at that pace with all the pain I was experiencing. I downed it and limped along — hopeful that it would work itself out.
Within about 30 minutes of taking the S! Cap, I was feeling better and the pain was minimized — allowing me to continue riding and even up my pace just a little. I don't know for sure if the S! Cap saved my ride or if it was some other combination of hydration, nutrition or divine intervention, but I certainly felt much, much better.
Pulling into the Loveland Valley aid station, I was feeling great and anxious to get up and over Loveland Pass. I was hungry and I knew I needed the calories, but I ate too much. Though I pushed myself up Loveland Pass at a solid pace, I was nursing a side-ache the entire ascent, which lasted well through the descent into Keystone — maintaining the proper hydration/nutrition levels over this kind of ride is a tough game to play and I'd give myself a solid C on this ride.
As I descended the beautiful backside of Loveland Pass, the winds picked up and the picture-perfect weather was quickly taking a turn for the worse. As the winds died down just after A-Basin, the wall of water was staring me in the face and I pulled over to put on my jacket (that I nearly didn't bring along, by the way).
Just as I arrived in Keystone — demoralized from my earlier suffering and the monsoon, I was bummed. Just then, I was cheered on by a familiar face of a good friend who lives in Keystone for the summer. There with her kids, they were cheering on all the riders, but it was just what I needed to snap out of my funk and finish this sucker.
Vail Pass – 10,560 ft
While officially, the third pass is Vail Pass, there is one little obstacle thrown in for good measure — Swan Mountain. Some people like to call it "The Fourth Pass". The rain stopped just as I approached Swan Mountain, which was perfect timing to dry out and warm up. At the Summit County High School aid station, I was warm and ready to tackle the last pass. On paper it looks like it should be a breeze, however the entire ascent would be on bike paths, which makes the climb a see-saw affair.
You see, when climbing on a road, the grade remains fairly consistent. It can get steeper or flatter, but it's done gradually. Well, with bike paths, they tend to follow the terrain. That means that the paths not only meander, they are also filled with short, sudden steep pitches that require interval-style standing. This standing/seated climb routine is pretty much repeated throughout much of the climb to Vail Pass and serves as the final butt-kicker of the ride.
As I cleared the summit, I opted out of the final aid station. Temperatures were cool and I was well-hydrated with plenty of liquids in my bottles. My main concern was beating out the black clouds that were quickly approaching.
The descent down the bike path towards Vail was fun, fast and intermingled with dirt/rocks from the rain (just to keep you on your toes). Though the final miles are mostly downhill, you still have 38 miles to go after Vail Pass. Though hopeful I would beat the impending storm, as I passed through Eagle, it began raining slowly. Then, as I got about 5 miles from the finish, the skies opened and the road was one giant puddle to the finish.
So, I slogged on — soaked to the bone — to the finish. The BBQ was great, but the welcoming arms of friendly faces, after 80 miles of riding solo, was even greater. I was wet, but I was done. My total ride time was just under 9 hours, but I didn't care about time. I made it and had a great time, so that's all that counts.
If you want to test yourself on the next Triple Bypass (or Double Triple), signup typically begins in January.
More Info: Visit TripleBypass.org
NOTE (8/19/2022): Since this experience in 2012, I've learned a thing or two about riding centuries and log gravel races, like SBT GRVL. One of the biggest things is to never skip an aid station. And, don't ride on an unproven saddle. Changing saddles just a few weeks before this was a huge mistake. Stay hydrated, get the right amount of food and have fun out there!