When it comes to helmets, the safer the better. But, getting the safest helmet need not be a costly proposition — the new Bontrager Circuit MIPS helmet certainly proves that. With excellent styling and MIPS brain protection, there's little else you could want in a road helmet.
Hey there, this is the old helmet: View the 2018 Bontrager Circuit MIPS Helmet review.
Bontrager Circuit MIPS Features:
Features MIPS Brain Protection System
In-mold composite skeleton for increased helmet integrity and allows larger vents
Headmaster fit system
Moisture-wicking, washable helmet pads
LockDown strap dividers to facilitate strap management
Internal, recessed channels manage airflow through the helmet and over the head
Compatible with Bontrager NeoVisor
1-year Crash Replacement Guarantee
Weight: 275 grams (actual, medium)
MSRP: $124.99
Protecting that noggin on a budget
Don't skimp on a helmet, just don't. You certainly could walk away from a crash wearing a budget-priced helmet, but, on the other hand, you just might not. While there are no guarantees, my money is on a quality helmet that's built with MIPS Brain Protection. I've also been lucky enough to have tested MIPS first-hand on a low-consequence fall last year. It worked and I'm a believer.
Bontrager's new Circuit MIPS helmet has been my primary helmet for the bulk of the spring. With many miles in a variety of conditions, I'm quite satisfied that this helmet has everything you need at a price you can afford.
Like all helmets these days, the Circuit features a dial-in fit system. Bontrager calls it "Headmaster" and it works just as well as you'd expect. I've used it quite a bit as I've alternated between cycling cap and no cycling cap on my rides. All it takes is a quick dial and wham-o, you're golden. I was always able to achieve a solid head/helmet connection with just a few twists.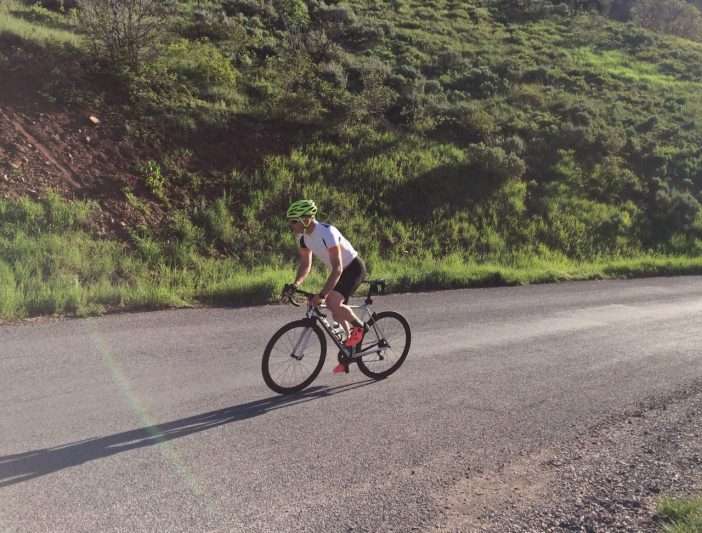 Styling is excellent and the Visibility Yellow color I've been testing adds an extra dose of on-road visibility. In concert with Bontrager's daytime running lights, hi-vis colors are your best bet on the road.
The straps are a nice thickness and don't get in the way, but they are a touch stiff compared to others. The LockDown strap dividers allow for proper strap placement around the ears and chin, but it did take some fiddling and they honestly never sat as flat as I'd like. That said, I never noticed them once I was riding. So, it's really a non issue. All sunglasses I've paired with them have also worked just fine.
Something to keep an eye out for with helmets is any exposed foam — particularly around the crown. The Circuit protects that with a fused shell design that only leaves a few exposed foam areas. The padding is adequate for comfort and the full frontal pad does reduce sweat drips to the inside of your sunglasses.
The Good
Killer value with noggin-protecting MIPS technology
Dial-in your fit in a jiffy
Full frontal pads reduce sweat drippage
Visibility Yellow offers added on-road visibility
The Bad
Straps are a little stiff and can be tricky to get to lay flat
No good places to stash sunglasses
The Bottom Line: Bontrager Circuit MIPS
The new Bontrager Circuit MIPS is a no-brainer when it comes to helmet choices. It won't break the bank and delivers industry-leading protection for your brain. You've spent years putting stuff in there, so MIPS is a "must-have" in my book. The Circuit offers easy styling and adjustability — once you get it dialed.
Buy Now: Available at Bontrager.com or Your Local Trek Dealer