Goose down sleeping bags remain the gold standard in many people's minds. That said, they're often associated with very high costs, which can make them somewhat inaccessible. The Therm-a-Rest Questar HD 20 down bag is a refreshingly affordable, highly featured offering to the field.
Therm-a-Rest Questar HD 20 Features:
SynergyLink™ Connectors Integrate the bag with a mattress for optimal comfort and efficiency; removable for versatility.
ThermaCapture™ Seams Trap radiant body heat and retain warmth without adding bulk or weight.
Zoned Insulation Maximizes warmth and saves weight.
650 Fill Nikwax® Hydrophobic Down Dries 3 times faster than untreated down without using dangerous PFCs.
Toe-asis™ Foot Warmer Pocket Rapidly warms cold feet.
Quilt and Blanket Loops Customize your sleep system by layering our quilts or tech blankets for increased warmth.
Heat-trapping draft collar, full-length zipper draft tube, snag-free zipper, cinchable hood and external zip pocket.
Claimed weight: 2lb 5 oz
Liner: 20D Nylon Taffeta, printed
Outer: 20D Nylon Taffeta, DWR
Insulation: 650 Fill Nikwax Hydrophobic Down, RDS, Thermacapture Seams
MSRP: $239
The bag with all the features
Therm-a-Rest's sleeping bags have been around for many seasons, but they haven't received the same traction that their class-leading pads have garnered. That's a bit of a mystery to me; their Antares HD is my daily driver sleeping bag because it's surprisingly light and packable for its warmth, plus has all of the features that I like to see. When paired with something like the Therm-a-Rest NeoAir Trekker, you're set for a great night's sleep. Probably. Let's jump into the Questar HD's features and performance.
For one thing, the Questar HD is absolutely jam-packed with features. Virtually every possible feature is represented on this back. I mention this because it's surprising to see such a feature-rich offering at this price point. Small additions like liner tabs are often the first thing axed by a brand trying to cut the price. The Questar HD doesn't just have all the features, most of them are very well executed.
For example, one of Therm-a-Rest's signature features is their 'SynergyLink' pad strap system. This is a set of broad, elasticized pads that stretch to accommodate any pad and provide a really secure interface between the bag and the pad. This is really important if, for example, you're camping on snow or glacier where anything that's off the pad immediately gets cold. It's also important for a bag like the Questar HD, which has zoned insulation (eg, not much on the bottom!). You can also easily detach these straps, turning it into a more conventional bag and shaving weight.
Other useful features include something that they call the 'Toe-asis' footwarmer. Despite the incredibly dorky name, this is actually a pretty neat feature. The footbox is always a tricky area for designers to get right, primarily because it's a balance between having enough space to be comfortable but not so much space that feet can't heat it up and become cold. Therm-a-Rest's solution is a fairly roomy, comfortable toe box that includes an insulated pouch to tuck your feet into. I've used it, and it works. It's also versatile, since by moving your feet in and out you can basically choose 'high heat' or 'low heat' to keep your toes comfortable.
The head/face area of a sleeping bag is particularly critical. This is a place where I'd say the Questar slips a little bit. Two things in particular come to mind. First, the draft collar around the back and neck could be quite a bit plusher. It's important to have some puffy tubes and collars in there, simply because it keeps cold air from moving from the outside in. With a great draft collar, you don't have to rely as much on cinching the drawcords tight around your nose. Mind you, the Questar's drawcord designs works quite well, though I wish they had differentiated the collar/face strings with different types of cord. Overall though, the hood design is classic, comfortable and warm.
Perhaps the last key feature is the zipper and draft tube. A buddy recently picked up the new REI Co-op Magna sleeping bags and I was blown away by the zipper track design. I only mention this to say that REI nailed the anti-snag zipper design, and until other companies start copying them there just isn't an option as good as REI's on the field right now. Mind you, the Questar's anti-snag design is just as good as everyone else's, so you'll be satisfied with how easily it pulls – but, for now, everyone is behind REI. However, the Questar nails the other key element, which is an effective draft tube that keeps out those nighttime chills!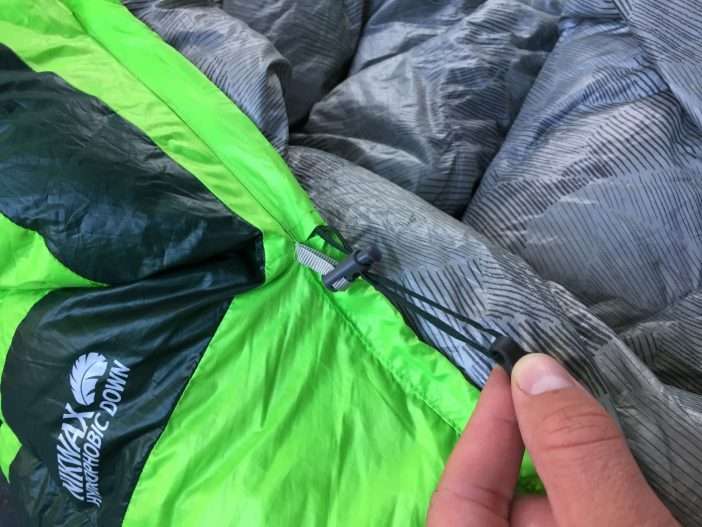 Performance-wise, I was pleased with the Questar. It's a nice warm bag for what it's marketed as (20′) and the 650-fill down might not be light, but it still lofts up well. I tend to sleep cold, and found that the 30's was the right temperature for me in this bag. This makes sense, since the 20′ rating is the 'cold' limit and the actual 'comfort' limit is more like 31′.
A few things combine to make the Questar warm for its weight. For one thing, Therm-a-Rest shaved insulation off the bottom of the bag where it simply gets compressed by your weight. This can be a risky prospect on other bags, but with the SynergyLink system keeping you on your pad it becomes a non-issue (provided your pad has a decent r value!). There's also a reflective thermal lining inside of the outer fabric, helping to trap heat and turn it back into the goose down so that you don't have to crank out the BTU's yourself.
ar'sPerhaps the final key contributor to the Questar's performance is its overall wet-weather saviness. The 20D fabric coupled with a DWR is effective at keeping moisture out of the goose down, whether that's from ice falling off the inside of your tent or simply letting it sit too near the door during a daytime drizzle. Mind you, it's not enough to keep the bag dry if you're spending all night pressed up against a wet tent wall. When that happens, you can count on the eco-friendly Nikwax hydrophobic down to resist wet longer and dry out more quickly. I've had numerous bags with hydrophobic down, and they justify the hype, to a large extent.
It's up to you to decide whether or not the Questar's 650-fill goose down is a strength or a weakness. On the one hand, it does not perform as well as higher lofts in terms of loft and overall weight. On the other hand, it's why Therm-a-Rest could offer such a comfortable, richly-featured bag at this price point. In a market where you can spend $800 on a goose down sleeping bag, the Questar has clearly chosen its side.
The Good:
Every feature under the sun is represented and well-executed, especially the pad connection
Overall, a great value for a hydrophobic down bag
Toe-asis has a horrible name, but it works!
Little touches like a chest zippered pocket make you feel happy
Overall wet-weather performance of the bag is very good, for a hydrophobic down bag
The Bad:
650-fill down does not compress like the pricey stuff
Zipper track is good, but not *the best*
Wimpy draft collar
Overall roomy cut is not for performance-first users
The Bottom Line: Therm-a-Rest Questar HD 20
I have enjoyed my time in the Questar. It's been a great bag for the shoulder season thanks to its 20′ limit and overall good performance in wet weather. The load of features are well done, for the most part, and you often can't find that at this pricepoint. The Questar is a good option for both beginners and people of all experience levels who don't want to sell the farm for a down bag.
Buy Now: Available from Backcountry.com