After several years of R&D, Niner Bikes has done what others have said couldn't be done… build a long-travel 29er mountain bike. I've heard from many other companies that 4-inches is about the max you could get out of a 29er platform because of the sheer wheel size, chainstay length issues and the complexities of swinging 29-inch wheels around a sturdy suspension design. Well… Niner has done it with the new Niner WFO 9 that will launch in Spring 2009.
Niner had already bucked the trend by giving the RIP 9 4.5-inches of travel, but the WFO 9 blows that away with 6.5-inches of squishy squish. Two rear hub spacing options are offered:  135mm spacing is for a standard hub while the 150mm spacing version will be built with the Maxle 12mm thru-axle design for added stiffness. To complement the rear-end's stiffness, the head tube will utilize the new 1-1/8 / 1.5 tapered design.
Look for the WFO in stores this Spring with a respectable pricetag of $1899 for the 135mm and $2099 for the 150mm option.
If you want to learn more about the development process behind the WFO, check out the following PDF from Niner explaining the years of R&D:
http://www.ninerbikes.com/widefullopen/NIN_newsletter_wfo.pdf
Pictures of the 2009 Niner WFO 9 29er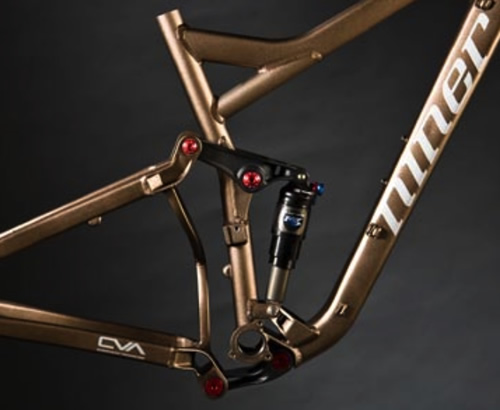 More Info: Visit NinerBikes.com