One of the realities about an active lifestyle is that you'll become intimately acquainted with every weather scenario your locale can conjure up. For someone in the Pacific Northwest, this usually means rain. Lots and lots of rain. And if you're a bicycle commuter, you know not only rain, but rain's vicious older brother, spray. Keeping goods dry is a demanding task, but there aren't too many bags that are as cut out for it as the Black Hole line from Patagonia.
Patagonia Black Hole 25L Pack Features:
14.7oz, 1200D water resistant Black Hole fabric
TPU fabric with DWR finish
Front daisy chain
Twin elasticized water bottle pockets
Bucket-style lid with wide opening
Padded laptop sleeve and interior drop-in organizer pockets
MSRP: $129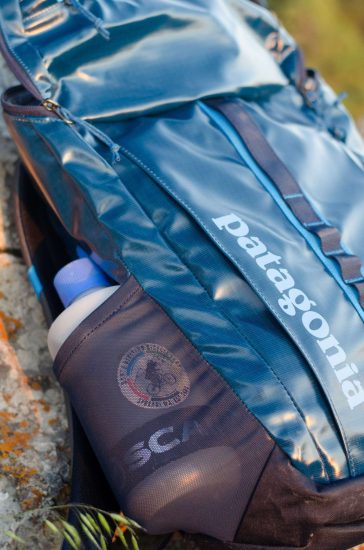 Get out there, but keep your stuff dry:
The specific model that I'm testing is the Black Hole 25L pack with a single daisy chain on the front. There's another model with an identical name that, in large part, is very similar with only superficial differences.
The Black Hole arrived when I had just a few days left in Spokane. The dry weather in late May wasn't exactly conducive to testing a water-resistant backpack, so I had to search further afield. My eyes landed on Bozeman, which promised plenty of opportunity to test the pack. I may have taken a job there, but the reason for moving was definitely to test this pack and to bum around Hyalite Canyon.
When I arrived, I wasn't disappointed.  With almost frightening regularity, the dark cumulonimbus clouds gathered over Gallatin National Forest every afternoon, precisely when I got off work. I would look out the window, grit my teeth and then hop on the bike to commute home through the storm. More often than not I would stop at the local co-op for a jug of fresh kombucha or perhaps some quinoa salad from the salad bar. I trusted the Black Hole to keep this, along with my laptop and other valuables, safe from the storm.
And how did it do? Well, that depends who you ask. From the perspective of the rain and nasty elements, it's an awful backpack. From the perspective of all the goods inside, it's an excellent backpack for getting around in wet weather. The reason for this is evident when you touch the fabric of the bag – it's a heavy, laminated weave complemented by a robust DWR that is highly resistant to pitiful things like rain. The entire front and top of the bag is made of this virtually impervious fabric, while the bottom rounds out in a durable high-denier weave that's also finished with a DWR.
Between these defenses, the pack is invulnerable to all but the most persistent moisture. There are a few weak points, particularly the unguarded main zipper which could hypothetically allow a leak in extended rain. Additionally, the back panel does not have any special water-resistant treatment, so if it were subjected to prolonged moisture it would likely allow a leak into the pack. But we're getting confused here – remember that the Black Hole is designed to be highly weather resistant, but you shouldn't expect to be able to chuck it in one of Bozeman's many potholes and let it stew while you grab a triple-shot latte at Wild Joe's.
The laptop sleeve that I mentioned above is just the beginning of helpful interior features. It's padded and accommodates my 15″ Macbook Pro with aplomb. It can also serve as a pocket for a hydration bladder, coupled with the port at the top of the pack and the webbing on each strap. Inside there is another stash pocket, pen storage and velcro-sealed pockets for valuables, not to mention a key keeper. For the most part, though, the Black Hole is home to a cavernous storage space that's just as suited to carrying kale as it is crampons.
That last point is a little facetious – this is not a technical backpack and crampons would be very out of place (although I've heard that Bozeman has severe winters…). In any case, the suspension is very straightforward. Two straps with fairly high-density foam are joined by a sternum strap to haul whatever load you may ask of it. The sternum strap can be clipped to any of four positions along a daisy chain on the straps, offering some versatility but not the same on-the-fly adjustability as other designs. The bonus, however, is that the sternum strap won't slip.
I spent most of the time with the Black Hole aboard my bicycle, but for testing purposes I also loaded it up with weight and hiked the popular College M trail to see how the pack did. Results were mixed, but largely redeemable in the context of what the pack is designed for. First of all, kudos to Patagonia for choosing an excellent foam for the straps and back panel. They nailed the balance between a foam that's dense enough to provide support for long periods under (relatively) heavy loads, while still sitting comfortably on the shoulder. The same is true of the back panel's foam.
The shortcomings with the suspension are twofold. First, the back panel offers virtually no ventilation and the foam is the sort that seems to act like a sponge for sweat. Second, the pack comes from the factory with a slight outward curve towards the bottom of the panel, which I found to be slightly irritating when I was carrying lighter loads that didn't press the panel flat against my pack. I'm unsure if this was a conscious decision on Patagonia's part or simply a quirk of manufacturing, but in any case it's essentially the reverse of lumbar support. There is not real structure or rigidity to the back panel, though, so I expect that it will be a moot point after another month of breaking in the pack.
The remainder of the pack's talking points all speak to the expertise of Patagonia's designers. The water bottle pockets are fairly generous and the elastic securely holds everything from Nalgenes to thin Kleen Kanteens. Additionally, the strap/buckle combination both the shoulder straps and the sternum straps are excellent – they pull easily and then stay locked in place with no strap creep. Lastly, should you need quick access to your phone or a camera to photograph one of Bozeman's beloved wildcats, the zippered front stash pocket is readily available. Again, it's not sealed, so be careful of actually storing electronics there in very wet conditions.
The Good
GREAT fabric – will likely outlast the Patagonia brand and me
Internal storage is spartan yet thoughtfully selected
Foam density for straps and back panel is spot on for comfort/support
Daisy-chain sternum strap resists any creeping
Straps pull easily, do not creep
The Bad
Back panel issues as noted above that should be smoothed out with time
Perhaps a sealed or storm-baffled main zipper would have been appropriate
The Bottom Line: Black Hole 25L Pack
I've enjoyed being able to toss books and electronics in the Black Hole and then trust that they'll come out perfectly dry at the end of a ride or a day of use. Many backpacks that are this resistant to the elements are also remarkably ugly, utilitarian things — Patagonia managed to couple bombproof fabric with a pleasingly sleek aesthetic. That's no mean feat, but what else do we expect from Patagonia?
Buy Now: Available from Patagonia.com