Last spring, Black Diamond released a new series of climbing ropes to a very excited world of outdoor adventurers. The line promised a no-nonsense, high-performance product as evidenced by the lack of fancy names given to the rope; instead we simply have things like the '9.9 – 60m Climbing Rope' available with FullDry treatments or without. I've tested three of their ropes over the last few months, covering everything from glacier to alpine trad.
So, for today, we've got the 9.9 – 60m; the 9.6 – 60m; and the 7.8 – 30m FullDry glacier rope. The ropes were an unusual launch, primarily because they were so good. I am not used to seeing such excellent first-generation products, but the Black Diamond lineup for 2017 was a hit!
Black Diamond 9.9 – 60m Rope:
The 9.9 is Black Diamond's workhorse climbing rope. At 9.9mm it's their burliest rope, and it's also one of the better values available from Black Diamond. It features a 2×2 sheath that's woven to emphasize durability, but like the rest of the BD lineup it's still a fairly soft, supple rope. The 2×2 sheath is not quite as soft as Black Diamond's Endurance sheath (found on both of the other ropes in this roundup), but it still handles very nicely when tying in or on belay. The middle marker is as simple as a it gets, Black Diamond basically just dyed the middle with a nice dark patch. It works great for the first dozen climbs, but then began to fade pretty quickly after that.
The stats of the rope are respectable. It weighs in at 64 grams per meter, with a dynamic elongation of 32%. The impact force is 8.4kN. It's rated for 6 UIAA factor falls. Taken together, this gives us a picture of a rope that's good for cragging, but may not offer the performance that climbers want for something like a difficult reappoint. Thinner ropes that are rated for more factor falls are appropriate for those projecting tough routes.At 64 grams per meter, this is not a light rope.  My favorite use of the 9.9 was taking teens from a local youth program cragging, since its strong sheath and relatively burly diameter gives stands up well to rope-rope abrasion as the kids flail on routes. Of the ropes in BD's lineup, it's the least gentle on falls with a low(ish) dynamic elongation and an impact force of 8.4kN. It may not be the best rope for lots of whipping on marginal protection, but it can get the job done.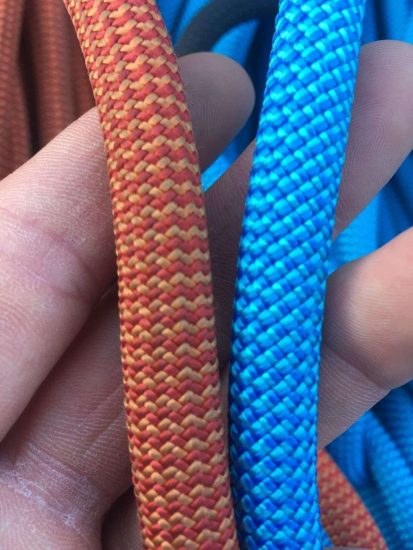 One last note – if you want to haul with this, or jug up it on aid routes, note that the static elongation is 7.6%. Hope you're ready for a workout!
Buy Now: Available at Backcountry.com
Black Diamond Endurance 9.6 – 60m Rope
This is the rope that I spent by far the most amount of time with this summer. I had a blast taking the 9.6 on a variety of alpine multi pitch routes in Washington and Idaho until it eventually met its untimely demise at Lion's Head in the Selkirks, thanks to a falling toaster which came down about 4 feet from my feet! I was glad to walk away safe from that incident, but it resulted in a core shot and I now have two ropes: a 45m and a 15m!
The Black Diamond Endurance sheath is a really excellent sheath. It manages to emphasize durability while still providing an exceptionally soft, supple handle. The 9.6 Endurance just feels really, really good in your hand and ties beautiful knots. Similar to the 9.9 above, the middle marker is quite vivid at first but fades too quickly. The 9.6 seems particularly adept at avoiding twists, and it doesn't pig-tail as much as other ropes I've used. This was especially noticeable when the rope was brand new, as it very quickly lost the 'factory twists.'
The 9.6 boasts a 62 grams per meter weight and it's rated for 7 UIAA factor falls. The impact force is 8.2kN and the impact force is 8.2kN. The 9.6 has a noticeably softer catch than the 9.9, and overall it feels like a somewhat more refined rope. It's strong enough that it could be a good projecting rope for tough redpoints, but at 62g/m there are still lighter ropes out there.
Buy Now: Available at Backcountry.com
Black Diamond 7.8 Endurance FullDry 30m Glacier Rope
On an hour-by-hour basis, this is probably the rope that I spent the most time with this summer. It's a glacier rope! What self-respecting glacier climb lasts less than 8 hours? I had a great time with this rope and made some fond memories of traipsing between crevasses and through weird icefalls. My first adventure with it was Mt. Hood's Sandy Glacier, and my final one was an epic to Glacier Peak.
The Glacier Peak trip illustrates a place where a rope like the 7.8 Endurance FullDry can be just right. The approach is a whopping 15 miles, I've been rained on the last two times I was out there and the snow is often soft enough to saturate a rope. At 41 grams per meter the rope is delightfully light weight, and its 30m length disappears in your pack. I was very satisfied with the FullDry coating, and thought that in particular the rope dried out very quickly in the backcountry if it ever got wet. With this summer's warmth, the glaciers were often quite soft and wet. This proved a great testing ground for the FullDry.
It also has an endurance sheath, which is great, because glacier ropes spend plenty of time around crampons and, increasingly in the Cascades, rough volcanic rock. I watched teammates step on the rope several times with their crampons and, while it's anecdotal, I'm happy to say that the sheath doesn't have any issues at this point! The middle marker is still vivid, partly because it's mostly been used on relatively clean snow. I have no doubt that it'll fade in time, like the other two ropes did.
The 7.8 is rated as a half rope, so do not do any factor falls on this sucker. It would be a little bit odd to climb on a glacier rope (it's only 30m, after all), and Black Diamond sells another set of 7.8 half ropes for more vertical alpine endeavors. With glacier travel, the forces generated by a crevasse fall are thought to be small enough to justify the use of a single, half-rated glacier rope. You have to watch out with dry-treated 7.8mm ropes because many belay devices can't handle the slick, tiny diameter. Make sure to buy an appropriately thin prusik cord diameter, too.
Buy Now: Available at Backcountry.com